It's important to keep up with medical device trends as these innovative technologies are changing the face of healthcare. Certain themes will influence the decisions of both medical device startups and major healthcare companies and this upcoming year. BizVibe's list of 10 important medical device trends for 2018 opens up a sneak peek into what will occur in this exciting market.
---
Read More: Future of Healthcare: Innovative Medical Devices
---
The year 2017 proved to be a landmark for global medical device companies: the current market value is at an estimated $389 billion; the total value of MedTech mergers and acquisitions rose by a massive 178% in H1 2017; approval rate for innovative medical devices increased in the first eight months of 2017; and the total value of MedTech venture financing deals rose 56% in H1 2017. Evaluate Research forecasts that the MedTech market alone will reach $529.8 billion by 2022, growing at a CAGR of 5.2%. Technology and healthcare will continue to shape the future of healthcare and 2018 is setting up to be even more exciting.
---
Grow your network: Connect with medical equipment manufacturers
---
Top 10 Crucial Medical Device Trends for 2018
The following 10 medical device trends for 2018 are curated from different sources by various experts in the field. BizVibe offers a simplified list that quickly breaks each trend down. 
1. Small Medical Device Companies Increase R&D Spending
A survey by Emergo completed in Spring 2017 saw that 61% of their respondents with 50 employees or less were planning to aggressively increase their R&D spending. Identifying a need for new devices still under development will be the influencer of their spending decisions, according to ¾ of the respondents. Product development and commercialization are key drivers for small and start-up companies while pricing pressures dissuade larger firms from R&D spending.
More than 72% of all respondents say new R&D initiatives for new devices will begin over the next 12 months. This applies to firms of all sizes and geographic locations but as the survey shows, most of them will be smaller, startup medical device companies.  Current medical device OEMs spend about 7% of their revenue on R&D, which is more than most industries.
2. Personalized Care
Medical devices aim to make healthcare a more individualized experience for patients. Rather than a mass generalization of a medical condition, these devices will begin to help patients have a customized treatment plan. Currently, 30-40% of patients use medications or therapies where the adverse side effects outweigh the benefits.
Personalized care can solve that problem and offer many other benefits. One of which is that it helps MedTech companies discover new potential therapies through data from personalized care devices. This not only helps the patient receive additional benefits but also uncovers demand for devices not yet developed.
3. Disruption from Outsiders
New medical device trends allow for healthcare startups to enter the once exclusive market. Rather than a members-only club, the medical device market opens its doors to small and startup companies, allowing them to compete. Even established players are beginning to develop innovative technologies and some partner with the smaller companies who already have them.
The FDA is responding by announcing a pilot pre-certification program that reduces the wait time and cost of market entry for MedTech devices. The FDA skips analyzing the product and instead focuses on the developing company. If the FDA approves the company, they can build safe, reliable and high-quality devices without needing approval on each individual product the company develops.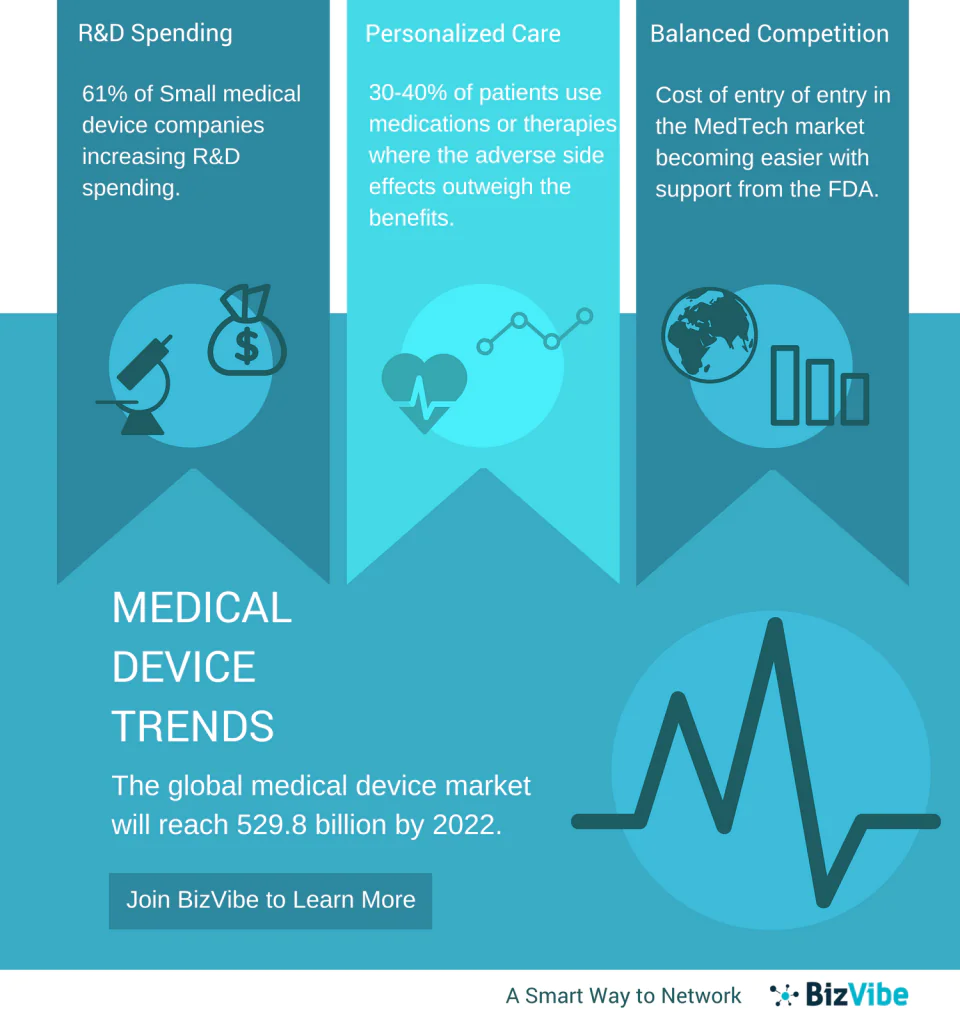 4. Blockchain-based EHR systems emerge as Blockchain technology surges
Blockchain technologies is a medical device trend that serves a number of purposes, from EHRs and interoperability/security to value-based care models, precision medicine, and patient-driven healthcare systems. According to Deloitte, it is "a shared, immutable record of peer-to-peer transactions built from linked transaction blocks and stored in a digital ledger." Nodes, or individual computers, store data and create a network with no central entity controlling the data. See the diagram from Deloitte below.
Dhawal Thakur, healthcare research lead at MarketsandMarkets says, "In 2018, several more vendors will be putting forth blockchain-based EHR solutions as one of the major areas of innovation or technological transition." He also states disruptive changes in EHR setup are necessary, resulting in the use of blockchain technologies as a solution for achieving interoperability and overcoming data exchange issues relating to documenting and transferring patient data.
5. Focus on Security Issues
With the rise of IT in healthcare, it's certain there will also be a rise in information security breaches. Brendan O'Connor of Service Now says in 2018 there will breaches that impact our physical, personal lives, whether it's a medical device or wearable that is hacked or an industrial IoT device (ie self-driving car) that is compromised. This is medical device trend forces governments and MedTech companies to take a closer look at their security infrastructure and adjust it accordingly.
6. Cloud Computing
Cloud-based systems offer provider organizations a plethora of benefits: real-time reach even in disaster situations, safer and more efficient big data storage, simple data analyzation and a simplified research process. Right Scale's 2017 State of the Cloud Report states that cloud adoption sits at 72% with 85% of enterprises already utilizing a multi-cloud strategy, up from 82% in 2016. A whopping 95% of organizations are running applications or experimenting with infrastructure-as-a-service.
Cloud technology is flexible and accessible from a development perspective, and companies can easily scale it up or down as demands change. Cloud software is centrally updated and moves out of the testing environment and into real-world scenarios with ease. Expect healthcare device providers to really utilize this medical device trend in 2018.
7. Rise of Big Data and Digital Health
Big data is the new frontier of information management and major medical device trend for 2018. It is the infrastructure that captures, stores, analyzes and visualizes vast amounts of unstructured data. Through better analytical systems and the adoption of more intelligent technology, big data can be translated into information that will lead healthcare providers and researchers to possibly predicting when and why patients will be rehospitalized, what the expected therapy response will be and an estimated recovery time.
Dhawal Thakur of MarketsandMarkets forecasts 2018 to be an exciting year for digital health and big data analytics. He says "big data analytics is set to bring about significant advancements in terms of creating a more technology-enabled approach to develop preventive medicine and personalized treatment pathways. Technological enhancements will keep pushing specialized devices for monitoring specific patient biometrics into the market, and IoT devices, coupled with big data analytics, will form the basis of virtual care or telehealth services."
---
Read More: Top 15 Innovative Medical Devices Shaping the Medical Industry
---
8. AI-Based Technologies
The adoption of artificial intelligence technology is slow despite the fact of extensive research and successful trials in real, clinical settings. AI-based technology adoption will experience a huge jump in 2018. Experts forecast the healthcare industry will face complex workforce surpluses and shortages leading up to 2030, making the need for AI technology surge.
This medical device trend will help by managing data, designing effective treatment plans for patients, assisting with repetitive jobs, precision medicine, creating better pharmaceuticals, helping patients make better lifestyle choices and even analyzing the current healthcare system. The Forrester Research report, Predictions 2018: Digital Will Disrupt Siloed Healthcare Ecosystems, expects these four functional areas to drive the most growth in AI technology: clinical insights and interventions, supply chain management and operational efficiency, customer service and security/risk.
9. The Internet of Things (IoT) Continues to Shape Healthcare
It's no surprise that medical devices, considered an aspect of the IoT, is helping to shape the future of healthcare. This is one of the biggest medical device trends and 2018 is going to be an exceptionally important year in this regard. Higher medical device adoption rates aide in a larger shift towards value, aging populations, and a provider workload increase will increase medical device demand and new security technologies will prevent security breaches (ie blockchains).
10. Pharma/Medtech Combination
New medical device trends for 2018 will see the fusion between pharmaceuticals and MedTech, two industries who used to operate within their own borders. But now, as we see more medical devices enter the market, more medical device manufacturers need to conduct clinical trials on their devices and are enlisting the help of pharmaceutical companies. MedTech companies, especially startups, leverage the expertise of drug companies to compete in the lucrative pharmaceuticals-device product market.
Expect to see a rise in these combination products in 2018 and beyond. This medical device trend will reveal a revolutionary new level of value for healthcare providers and their patients. This partnership will foster innovative treatment options and continue to motivate MedTech development.
---
You may also like: Future of the Healthcare Industry in India: Growing Rapidly in 2018
---
Medical Device Trends Conclusion
These medical device trends will impact the healthcare IT industry, which is constantly evolving in its very fluid state. Healthcare executives and IT professionals will be busy keeping up and creating technological advancements, security updates and so much more. The new digitized health ecosystem comes to balance efficient care, convenience, safety, privacy and affordability into one neat little package that is the innovative MedTech market.
As healthcare and technology continue to learn how to work together in a synchronized and effective manner, the benefits to patients and providers will be vast and far-reaching. This union has proven to save more lives, improve the overall quality of healthcare, make healthcare more accessible and foster economic growth, as well as job creation. Only by working together, from the top executives to the patients, will these exciting technologies flourish.
---
Read more:
---