Stone Quarrying and Mining Industry Overview
Stone mining companies are essential suppliers to the construction industry and other sectors, providing materials such as stone blocks and slabs; crushed stone, sand, and gravel; asphalt; and concrete. According to the Business Research Company, the global stone mining and quarrying market was worth $9.2 billion in 2019, with APAC accounting for more than half of the global industry.
COVID-19 has presented significant challenges to this market, contributing to an estimated decline in growth of 12.6% in 2020 as industrial activity slows around the world. However, the market is expected to recover in 2021 and reach a value of $10.4 billion by 2023. In the meantime, stone mining companies must adapt to new business practices and reduced businesses in order to survive through the pandemic and continue to take advantage of the opportunities within the stone mining and quarrying market. The world's biggest mining companies are in the best position to do this, while smaller operations will face more challenges in terms of workflow, resources, and demand.
Largest Stone Mining Companies in 2020
| | |
| --- | --- |
| Company | Revenue (USD millions) |
| CRH | 33,150 |
| Holcim | 29,026 |
| Cemex SAB de CV | 13,130 |
| Vulcan Materials Company | 4,929 |
| Martin Marietta Aggregates Inc | 4,739 |
| Tarmac | 2,740* |
| Minerals Technologies | 1,791 |
| Carmeuse Lime & Stone Inc | 1,560* |
| Adelaide Brighton Ltd | 1,085 |
| United States Lime & Minerals | 158 |
*Data via D&B
Want to connect with the biggest stone mining companies? Find key market players along with industry news and insights through BizVibe's marketplace.
CRH is one of the world's largest building materials and stone mining companies, operating in 30 companies globally to produce products used in construction projects of all kinds. Formed in a merger between two leading Irish stone mining companies in 1970, the organization now employs 79,200 people around the world, and its products are used in numerous infrastructure products.
CRH's products and materials include:
Architectural products
Glass and glazing systems
Infrastructure products
Construction accessories
Network access products
Aggregates
Asphalt
Cement
Lime
Concrete
Paving and construction
Headquartered in Switzerland, LafargeHolcim was created from a merger between Lafarge and Holcim in 2015. The new company has 75,000 employees across 2,300 operating sites worldwide, including 663 aggregates plants producing crushed stone, gravel, and sand. The company enables carbon-neutral construction through global solutions such as ECOPact, and recycles waste to produce energy and raw materials.
LafargeHolcim's products and services include:
Cement
Aggregates
Ready-mix concrete
Waste management
Infrastructure solutions
Building solutions
Founded in Mexico in 1906, Cemex has locations in the Americas, the Caribbean, Europe, Africa, the Middle East, and Asia. The company provides building materials and services to businesses and communities around the world, employing over 40,000 people and operating 262 aggregates quarries. Its products are used in home construction and improvement, as well as the agricultural, industrial, and marine sectors.
Cemex's products include:
Cement
Aggregates
Neogem
Ready-Mix Concrete
Related Products
Founded in 1909, the Vulcan Materials Company is one of the biggest stone mining companies in the US, producing construction aggregates such as crushed stone, sand, and gravel, as well as aggregates-based construction materials like asphalt and ready-mixed concrete. Headquartered in Birmingham, Alabama, Vulcan operates close to 500 facilities across the US, along with a quarry and marine terminal in Mexico. Its products are used for a range of infrastructure projects such as roads, bridges, ports, residential buildings, industrial facilities, and more.
Vulcan's products and services include:
Construction Aggregates
Asphalt Paving Materials
Ready-Mixed Concrete
Railroad Ballast and Other Track Materials
Agricultural, Chemical and Industrial Materials
Recycled Materials
Inert Materials Acceptance
Technical Services
Founded in 1993 and headquartered in Raleigh, NC in the US, Martin Marietta Aggregates is a stone quarrying and mining company that provides aggregates, cement, ready-mixed concreate, and construction materials. The company operates throughout the US, Canada, the Bahamas, and the Caribbean Islands, employing over 8,500 people. Its products are used in environmental, industrial, agricultural, and specialty applications.
Martin Marietta's products include:
Aggregates
Cement
Cement Treated Materials
Ready Mixed Concrete
Asphalt
Magnesia Chemicals and Lime
A CRH company since 2015, Tarmac is one of the UK's top stone mining companies and a provider of sustainable building materials and construction solutions. With over 7,000 employees across the country and over 150 years of experience, Tarmac operates 120 stone quarries, 74 asphalt plants, and 100 ready-mix concrete plants. Tarmac is also one of the UK's largest recyclers of construction materials and one of its largest landowners.
Tarmac's products include:
Asphalt
Aggregates
Readymix
Building Products
Bulk Cement
Packed Cement
Lime
Contracting
Minimix
Marine
Minerals Technologies began in the US in the 1840s with the founding of limestone and talc mineral operations. Since then, it has grown into a global stone mining company employing 3,600 workers with 158 production locations and 12 R&D facilities in 35 countries. Minerals Technologies produces specialty mineral, mineral based, and synthetic mineral products, as well as related systems and services.
Minerals Technologies' products and services include:
Performance materials

Bentonite
Chromite
Leonardite

Specialty minerals

PCCs
Talcs
GCCs
Limestone

Refractories
Energy services
Beginning as a family-run business in Belgium in 1860, Carmeuse has grown into a global performance materials and services provider with operations across Europe, the Americas, Africa, the Middle East, and Asia. The company provides lime and limestone products along with customized equipment and engineering solutions. It serves a variety of industries, including steel manufacturing, road construction, site development, building materials, and more. Carmeuse operates 80 plants and 50 limestone quarries, and employs 4,500 people globally.
Carmeuse's products and services include:
Iron & Steel
Non-Ferrous
Chemical
PCC and Pulp & Paper
Agriculture
Glass & Ceramic
Civil Engineering & Construction
Building Material
Flue Gs Treatment
Formerly known as Adelaide Brighton, Adbri traces its roots back to 1882 as a cement maker. Today, it is one of Australia's leading quarrying and stone mining companies, operating 160 plants and facilities across the country. Its portfolio includes a collection of 17 different brands, providing construction materials and industrial mineral manufacturing.
Adbri's products include:
Cement
Lime
Concrete
Aggregates
Paving & Landscaping
Bricks & Besser Blocks
Industrial Minerals
Headquartered in Dallas, Texas, United States Lime & Minerals operates in the stone mining and quarrying market to produce lime and limestone products for a range of industries that include construction, metals, environmental, oil and gas, manufacturing, and agriculture. The company also operates natural gas wells in Texas. Its stone mining business includes open-pit stone quarries, an underground mine, plants, and distribution facilities serving the central United States.
US Lime's products include:
High Calcium Quicklime
Hydrated Lime
Lime Kiln Dust (LKD)
Lime Slurry
High Calcium Limestone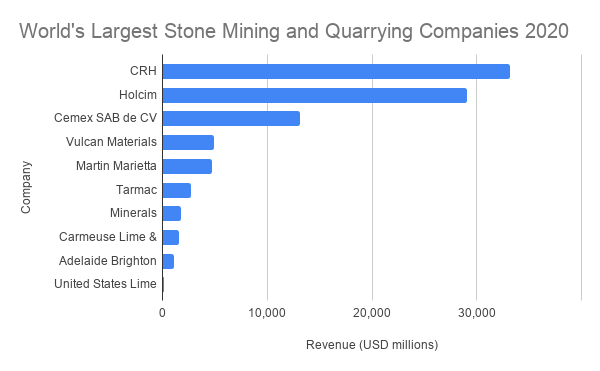 Which Stone Mining and Quarrying Companies Lead the Market Near You?
These are only a few of the top stone mining companies in the world. Discover more stone mining and quarrying businesses through BizVibe's global marketplace.