Global Water Treatment Market Overview
Water treatment and wastewater management are key operations for municipalities and important processes for many industrial companies. According to recent analysis by Meticulous Research, the global water and wastewater treatment market is projected to pass $240 billion in value by 2027, growing at a CAGR of 6.7%. The industry hosts many billion-dollar companies, with some being pure play water treatment companies but many operating across several industries and business areas.
As populations continue to grow and urbanization increases around the world, demand is rising for reliable water sources and water treatment solutions. Governmental regulations around water quality and wastewater treatment are tightening in many regions, and countries with large populations such as the US, China, and India have high demand for sewage treatment. All of this is creating growth opportunities for water treatment companies in countries around the world.
Asia-Pacific is the leading region of the global water treatment market, followed by North America. The growing population and developing infrastructure in many Asia-Pacific countries is helping drive demand for water infrastructure and residential water treatment. China is expected to lead the market in this region over the coming years, due to its large population and extensive industrial activities.
The COVID-19 pandemic is countering some of the global market's growth in 2022, however, and this will likely continue into 2021 as well. While municipal water and wastewater treatment operations will remain of high importance, many industrial users of water have significantly reduced their activities, resulting in less demand for water treatment solutions in that sector. The water and sewage industry isn't without its challenges, however, facing the common setbacks of socially distanced operations and supply chain disruptions.
The IoT has made its way into water treatment companies' products and solutions, allowing for smart water treatment systems that gather and analyze data in order to improve water management efficiency for cities and businesses. Smart water treatment technology can link multiple systems and players, including water sources, treatment plants, distribution systems, and customers, monitoring the status of resources and equipment and allowing operators to adapt and adjust as necessary.
Top Water Treatment Companies in the World in 2022
These companies are world leaders in the water and wastewater treatment market, many earning billions in revenue every year. Some, such as BASF or DuPont, have multiple revenue streams across numerous industries, allowing them to be more adaptable in the face of setbacks in a particular industry. However, pure play water treatment companies have the advantage of specialization, concentrating their expertise into a few select areas. Regardless of their number of business areas, these water treatment companies are all industry leaders with operations in many countries around the world.
| | |
| --- | --- |
| Company | Revenue (USD millions) |
| BASF SE | 70,469 |
| Dow | 42,951 |
| Veolia Environnement SA | 32,297 |
| 3M Company, Inc. | 32,136 |
| DuPont de Nemours, Inc. | 21,500 |
| Suez Environnement S.A. | 21,399 |
| Kingspan Water & Energy | 5,535 |
| Kemira Oyj | 3,158 |
| Pentair plc | 2,960 |
| Kurita Water Industries Ltd. | 2,563 |
Want to connect with top water treatment companies? Find key market players along with industry news and insights through BizVibe's marketplace.
Founded: 1865
Headquarters: Ludwigshafen, Germany
Employees: 117,000+
Revenue: $70.5 billion
The BASF Group is a multinational corporation with operations in over 90 countries and more than 360 production sites. It operates in six segments: chemicals, materials, industrial solutions, surface technologies, nutrition and care, and agricultural solutions. The company operates one of the largest wastewater treatment plants in Europe, purifying wastewater produced by the company as well as by neighboring cities. BASF also operates water chemicals production plants in Germany and China.
Founded: 1897
Headquarters: Midland, US
Employees: 37,000
Revenue: $42.9 billion
With over 100 manufacturing sites in 31 countries, Dow develops and sells materials science products and solutions to companies around the world. It produces performance materials, industrial intermediates, and plastics, serving industries such as packaging, infrastructure, and customer care. Dow manufacturers chemical technologies to increase the efficiency of water treatment, with features such as scale removal, waste reduction, energy savings, and more.
Founded: 1853
Headquarters: Paris, France
Employees: 178,000+
Revenue: $32.3 billion
Veolia Group designs and develops water, waste, and energy management solutions, supplying drinking water to 100 million people and wastewater service to 67 million people. In total, the company serves over 500,000 business customers and manages over 2,900 wastewater treatment plants. It develops water solutions for cities, agricultural irrigation, industrial production, and drinking water.
Founded: 1902
Headquarters: St. Paul, US
Revenue: $32.1 billion
3M offers products and services for a wide range of industries and applications, with corporate operations in 70 countries and sales in 200. Some of its well-known brands are Post-it, Scotch, and Command, but the company's expertise extends beyond consumer products and into industrial manufacturing and solutions. 3M is a leader in the water filtration industry, contributing to sustainability standards for water filtration products and producing a range of residential, industrial, and food service water filtration products as well as products for life sciences.
Founded: 1802
Headquarters: Wilmington, Germany
Revenue: $21.5 billion
In its current incarnation, DuPont could be said to be founded in 2019, when DowDupont split into 3 separate companies 2 years after the merger of Dow Chemical and E. I. du Pont de Nemours and Company. However, its roots extend back to 1802 when it began operations as a gunpowder mill. Today, DuPont operates in the areas of electronics and imaging, transportation and industrial, nutrition and biosciences, and safety and construction. The company's water treatment solutions include purification and separation technologies such as ion exchange resins, reverse osmosis and nanofiltration membranes, ultrafiltration membranes, and electrodeionization products. Its products are used in residential and municipal applications, as well as in the power, oil and gas, healthcare, commercial, chemical, microelectronics, and food and beverage industries.
Founded: 1869
Headquarters: Paris, France
Employees: 90,000
Revenue: $21.4 billion
Suez is a global provider of smart and sustainable resource management solutions. The company specializes in waste and water management, serving both cities and industries. It supplies 92 million people with drinking water and 58 million with wastewater treatment services, operating over 1,100 drinking water production sites and 10,000 water treatment plants in 70 countries. Suez uses treatment techniques such as settling, flotation, UV, activated carbon, and filtration, and offers solutions for micropollutants and water hardness.
Founded: 1965
Headquarters: Kingscourt, Ireland
Employees: 15,000+
Revenue: $5.5 billion
Kingspan Group operates in the areas of high-performance insulation and building envelope solutions, as well as water, energy, and other business areas. The company operates 129 manufacturing sites in more than 70 countries, growing over the years by way of acquisitions. Kingspan Water & Energy provides water management solutions that cover wastewater, surface water, and rainwater harvesting, utilizing the IoT to provide consumers with insight and control over their resources.
Founded: 1920
Headquarters: Helsinki, Finland
Employees: 5,062
Revenue: $3.2 billion
Kemira operates in the areas of pulp and paper, water treatment, and oil and gas. With sales in over 100 countries, the company serves customers around the world. Its industry and water division accounts for close to half of Kemira's revenues. The company supports both municipalities and industries, offering water treatment solutions and chemicals to improve product yield and reduce water and energy use in industrial applications.
Founded: 1966
Headquarters: Minneapolis, US
Employees: 9,500
Revenue: $2.9 billion
Pentair is one of the industry's leading water treatment companies, offering smart, sustainable solutions to the residential, commercial, and foodservice sectors. The company has 120 locations across 25 countries, offering products and solutions to move and improve water in a variety of applications.
Founded: 1949
Headquarters: Tokyo, Japan
Employees: 6,737
Revenue: $2.6 billion
Kurita is another of the world's leading water treatment companies, expanding through Japan and on to the rest of the world with 58 companies in 18 countries and regions. The company creates technologies to maximize water efficiency, including recycling wastewater in the manufacturing process. Kurita has spread across Europe and the US by acquiring water treatment chemicals manufacturers, and has put down roots in Vietnam and the UAE. Kurita's business operations include water treatment chemicals, water treatment facilities, water treatment equipment and products, and more.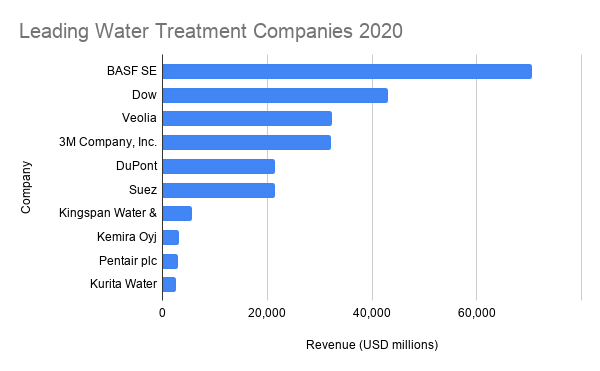 Which Water Treatment Companies Lead the Market Near You?
These are only a few of the top water treatment suppliers and wastewater companies in the world. Discover more water management companies through BizVibe's global marketplace.
Additional Water Treatment Companies in 2022
In addition to the top water treatment companies, there are many other water treatment companies from various industries to keep an eye on in 2022 and going forward.
The Largest Water Management Companies 2022
The global water management market is growing at a rapid rate, expected to reach USD 500 billion by 2028, growing at a CAGR of 7.3 percent. The largest water management companies in the world are:
1. Veolia
Revenue: USD 29 Billion
Headquarters: France
2. Suez
Revenue: USD 20 Billion
Headquarters: France
3. Ecolab
Revenue: USD 12 Billion
Headquarters: USA
4. Danaher Corporation
Revenue: USD 29 Billion
Headquarters: USA
5. Xylem
Revenue: USD 5 Billion
Headquarters: USA
The Largest Industrial Water Treatment Companies 2022
The global industrial water treatment market is growing at a rapid rate, expected to reach USD 16.6 Billion by 2026, growing at a CAGR of 5.3 percent. The largest industrial water treatment companies are:
1. Danaher Corporation
Revenue: USD 29 Billion
Headquarters: USA
2. DuPont
Revenue: USD 22 Billion
Headquarters: USA
3. Ecolab
Revenue: USD 12 Billion
Headquarters: USA
4. Evoqua Water Technologie
Revenue: USD 1 Billion
Headquarters: USA
5. Kemira
Revenue: USD 2 Billion
Headquarters: Finland
Additional Companies from the Water Treatment Industry
Network with the complete list of water treatment companies only on BizVibe.