Online Home Décor Market Overview
Unlike many industries in 2020, online home décor companies are seeing benefits from the global coronavirus pandemic. As consumers are reluctant or unable to shop at brick-and-mortar locations, they have turned to e-commerce companies to do their shopping. And with users spending more time than ever at home, many are feeling the need to tackle new projects and update their living spaces. Some companies, such as Bed Bath & Beyond, have reacted to the pandemic by reorganizing their operations, de-emphasizing and closing storefronts and pouring more resources into their e-commerce operations.
According to Global Industry Analysts, the online home décor market was valued at a little under $100 billion this year, and is expected to hit nearly $350 billion by 2027. China is one of the industry's key countries, projected to reach $60 billion in value by 2027, while the US will approach $30 billion. Residential construction will help drive growth in many countries around the world, along with a growing focus on infrastructure in developing countries.
Top Online Home Décor Companies in 2020
Companies in the home décor market have been struggling to maintain their retail operations during the pandemic, but those with a strong online presence are benefitting from the shift in consumer behaviour. In order to stay among the leading online home décor companies in the world, retailers will need to ensure they offer users a good browsing experience, strong customer service, and smooth fulfillment.
| | |
| --- | --- |
| Company | Revenue (USD millions) |
| The Home Depot | 110,200 |
| Lowe's | 72,150 |
| IKEA | 48,009 |
| Wayfair | 11,500 |
| Bed Bath & Beyond | 11,160 |
| JCPenney | 10,720 |
| Ashley HomeStore | 5,700 |
| Herman Miller | 2,490 |
| Pier 1 Imports | 1,553 |
| Home24 | 431 |
Want to connect with online home décor companies in your region? Find key market players along with industry news and insights through BizVibe's marketplace.
Founded: 1978
Headquarters: Atlanta, US
Employees: 400,000+
Revenue: $110.2 billion
The Home Depot is a home improvement retailer serving individual consumers, professional contractors, and businesses. The company operates over 2,200 stores across the US, Canada, and Mexico, offering supplies, tools, services, and home décor products to its customers.
The Home Depot's home décor products include:
Home decorations
Wall décor
Artificial plants
Candles and fragrances
Bedding and bath accents
Furniture
Lighting
Rugs
Window treatments
Kitchenware
Tableware
Kitchen storage and appliances
Founded: 1921
Headquarters: Mooresville, US
Employees: 300,000
Revenue: $72.2 billion
Lowe's sells home improvement and home décor products online and through more than 2,200 retail locations across the US and Canada. The company is one of the largest retailers of home improvement products, serving both consumers and professionals. Lowe's operates in Canada under the Lowe's, RONA, Réno-Dépôt, and Dick's Lumber brands through over 480 stores, and online through Lowes.com, lowes.ca, LowesForPros.com and mobile applications.
Lowe's home décor products include:
Area Rugs and Mats
Window Treatments
Furniture
Mirrors and Mirror Accessories
Home Accents
Wall Art and Decor
Pillows and Throws
Mattresses and Bedding
Wallpaper and Accessories
Founded: 1943
Headquarters: Delft, Netherlands
Employees: 217,000
Revenue: $48 billion
IKEA designs, manufacturers, and sells a wide range of home furnishing products with an emphasis on simplicity and affordability. The company offers its products through its online storefront as well as through more than 440 stores around the world, with the majority located in Europe. It also operates a franchise system, with 12 franchisees across 54 markets. Over the past year, IKEA has focused on its e-commerce capabilities in order to reach more consumers, particularly during the global pandemic, and has seen an increase in online retail sales of 45% over the previous year.
IKEA's home décor products include:
Candle holders and candles
Wall décor
Plants and flowers
Flower pots and stands
Vases and bowls
Home fragrance
Decorative accessories
Clocks
Mirrors
Storage boxes and baskets
Noticeboards
Holiday decoration
Founded: 2002
Headquarters: Boston, US
Employees: 16,200
Revenue: $11.5 billion
A purely e-commerce enterprise with no storefronts of its own, Wayfair is one of the world's largest online vendors of home décor and furnishings. Its brands include Wayfair, Joss & Main, AllModern, Birch Lane, and Perigold, selling over 18 million home furnishings, household décor, home improvement, and houseware products.
Wayfair's home décor products include:
Home accessories
Window treatments
Flowers and plants
Art
Wall décor
Candles and holders
Frames and albums
Decorative pillows and blankets
Mirrors
Clocks
Seasonal décor
Founded: 1971
Headquarters: Union, US
Employees: 40,000+
Revenue: $11.1 billion
Bed Bath & Beyond is an omnichannel retailer with stores located across the US, Canada, Mexico, and Puerto Rico as well as e-commerce and B2B operations. The company sells products in the home, baby, beauty, and wellness categories under the Bed Bath & Beyond, Harmon Face Values, buybuy BABY, Cost Plus World Market, and Decorist.com brands. With the impact of COVID-19 and dramatic decrease in shoppers at physical locations, the home décor company has recently decided to focus more heavily on its online presence and close down some of its 1000+ retail stores.
Bed Bath & Beyond's home décor products include:
Rugs
Lighting
Decorative accessories
Frames and albums
Candles and fragrance
Wall art
Wall décor
Founded: 1902
Headquarters: Plano, US
Employees: 90,000
Revenue: $10.7 billion
JCPenney is an American department store with 850 stores across the country and an online presence at jcp.com. It runs 11 supply chain facilities, 8 international buying offices, 9 QA offices, and a manufacturing center based in Bangalore, India. The company offers products such as household décor, apparel, toys, jewellery, and beauty.
JCPenney's home décor products include:
Wall décor
Lighting and lamps
Artificial florals and plants
Home accents
Holiday décor
Candles and home fragrance
Vases
Picture frames and albums
Mirrors
Clocks
Founded: 1945
Headquarters: Chicago, US
Revenue: $5.7 billion
Ashley HomeStore is a part of Ashley Furniture Industries, one of the largest furniture manufacturers in the world. The company has an e-commerce storefront and over 800 retail locations worldwide, comprising both corporately and independently owned stores.
Ashley HomeStore's home décor products include:
Home Accents
Wall Decor
Faux Flowers & Plants
Seasonal Decor
Throw Pillows
Storage Baskets
Mirrors
Poufs
Vases
Blankets & Throws
Clocks
Candle Holders
Curtains & Drapes
Canisters
Founded: 1905
Headquarters: Zeeland, US
Revenue: $2.5 billion
Herman Miller is a manufacturer of furniture, furnishings, solutions for healthcare environments, technologies, and more. The company has manufacturing facilities in the US, China, Italy, and the UK, and operates in over 100 countries. Its brands and businesses include Herman Miller, Herman Miller Healthcare, Nemschoff, and Geiger International.
Herman Miller's home décor products include:
Lighting
Desk accessories
Throw blankets
Wall décor
Panels
Founded: 1962
Headquarters: Dallas, US
Revenue: $1.6 billion
Beginning as a single storefront in California and expanding into a national retail chain and e-commerce platform, Pier 1 Imports is now an internet-first retailer. The company relaunched its site, pier1.com, earlier this year after being acquired by incubator Retail Ecommerce Ventures (REV). It continues to offer furniture, home accessories, and other housewares both within the US and internationally.
Pier 1 Import's home décor products include:
Lighting
Tableware
Furnishings
Rugs
Art
Candles
Wall décor
Storage
Floral and plants
Bath accessories
Founded: 2009
Headquarters: Berlin, Germany
Revenue: $431 million
Home24 is a pure-play e-commerce platform for furniture and home accessories. The online home décor company serves Brazil and 7 countries in Europe, offering products to suit multiple budgets and styles. It operates its own private-label business, developing many of its products in-house.
Home24's home décor products include:
Lighting
Rugs
Storage
Curtains
Wall décor
Bathroom accessories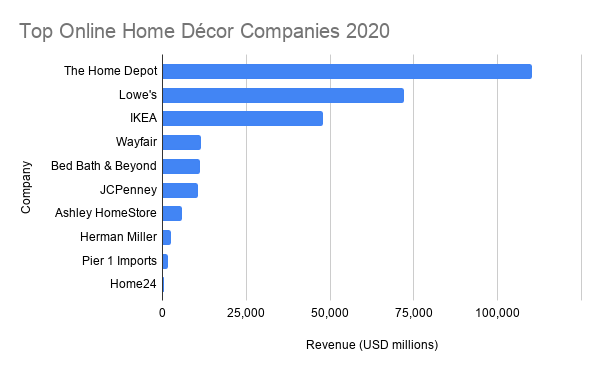 Which Online Home Décor Companies Lead the Market Near You?
These are only a few of the largest online home décor companies in the world. Discover more leading online home furnishing stores through BizVibe's global marketplace.