Robotics — especially in manufacturing — truly is a disruptive technology, and with 2018 around the corner, fluctuating market demands and consistent technological advancements are making industrial automation companies in India a trusted source for control systems used in a broad range of industries worldwide. Automation systems and the professionals who maintain these machines are responsible for solving complex aspects of the manufacturing process, all while preserving health, safety, and sustainability. This is why it's crucial for manufacturers to be vigilant and efficient when choosing the right automated systems for their manufacturing needs. It's time-consuming sifting through the internet to figure out exactly which technology companies are innovating. BizVibe has compiled a comprehensive list of the top 10 industrial automation companies in India heading into 2018; outlining their overall investment in technology, R &D, finance, and data.
Before we get to the list, let's see what's trending in 2018 in the global industrial automation market and where India's place is among the giants.
Global Industrial Automation Market Experiencing Growth
According to Transparency Market Research, the global industrial automation market size is forecasted to increase from $182.64 billion in 2015 to $352 billion by the end of 2024, growing at a steady CAGR of 6.6%. New investment interest in the research and development processes of industrial automation has peaked alongside new industrial segments adopting automation services. These factors boost market value and the popularity of automation systems worldwide — making it easier for leading industrial automation companies in India to excel in the global market. As automation continues to play an increased role in manufacturing, the top industrial automation companies in India are looking at key segments of the manufacturing process where robotics companies and automation technology as a whole can help out.
India Becoming Hotbed For Automation Technology
Industrial automation companies in India are proving themselves as a top provider of industrial automation technology. Government initiatives and the need to increase process efficiency positively impacts the process automation market in India. Macroeconomic factors such as urbanization and focused government initiatives will help India's automation market value reach a total of $4.43 billion by 2024 with a CAGR of 11.6%.
---
Must Read: The Top 10 Drone Manufacturers in India to Watch in 2018
---
If you're looking to get in touch with the best automation companies for your manufacturing needs then look no further than BizVibe's list of the top industrial automation companies in India. India is the best place to find automation services and technology as the growth rate of the Indian automation technology market is greater than the global average. The country is consistently improving its capabilities to attract new investors in order to gain the reputation as a reliable global hub for R&D activities in the industrial automation field.
Top 10 Industrial Automation Companies in India Heading into 2018
BizVibe presents the list of the top 10 industrial automation companies in India. We start with the best and showcase their impact on automation services and automation technology. These are the companies you should be focusing on in 2018.
GE Automation India
GE, or General Electric, is a global household name, so it's no wonder their automation sector in India takes the top spot on BizVibe's list. About $4 billion of the company's total $149 billion in revenue is generated in India, and it all started with a hydropower plant at the Shivanasamudra Falls at the turn of the 20th century.
Now, GE's industrial automation technology is a favorite in providing automation and controls technology and services for everything from automotive manufacturing to mining metals and generating power. GE's automation solutions have become the top choice for leading industries worldwide and provide top quality control systems, operator interfaces, control software, industrial computers and COM expresses, among many other services and technologies.
The company's industrial internet-enabled solutions (IIoT) benefit businesses worldwide and help global manufacturing companies become competent and more efficient. As digitization becomes a priority in the business landscape, GE remains one of the global leaders in providing immense value with their internet-connected manufacturing tech and services to its clients worldwide — helping global players adapt in the face of ever-changing technology trends.  From petroleum to pharmaceuticals, GE's robotics and automation technologies help companies remain compliant with industry regulations while still delivering a quality product through end-to-end process visibility.
GE has a rich portfolio including the responsibility of automating the processes that generate half the world's power. GE receives more than 20,000 signals every minute as it controls and monitors thousands of assets from large and small businesses worldwide. In 2015 they created a new automation & controls solution platform that acts as the foundation to their comprehensive portfolio of automation and controls solutions. It connects client's machines, data, and customers in order to help them produce their product more efficiently. As the state of the industry continues to move forward, GE plans to ramp up investment in India — paving the way for the future growth of industrial automation companies in India.
Rockwell Automation
Rockwell Automation is one of the world's largest industrial automation and information companies; brought to life through its flagship, Allen-Bradley and Rockwell Software. The company was founded in 1903 with a starting investment of only $1,000. Now, in the fiscal year 2016, the company generated $5.9 billion from global sales and has headquarters all over the world, including Noida, Uttar Pradesh India.
The company's goal is to help global manufacturers and producers build scalable, interconnected machines that will enable smart manufacturing. Their automation product line is engineered to seamlessly control all devices as one system rather than individual products and parts. Clients boast about Rockwell's automation components as they offer future-proof solutions to bridge the gap between machinery-level systems and enterprise systems that makes decision making easier.
Some of Rockwell's most advanced automation technologies include:
The Rockwell Automation scalable compute integrated Windows 10 IoT Enterprise operating system with existing manufacturing equipment and software that connects manufacturers' on-premises infrastructure to the Microsoft Azure IoT Suite.
GuardShield 450L safety light curtain system that offers flexible, cost-effective solutions to enhance safety while improving productivity through innovative transceiver technology.
PowerFlex 6000, a new motor control option for compressors, pumps, and fans that brings user-friendly control for variable and constant torque applications. The latest release delivers a wider voltage range and provides 100% starting torque that leverages sensorless vector control.
IaaS reduces network deployment complexity by combining pre-engineered network solutions, on-site configuration and 24/7 remote monitoring that simplifies ordering and commissioning upfront, and helps to improve network reliability. This service also eases budgetary constraints by shifting networking costs from a capital expense to an operating expense.
Many vital industries are impacted by Rockwell's comprehensive enterprise-wide solutions and services. They help companies safely implement business process improvements; increase manufacturing flexibility, increase access to real-time production information and improve supply chain integration. The most common industries utilizing Rockwell's factory automation systems include automotive, chemical, textiles, infrastructure, oil and gas, mining, marine and power generation.
Siemens India Ltd.
Siemens Ltd is fulfilling the duties of the fourth industrial revolution and allowing their industrial automation sector to light the way. Their goal is to promote the "increase of productivity, efficiency, speed, and quality, resulting in higher competitiveness for companies on their way to the future of the industry."
Siemens India Ltd was officially founded in 1922 but their commitment to the business started when Werner von Siemens personally supervised the first telegraph line between London and Calcutta in 1867. Now Siemens Ltd is the top industrial company in India and continuously offers immense growth and development to the industrial automation world.
For the first quarter of 2017, Siemens India Ltd. posted a 16% revenue growth and 60% increase in net profit from continuing operations, to $36.923 million before taxes. The Siemens India head office is located in Mumbai, Maharashtra with 22 factories, 8 Centres of Competence, 11 R&D centers and a nationwide sales and service network all across the country. In comparison to the majority of industrial automation companies in India, you'll be hard-pressed to find a company that is more invested in manufacturing automation than Seimens India.
Their latest and greatest technology includes the Industrial Automation Systems SIMATIC and SIRIUS switchgear products, which further proves the company's impact and sustainability in factory automation. For the past six decades, they've captured global flagship projects in mobility, energy management, oil and gas, intelligent infrastructure, industrial applications, healthcare, and so much more, making them one of India and the world's preferred automation technology provider. When looking at the buzz around the top industrial automation companies in India, Siemens India is consistently mentioned as a key influencer in the global market. Commitment to diversity is a key reason why Siemens India why the growth of industrial automation companies out of India will continue to flourish.
---
Why you should be networking with Indian manufacturing automation companies on BizVibe.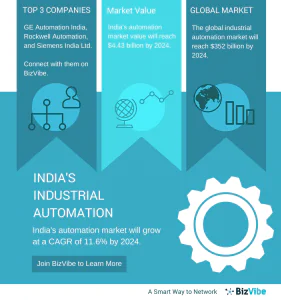 ---
Honeywell Automation India Ltd.
Honeywell is a globally known, $40 billion software-industrial company with a stronghold in countries around the world, with one of their major hubs being in India. Honeywell Automation India Ltd is headquartered in Pune, Maharashtra and has been built over the past 8 decades, employing close to 15,000 people including 8,000 engineers across 50 cities in India.
Honeywell is increasing its presence in India and its impact around the world through a variety of automation services and technologies. The Performance Materials and Technologies sector of Honeywell UOP technologies enable India to efficiently produce gasoline, diesel, petrochemicals, and renewable fuels, as well as help global companies manufacture high-performance products.
Their global acquisition of NOVAR, the first company to introduce modular electric switches in India, is now part of Honeywell's Automation and Control Solutions business with manufacturing plants in southern and northern India. Honeywell Transportation Systems is also the first of its kind in India and serves the domestic and export markets with its youngest, yet fastest growing entrant in India's automated turbocharger industry.
In the 2016-2017 annual report, Honeywell Automation India posted a profit of over $145 million with revenue from operations registering a growth of 10% and revenue from exports increasing from the previous year by 36%.
ABB India Ltd.
ABB India, part of the Swedish company ABB, offers 10 high-tech manufacturing plants in the country that bring integral growth to India and global industry as a whole. The goal of their automation technology is to engineer products and solutions for the instrumentation, automation, and optimization of a variety of industrial processes in almost every industry worldwide.
ABB India posted a 3.2% jump in net profit to $13.253 million in March 2017 meanwhile ABB as a corporation boasts a $525 million revenue in the second quarter of 2017, with their total revenue for 2016 at $33.83 billion. As for industrial automation as a whole, the company increased orders by 8% (6% in US dollars) through vital capital expenditure investments in mining and oil and gas.
This industrial automation company in India achieved consistent milestones in technology and innovation in India and has had its hand in some turnkey projects. Including:
Testing the first ultrahigh voltage 1,200-kilovolt power transformer in Vadodara.
Connecting hydropower through NE India by a 1730 km UHVDC link.
Providing the world's longest transnational conveyor belt in Bangladesh.
Crafting 12 palletizing robots to improve productivity and safety at Asian Paints.
Offers power network management solutions and electrical products to assist Delhi metro in running smooth and efficiently.
ABB attracts clients from major industries like oil and gas, power generation, chemicals and pharmaceuticals, pulp and paper, and metals and minerals while providing powerful control systems, measurement products, turbocharging stations and programmable logistics controllers that improve asset productivity and energy savings. As automation continues to become more important in industrial manufacturing, expect ABB India to help lead the way for industrial automation companies in India.
---
Must Read: Top 10 Auto Parts Manufacturers in India
---
Larsen and Toubro
L&T is an industrial automation company in Mumbai founded by two Danish men seeking refuge in India in 1938. Today, Larsen & Toubro is a multinational conglomerate with a revenue topping $17 billion and a portfolio of major automation technology utilized around the world. In Fiscal Year 2017, domestic orders grew 10% and profit after tax grew by 43%.
The control and automation sector of this very large technology and engineering company is based on providing comprehensive solutions through a variety of platforms incorporated into a wide range of industries worldwide. Larsen and Toubro automation technology are mainly found in cement industries as well as oil and gas, solar, water and infrastructure. They are currently the largest system integrator in India and the 3rd largest in the world.
They have an impressive integration center in Navi Mumbai, India & four regional offices in India that focus on customer support. There is a dedicated 102,000 square feet automation campus at Navi Mumbai that houses 550 staff and boasts an advanced 25,000 square feet shop floor with a capacity of 250 cubicles. Their facility is 5S Certified and is capable of handling AC & DC drives, PLC & DCS systems, RTU & SCADA, telecom and IT solutions. In addition to being the 3rd largest system integrator in India, Larsen and Toubro continues to be leaders among well-recognized manufacturing automation companies due to notable achievements and consistent innovation.
Titan Engineering and Automation Ltd
This smaller automation company is a subsidiary of the larger Indian luxury goods conglomerate, Titan Company. Titan Engineering and Automation has a profit of about $61 million, with Titan Company as a whole generating $1.9 billion in revenue.
Titan Engineering and Automation was officially incorporated into Titan on March 24, 2015, and runs out of its head office in Tamil Nadu. Titan engineers have been producing world-class turnkey automation technology solutions since 1984. Through this new acquisition with Titan, their plan is to impact various powerful industry segments such as engineering, automotive, electrical & electronics, and medical & healthcare.
They are becoming a prominent supplier — and a go-to source for automation products and services among industrial automation companies in India — because of the advancement of their comprehensive solutions that are based on customer needs and then analyzed by product variants that help decide what solutions work best for that client. Currently, they offer fully automatic lines (Linear & Rotary Index), lean assembly cells and semi-automatic lines, test rigs, vision-based systems, robotic welding cells and robotic assembly lines.
Titan Automation Solutions' portfolio includes 74 customers in India and around the globe. They have delivered more than 300 assembly and testing lines to USA, UK, Germany, Argentina, Romania, Bulgaria, Czech, Hungary, and China. Some of their major clients include other industrial automation companies like ABB, Schneider, and EPCOS
B&R Industrial Automation Private Ltd
B&R is an Austrian company with a major presence in India. Their head office is in Pune with 6 other offices across the country. As of July 2017, they were acquired by ABB, a company already presented on our list. With the acquisition of B&R, ABB is quoted saying that this merger will assist them in becoming a complete supplier of industrial automation equipment including measurement and control systems, robotics, digitalization, and electrification. This opportunity is expected to open new global growth and vastly expand current offerings to existing B&R clients while utilizing ABB's global influence and reputation.
In 2015, the company recorded a revenue of $689 million with an impressive 10% growth from the previous year. Before the acquisition, B&R was the largest privately owned industrial control and monitoring company. This merger brings B&R and ABB together to act as the only industrial automation provider offering clients an entire spectrum of technology and software.
Some of the most prominent industrial automation technologies from B&R Industrial Automation include:
Generic Motion Control (GMC), a combination of CNC, robotics and motion control into a single software platform
B&R IoT is special in that it delivers plantwide data exchange, remote data access, analysis of data from heterogeneous sources, integration of different Fieldbus technologies and the digitalization of manufacturing systems.
reACTION Technology that brings clients time-critical subprocesses executed directly on the I/O module. It is fully integrated, delivers ultrafast I/O responses for both low-end and high-end systems and runs on Open IEC 61131 technology.
OPC UA is a vendor-independent communication protocol for industrial automation applications that bridge the gap between the IP-based world of IT and the production floor. All production process data is transferred via a single protocol.
The acquisition of B&R with ABB will strengthen ABB's position as the second-largest industrial automation company in the world. B&R's technology will help ABB to fully embrace the scope of opportunities created by Industry 4.0 through B&R's industry-leading services and technology. With how IoT and more importantly IIoT (Industrial Internet of Things) trends are shaping up, B&R is definitely a company you want to add to your list of industrial automation companies in India you want to keep tabs on in 2018.
---
Must Read: Top 10 Leading Garment Manufacturers in India (2017)
---
Schneider Electric
Schneider Electric is an older company, founded in 1863. They have major clout in the engineering industry but are #9 on our list as Schneider is known for other electrical solutions above automation and control products. Their posted revenue for 2016 was a whopping $29 billion, with the industry sector (includes industrial automation in manufacturing) representing about 24% of that total revenue. 27% of the entire revenue is generated in Asia-Pacific countries including India.
The automation products and solutions engineered by Schneider cover the extent of the industrial, infrastructure and building sectors by offering programmable relays to motions controllers and interface modules for applications ranging from simple machines to complex processing systems.
Some of their major industrial automation technology includes:
Modicon M580 is the World's First ePAC Controller designed to offer connectivity capabilities that help clients react quickly to information demands in a safe and secure environment.
Altivar Process is the first variable-speed drive with embedded services designed to deliver added value through business and process optimization, improved life cycle asset management and optimized energy consumption.
Schneider delivers technologically advanced products that are relied upon by both large and small companies worldwide, focusing on two business segments: corporate clients and regional clients such as governments, cities, districts, and counties. Schneider Electric is known to deliver their clients a comprehensive five to ten-year plan, helping to place them as one of the world's most ethical and sustainable companies in the world.
Voltas Ltd
Voltas is a multinational engineering company from India that is last on our list due to their focus mainly on air conditioning and refrigeration equipment and minimal focus on automation technology. This cooling product and automation technology company in Mumbai was incorporated in 1954 and is part of the Tata group, the same flagship as Titan.
In 2016, Voltas posted a revenue of $950 million USD with the company's consolidated revenue growing 6% after 2017's Q1 earnings. Some of their major international electro-mechanical projects include the New Hong Kong International Airport, the Bahrain International Airport and the Al Ain International Airport.
The World Wouldn't Turn Without Automation Technology
Without automation technology, the reliability, efficiency, and quality of electric power systems, transportation systems, manufacturing operations and industry as a whole would diminish greatly. Industrial automation is found in almost every industry ranging from food and beverage production to manufacturing automobiles and processing chemical and petroleum products.
At first, industrial automation was created to replace human labor but now, automation has found its balanced position alongside human counterparts to increase productivity, quality and flexibility in vital manufacturing processes.
So What's The Point of This List?
With the rapid change of digital technologies, it's important to understand who the top industrial automation companies in India are so that you have the insight into who to partner up with next. In today's world, it is a necessity to ensure your business functions at its peak performance and more importantly to remain competitive. Now it's easy to do so by utilizing solutions from the best automation technology and robotics companies the world has to offer.
India is beginning to show signs of surpassing China as the world leader in manufacturing efficiency, and major engineering companies are noticing. Manufacturing plants are relocating to this Asia-Pacific country, which shows even more promise for India as a potential new hub for the industry and a powerhouse for automation in manufacturing.
How BizVibe Can Help
Are you conducting research to discover who your competitors are buying from and what suppliers they're using? Or maybe you're looking for your own reliable suppliers, quality manufacturers, top wholesalers and potential customers. Now you can easily network with thousands of leading automation companies in over 70 countries on BizVibe, any of which can be added to your contact list if you join for free today. Start with the most comprehensive list of the top industrial automation companies in India. No matter what your professional goals are, BizVibe can help you reach them by introducing you to key industry players and decision-makers across the globe. Sign up for free today!
---
Top Company: Rockwell Automation Inc.
Top Company: ABB India Ltd
Related Industry: Orthopedic Manufacturing Companies in India
---