Australia's shorn wool production is expected to grow to 332 million kilograms (mkg) greasy in the 2016/17 financial year, representing a 2.2% increase from its previous season, according to the latest forecast from The Australian Wool Production Forecasting Committee (AWPFC). The growth also suggested a 2.7% increase in average wool cut per head, thanks to excellent season conditions and an abundance of feed in almost all major sheep producing areas across Australia.
Commenting on the forecasted growth in the nation's wool production, Committee Chairman, Russell Pattinson said that "almost all major sheep producing areas across Australia are reported to be experiencing very good to excellent season conditions and an abundance of feed after a very wet Spring. This is expected to result in even better average wool cuts per head in 2016/17 than the Committee anticipated in August."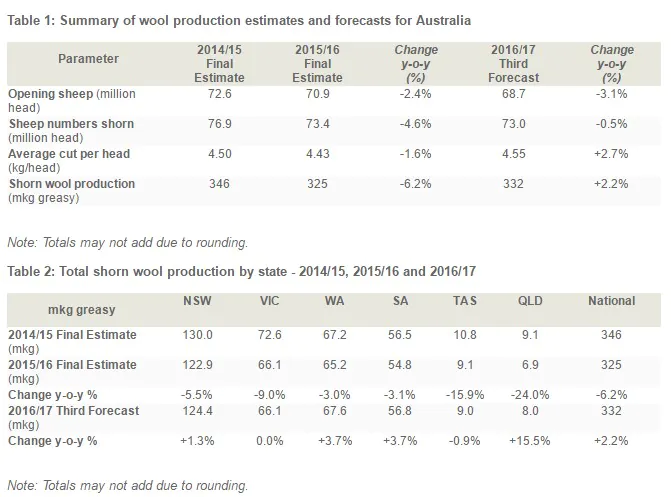 Regions including New South Wales, Western Australia, South Australia and Queensland are expected to have some of the biggest increases in shorn wool production. AWPFC suggests that Queensland will have one the most notable increases in wool production this year after three consecutive years of declines. While Victoria's wool production is growing steadily, Tasmania is predicted to have lower outputs this financial year.
Australia is the world's largest wool producers, producing around 25% of greasy wool of the world market. The value of Australian wool exports in 2015-16 is estimated to be around $3 billion, according to the Department of Agriculture and Water Resources of Australia. Wool is produced in all Australian states except the Northern Territory. New South Wales produces the greatest volume of wool, followed by Victoria, Western Australia and South Australia. In 2014-15, it is estimated that over 70 million sheep were shorn in Australia.
Thousands of Australia's leading textile companies can be in your contact list if you register to join BizVibe today! Whether you are looking reliable suppliers, top textile manufacturers, wholesalers and potential customers in over 70 major countries, or looking to find out what your competitors are buying and which suppliers they're using, BizVibe can help you reach out to sales prospects and decision-makers in the textile industry across the globe.
Register for free now to build your own network of global textile companies on BizVibe