Ceramic Industry Overview
Ceramics have a very wide range of applications, from consumer products such as fixtures and dishware, to construction materials such as ceramic tiles, to high-performance components in industry, aerospace and defense, healthcare, electronics, and other sectors. Materials supplied by ceramics manufacturers are used for numerous components in smartphones, for joint reconstruction in healthcare, for interior and exterior decoration, and much more.
With so many different applications, the global ceramics industry is a profitable one. According to Grand View Research, the market was worth almost $230 billion in 2018, and is expected to surpass $400 billion by 2025. Tile manufacturing, one of the main traditional areas of the ceramics industry, is a dominant segment of the global market. However, the use of ceramics in advanced applications such as electronics and medicine is on the rise, and these are key areas for ceramics manufacturers to focus on.
3D printing – or additive manufacturing – is a key emerging market for ceramics manufacturers. The medical and dental sectors are using zirconium- and alumina-based ceramic materials in 3D printing for a range of applications such as customized implants, prosthetics, dental crowns, and more. 3D printing can be faster and more affordable than other options, making operations and treatments accessible to more people. Other industries are taking advantage of 3D printing as well, for custom components in the aerospace industry, automobile components, and much more.
APAC is currently the largest market for ceramics, accounting for nearly 40% of revenue, with countries such as China, India, and Vietnam playing a key role in the industry. More than half of the world's tile production comes from this region, and the number of ongoing and planned construction projects for infrastructure, smart cities, and other developments means there is high demand for materials such as ceramics. North America is the second-largest region for the global ceramics industry, followed by Europe.
Who Are the World's Top Ceramics Manufacturers?
With so many diverse applications for ceramics, the industry is a fragmented one, with companies specializing in different areas. This leaves more room for competition and differentiation among ceramics manufacturers, though there are still industry giants dominating the market in many areas.
| | |
| --- | --- |
| Company | Revenue (USD millions) |
| Saint-Gobain | 50,788 |
| 3M | 32,100 |
| LIXIL Group Corp. | 16,227 |
| Kyocera Corporation | 15,314 |
| AGC Ceramics Co.,Ltd | 14,538 |
| SCHOTT AG | 14,400 |
| Corning | 11,503 |
| Mohawk Industries | 10,000 |
| Imerys Ceramics | 5,191 |
Want to connect with top ceramics manufacturers? Find key market players along with industry news and insights through BizVibe's marketplace.
Founded: 1665
Headquarters: Courbevoie, France
Employees: 171,000
Revenue: $50.8 billion
Saint-Gobain is a multinational corporation that designs, manufactures, and distributes a wide range of products and solutions. The company is active in the building, transportation, infrastructure, and industrial sectors, and its products are used in offices, vehicles, healthcare, and many other settings. More than three-quarters of its sales are made in the construction industry, and the company's building division offers a wide range of ceramic floor and wall tiles for indoor and outdoor applications.
Founded: 1902
Headquarters: St. Paul, US
Employees: 96,000+
Revenue: $32.1 billion
3M offers products and services for a wide range of industries and applications, with corporate operations in 70 countries and sales in 200. Some of its well-known brands are Post-it, Scotch, and Command, but the company's expertise extends beyond consumer products and into industrial manufacturing and solutions. 3M designs and manufacturers advanced ceramics systems, materials, and components for the transportation, oil and gas, fuel cells, electronics, and aerospace industries.
Founded: 1949
Headquarters: Tokyo, Japan
Employees: 71,000+
Revenue: $16.2 billion
With 270 subsidiaries and affiliates across Japan and around the world, LIXIL manufacturers water and housing products such as baths, toilets, kitchen systems, windows, building exteriors, and furnishings. The company has a presence in over 150 countries and design centers in 6 locations globally. It produces ceramic products for a range of household and building uses.
Founded: 1959
Headquarters: Kyoto, Japan
Employees: 75,505
Revenue: $15.3 billion
Kyocera is a global organization with 298 companies worldwide. Its business segments include industrial, automotive, semiconductor, electronics, communications, life and the environment, and more. The corporation produces advanced materials, components, devices, equipment, network engineering, and other services. It offers over 200 types of ceramic materials, including oxide, non-oxide, and metal composite, and its fine ceramics are used in a wide range of consumer and industrial applications.
Founded: 2002
Headquarters: Tokyo, Japan
Employees: 55,000+
Revenue: $14.5 billion
Formed as a spin-off from Asahi Glass Co., Ltd in 2002, AGC Ceramics' roots trace back to 1916 when the original company was established. The ceramics manufacturer is a part of ACG Group, which operates in more than 30 countries and regions. The company's key products include glass, cement, aluminum, and incinerator products, and it manufacturers specialty products such as ceramic beads, abrasion-resistant ceramics, and engineering fine ceramics.
Founded: 1884
Headquarters: Mainz, Germany
Employees: 16,200
Revenue: $14.4 billion
SCHOTT is an international corporation that manufactures and sells specialty glass and glass-ceramics through its production sites and sales offices in 34 countries. The company develops products for a range of sectors including home appliance, pharma, electronics, optics, life sciences, automotive, and aviation. SCHOTT's specialties include multilayer ceramics and ceramic-to-metal sealing technology, as well as glass-to-metal sealing, thermal sensing components, and specialty glass technologies.
Founded: 1851
Headquarters: Corning, US
Employees: 50,000
Revenue: $11.5 billion
Corning operates in the areas of glass science, ceramics science, and optical physics, manufacturing a wide range of products for industrial and consumer use. The company serves the optical communications, mobile consumer electronics, display, automotive, and life sciences industries, and its products include damage-resistant and precision glass for displays, optical fiber, wireless technologies, and connectivity solutions, along with products to accelerate drug discovery and delivery, and clean-air technologies for vehicles. Corning produces ceramic technologies such as cellular ceramic substrates for automotive emissions control.
Founded: 1878
Headquarters: Calhoun, US
Employees: 41,600+
Revenue: $10 billion
Mohawk Industries is a global flooring company, manufacturing carpet, tile and other flooring products for residential and commercial properties around the world. The company has manufacturing facilities in 18 countries and sales operations in over 170, and its offerings include ceramic tile, carpet, rugs and mats, laminate and vinyl flooring, wood flooring, and countertops. Mohawk's ceramics division manufactures products such as ceramic tile, stone floors, porcelain roof tiles, and stone, quartz, and porcelain slab countertops.
Founded: 1782
Headquarters: Paris, France
Employees: 1650
Revenue: $5.2 billion
Imerys Ceramics, a part of the Imerys Group, is one of the industry's leading ceramics manufacturers and produces high-performance mineral solutions and kiln furniture for the ceramic industries. The company has a presence in over 80 countries, with more than 40 industrial facilities and 20 laboratories. Imerys Ceramics' materials include kaolin, raw materials and ceramic bodies for sanitaryware and tableware, raw materials for floor tiles, and clay roof tiles and kiln furniture for roofing tiles.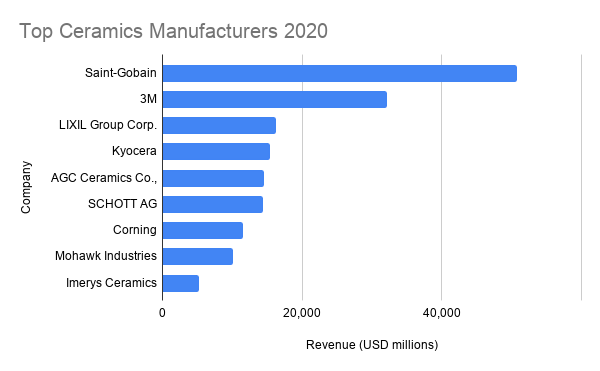 Which Ceramics Manufacturers Lead the Market Near You?
These are only a few of the world's largest ceramics companies. Discover more ceramics industry leaders through BizVibe's global marketplace.