Global Resin Industry Overview
Resins have a wide range of applications across industries, including medicine, packaging, construction, electronics, and more. Many of the world's leading chemical companies are resin manufacturers, offering a variety of plastic resin products with different attributes and uses. As resins are such versatile materials, there is high demand and room for many specialized resin suppliers. The polymer resin market was worth $76 billion in 2018 according to Market Research Future, and it could surpass $120 billion in value by 2025. As polymer resins are lightweight, they are in high demand from the automotive industry, which is ramping up production of electric vehicles and looking for ways to reduce vehicle weight and improve efficiency. Other industries rely heavily on polymer resin manufacturers as well, including oil and gas, cosmetics, and personal care.
Top Resin Manufacturers in 2020
With resin manufacturing being such a large industry, it includes many global leaders in the chemicals and materials market. The world's top resin companies are all multi-billion dollar businesses, offering numerous polymer resins and other products. Large and diversified businesses also mean that these resin manufacturers are well-equipped to deal with the challenges presented by COVID-19 and weather market fluctuations.
| | |
| --- | --- |
| Company | Revenue (USD millions) |
| Exxon Mobil | 264,938 |
| BASF SE | 69,737 |
| Dow Chemical | 42,951 |
| SABIC | 37,321 |
| LyondellBasell | 34,727 |
| LG Chem | 24,843 |
| DuPont | 21,512 |
| INEOS | 16,109 |
| Evonik Industries | 15,405 |
| Covestro | 14,547 |
| Solvay SA | 11,991 |
| Royal DSM | 10,592 |
| Chevron Phillips | 9,333 |
| Formosa Plastics Group | 8,902 |
| Lanxess | 7,995 |
| Celanese Corporation | 6,297 |
Want to connect with top resin manufacturers? Find key market players along with industry news and insights through BizVibe's marketplace.
ExxonMobil is one of the world's largest publicly traded energy providers and chemical manufacturers, with revenues of $264 billion in 2019. The company operates in 4 divisions: upstream, chemical, downstream, and natural gas and power marketing. It operates facilities and markets products in numerous countries around the world, as well as running oil and gas operations on six continents. ExxonMobil's chemical products are used in flexible packaging, vehicle manufacturing, synthetic performance fibers, and more.
ExxonMobil's resin products include:
Linear low-density polyethylene (LLDPE) resins
Low-density polyethylene (LDPE) resins
High-density polyethylene (HDPE) resins
Ethylene and acrylic acid (EAA) copolymer resins
With over 117,000 employees and operations in more than 90 countries, BASF Group serves customers in countless industries around the world. The company is divided into six segments: chemicals, materials, industrial solutions, surface technologies, nutrition and care, and agricultural solutions. Founded in 1865 and based in Germany, BASF's dispersions, resins, and additive products are used in applications such as adhesives, coatings, building materials, nonwovens, packaging, and more.
BASF's resin products include:
Formaldehyde-free acrylic resins
Water-based acrylic resins
High-performance resins and resin solutions for the packaging industry
Water-based polymer resins
Polyurethane ink resins
Founded in 1897, Dow began as a single-product electrochemical company and has grown into a multinational organization with 37,000 employees, 113 manufacturing sites, and a manufacturing presence in 31 countries. The company operates in the chemicals, packaging, infrastructure, and consumer products sectors and its products are used across industries in chemical and materials applications, supplying performance materials, industrial products, and plastics.
BASF's resin products include:
Silicone-based resins
Silicone resin binders
Acrylic-based resins
Acrylic resin binders
Founded in 1976 in Saudi Arabia, SABIC is a petrochemicals manufacturer with over 33,000 workers and operations in more than 50 countries. The company's business units are petrochemicals, specialities, agri-nutrients, and metals, with headquarters in Riyadh and industrial operations in Al-Jubail on the Arabian Gulf and Yanbu on the Red Sea. SABIC manufactures products such as ethylene, methanol, MTBE, polyethylene, and engineering plastics, with petrochemicals being its largest area of focus.
SABIC's resin products include:
Acrylonitrile-butadiene-styrene (ABS) thermoplastic resins
Acrylonitrile styrene acrylate (ASA) resins
Polybutylene terephthalate (PBT) resins
Lycarbonate (PC)-polybutylene terephthalate (PBT) resins
With roots in Germany in 1955, LyondellBasell has become one of the world's largest plastics, chemicals, and refining companies. Its products are sold in over 100 countries, and are used in applications such as packaging, piping, and electronics. The company is a leading producer of oxyfuels, polypropylene, and polyolefin technologies, as well as one of the world's largest resin manufacturers.
LyondellBasell's resin products include:
HDPE resins
LDPE resins
LLDPE resins
Thermoplastic resins

Polypropylene (PP) homopolymers
PP impact copolymers
PP random copolymers

Catalloy process resins
LG Chem is a global chemicals company operating in the petrochemicals, energy solutions, advanced materials, and life sciences sectors. Founded in 1947 and headquartered in South Korea, it has become a national and global leader in the industry. The company's products include petrochemical goods, plastics, electronic materials, rechargeable batteries, and more.
LG Chem's resin products include:
LDPE resins
PP resins
HDPE resins
Polystyrene (PS) resins
Headquartered in the US, DuPont is a global multi-industry specialty solutions company that manufactures products for the safety, healthcare, nutrition, electronics, mobility, and construction industries. DuPont's divisions are electronics and imaging, transportation and industrial, nutrition and biosciences, and safety and construction.
Dupont's resin products include:
Solid resins
Thermoplastic polyimide resins
Nylon resin materials
INEOS is a global corporation specializing in petrochemicals, specialty chemicals, and oil and gas. The company produces raw materials used in numerous other industries, including paints, plastics, textiles, technology, and medicine. INEOS employs 23,000 workers across 183 sites in 26 countries. INEOS' Composites division produces general-purpose and high-performance grades of unsaturated polyester and vinyl ester resins, gelcoats, and low-profile additives for the plastics industry.
INEOS's resin products include:
Epoxy vinyl ester resins (EVER)
Fire-retardant resins
Gelcoats (polyester-based resin coatings)
Unsaturated polyester resins
Evonik is a leading resin manufacturer and producer of specialty chemicals. The company operates in over 100 countries, employing over 32,000 people. Its divisions include specialty additives, nutrition and care, smart materials, performance materials, and technology and infrastructure.
Evonik's resin products include:
Silicone polyester resins
Silicone resin emulsions
Silicone resin solutions
Epoxy resins
While it became a legally independent company in 2015, Covestro has been in operation since the early 1900s as Bayer MaterialScience. The company produces high-tech polymers that are used in industries such as automotive, construction, healthcare, cosmetics, energy, and electronics. Its three operating segments are Polyurethanes (PUR), Polycarbonates (PCS), and Coatings, Adhesives, Specialties (CAS). Covestro employs 17,200 people across 30 sites around the world.
Covestro's resin products include:
Urethane resins
Saturated polyester resins
Polyisocyanate resins
Aliphatic polyether urethane acrylate resins
Polyacrylate resins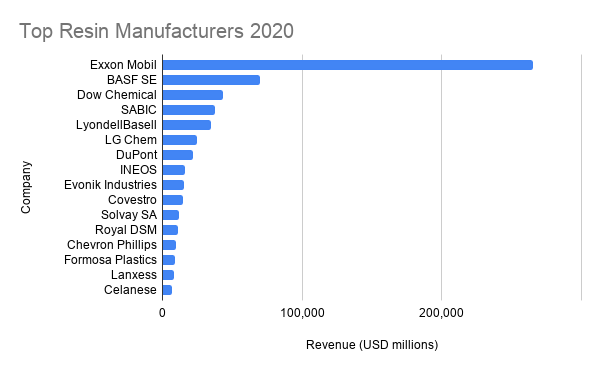 Which Polymer Resin Manufacturers Lead the Market Near You?
These are only a few of the top resin companies in the world. Discover more polymer resin manufacturers through BizVibe's global marketplace.