The debate behind Korean cars vs Japanese cars may never end. Recently J.D. Power's quality study rated South Korean car brands numbers 1 in quality, ahead of their Japanese competitors. Despite the back and forth, South Korean car brands have become synonymous with quality. It's key mergers and acquisitions, as well as a dramatic expansion over the past three decades, contribute to South Korea's positive reputation as a major automotive manufacturing hub. South Korea is currently the 6th largest vehicle producer in the world, following China, the USA., Japan, Mexico, and Germany. South Korea is also the 5th largest exporter of passenger cars, generating around $74.7 billion from passenger cars sold around the world. The top South Korean auto manufacturer is headed for even better performance in 2018 led by some of the most reputable companies around. BizVibe has compiled a list of the top 5 South Korean car brands that will disrupt the industry in 2018.
---
See How BizVibe Helps Passenger Cars Manufacturers and Suppliers in South Korea Connect
---
South Korea Promises New Innovative Automotive Designs
Before we get to our list, here are some key industry trends expected to impact South Korean car brands and their investors in 2018. The future of the South Korean automotive industry holds an abundance of eco-friendly vehicles to be unleashed on the roads including electric vehicles, hybrid vehicles, plug-in hybrid electric vehicles and fuel-cell electric vehicles. The information company, IHS, forecasts this to be a fast-growing automotive segment once the technology is perfected. The South Korean government also sees this as a promising opportunity and is committing $125.9 million between 2016 and 2020 to assist with the research and development of alternative-powertrain vehicles. The government aims to help Korean car companies build over a million green vehicles by 2020, including an additional 1,400 EV charging stations and 80 hydrogen fuel stations across the country.
South Korean Car Brands: Quality and Quantity
There aren't many car manufacturers in Korea, but they all greatly contribute as global leaders in their industry. Korea's safe and innovative vehicles offer a trusted reliability for both industry and consumers. Recent data published by the OICA (International Organization of Motor Vehicle Manufacturers) states that South Korea produced over 4.2 million auto vehicles in 2016, which includes 3.9 million units of passenger cars and 0.37 million units of commercial vehicles. The main duo, Hyundai, and Kia shipped over 7.88 million vehicles from their factories worldwide in 2016, making South Korea a main competitor in the competitive automotive industry.
---
Must Read: South Korea's Automotive Industry: Remains One of the World's Largest
---
Top 5 South Korean Car Brands for 2018
BizVibe presents the list of the top five South Korean car manufacturing companies below. We start with the best, based on their market share in the Korean auto market.
Hyundai Motor Group
Hyundai is the largest car manufacturing company in South Korea and the fourth largest in the world. Chung Ju-yung founded the company in 1967 and sold his first car in America in 1986. Now, Hyundai is a benchmark for quality, selling over 10 million models in the US, with over 760,000 sold in 2016 alone.
The current market capitalization of Hyundai is $34.2 billion and their sales revenue in the fiscal year of 2016 topped $77.81 billion. This company's success allowed them to purchase Kia Motors and now owns over 33% of that company. Two form Hyundai Motor Group along with Hyundai's luxury car brand Genesis.
Genesis became a standalone brand in 2015 to compete with the luxury car market in the United States. Manfred Fitzgerald is now the senior vice president and brings expertise from his former role as the director of brand and design at Lamborghini. There are big plans in the works including a luxury sedan, a sports coupe and two new SUVs planning to be introduced by 2020. One of the top Korean car models, the popular 2017 G90 retails starting at $84,000 — forcing tother South Korean car brands to adapt their strategy to compete.
Hyundai's popular car models include:
Hyundai Elantra
Hyundai Sante Fe
Hyundai Sonata
Hyundai Ioniq Electric
Genesis' car models include:
Hyundai and Kia both own a combined 70% of the South Korean auto market.
Kia Motors
Founded in 1944, this car company is the oldest in Korea and now produces over 3 million vehicles a year from its 14 manufacturing plants in 5 countries. Kia Motors would be #1 on this list of top Korean car brands if it wasn't for the fact that Hyundai is its sister company and owns ⅓ (33.88%) of Kia Motor Corporation. This relationship developed in 1998 and has been beneficial to both South Korean car manufacturers. As sister companies, they work together but are separate brands with separate models.
The current market capitalization of Kia Motors is $12.6 billion and their sales revenue in the fiscal year of 2016 topped $47.4 billion. Kia currently produces the highest quality car in the world, according to J.D. Power ranking, holding its #1 spot two years in a row. They boast an impressive score of 72 PP100, beating out luxury brands like Genesis (#2 and a subsidiary of Hyundai Motors), Porsche (#3) and Ford (#4).
A lot of Kia's success depends on their dedication to a sleek and innovative design, as well as their sponsorships with major sporting events like FIFA, UEFA, NBA, LPGA and the Australian Open tennis championship.
Kia's popular car models include:
Kia Forte
Kia Cadenza
Kia Optima
---
Why you should be networking with South Korean car brands on BizVibe.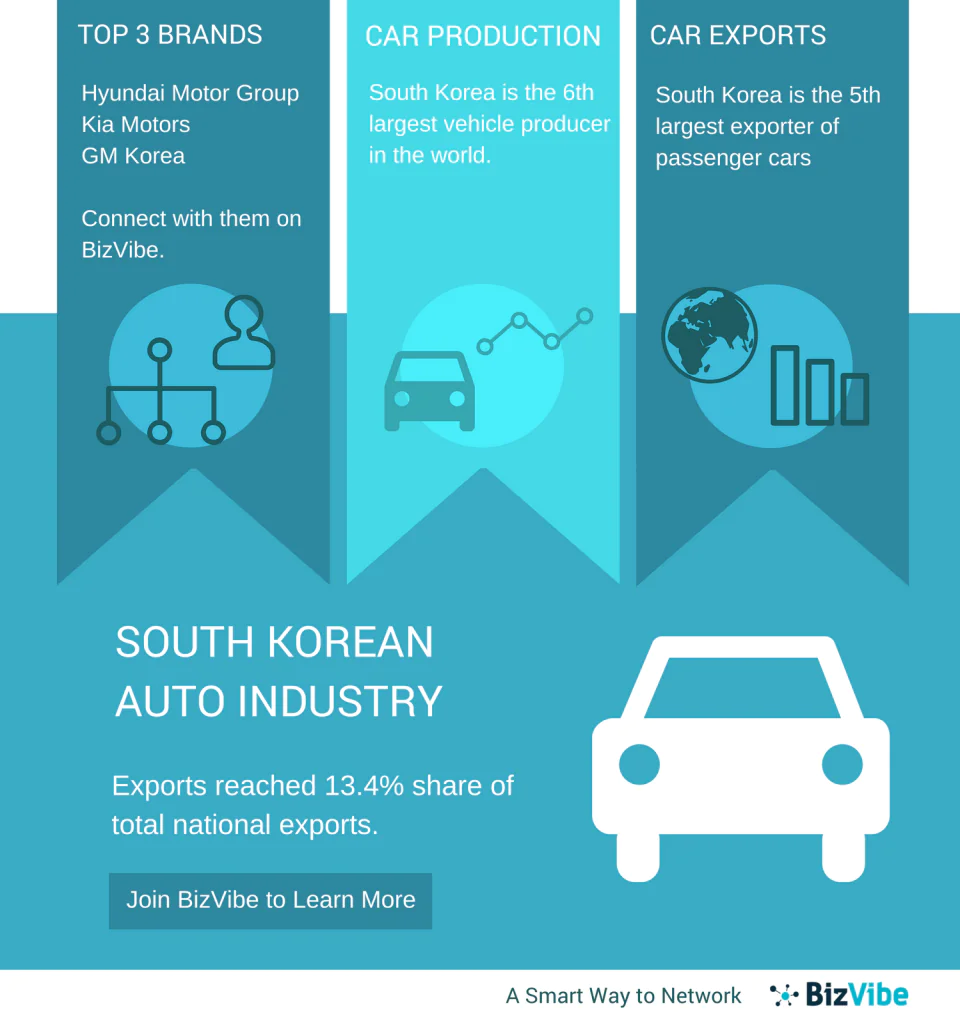 ---
GM Korea
Shinjin Motors became GM Korea back in 1972 after Toyota's withdrawal from the company and General Motors purchasing a 50% stake. Shinjin has roots back to the Korean War when the business was relaunched to rebuild scrapped US military vehicles. After a few name changes and partnerships, GM Korea is now the third largest automobile company in South Korea.
It wasn't easy to get to where GM Korea is today, truly a first for many South Korean car brands. GM had to buy out bankrupt Daewoo Motors in 2001 before they saw a turnaround in their success. Prior to that, the automaker's vehicle development was poor and its sales volumes were insignificant. The first car produced under GM Daewoo, the 2002 Daewoo Lacetti, turned it all around. What was meant to replace Daewoo's popular Nubira model not only did that successfully but also became a GM world car.
General Motors South Korea is now experiencing a transition. As of 2012, there is a new CEO heading the company, Sergio Rocha, who is expected to breathe new life into the company. He offers a wealth of experience in product engineering, planning, manufacturing and management in North and South America, Europe and Asia.
GM Korea's popular car models include:
Chevrolet Captiva
Chevrolet Malibu
Chevrolet Orlando
Damas/Labo
GM Korea owns 7.2% of the South Korean auto market.
SsangYong
SsangYong started out as two separate companies that eventually merged in 1963 to rebuild jeeps, trucks and buses to be shipped to the USA. The company was then bought out by SsangYong Business Group in 1986, who partnered with Daimler-Benz to build a luxury SUV that gave them a strong foothold in the global automotive market. In 2011, after some financial difficulties, Mahindra & Mahindra Ltd. acquired the company to help it reach the success it's experiencing today.
Now, SsangYong only exports SUVs and luxury cars through some 1,600 sales outlets in over 126 countries. They are actively expanding their global presence through private dealers and by establishing major distribution in international markets.
SsangYong's popular car models include:
Tivoli
Chairman W
Rexton W
Korando
SsangYong owns 5.8% of the South Korean auto market.
Renault Samsung
Renault Samsung Motors (RSM) was originally established in 1994 under the name Samsung Motors before it became a subsidiary of Renault Motors in 2000. The French automaker bought a 70% stake for $560 million and after that acquisition, sales vastly improved. The company brought in almost $4.5 billion in revenue in 2015, with future luxury vehicles and electric models expected to boost their revenue and global presence.
RSM is now mainly an export-oriented auto manufacturer, supplying about 132,541 cars globally in 2013 and cumulatively selling 1.5 million units in South Korea from the year 2000 to late 2015. Sometimes the RSM-manufactured vehicles are not exported under their own brand but instead are sold as a Renault or Nissan. In the United States and Canada, the RSM vehicle that most well known is the Nissan Rogue.
This luxury car brand in Korea is headquartered next to its sole assembly site, which is equipped to build 300,000 cars per year. RSM also has an administration facility in Seoul and an R&D center in Giheung.
RSM's popular car models include:
SM5 (also marketed as the Renault Latitude and Renault Safrane)
SM7 (sold as Renault Talisman in China)
QM5 (also marketed as the Renault Koleos)[75]
QM6
RSM owns 5.3% of the South Korean auto market.
The Future of Korean Automotive
South Korea is expected to be a highly-influential automotive manufacturer as the country continuously proves to be one of the most innovative nations in the progress of eco-friendly car technology. Despite current labor cost issues, South Korea is producing some of the highest quality cars available on the market today while vastly contributing to green vehicle technology.
South Korea's automotive industry will continue to boom and act as a key factor to the country's economic success. The nation's leading position in the global automotive industry is attracting a significant number of buyers and traders from large and small companies all over the world, all of whom are hoping to source from the best business deals in the country and with the leading South Korean car brands.
---
Must Read: Top 20 Automobile Manufacturing Countries
---
How BizVibe Can Help
To help your automotive business stay at the peak of the industry, BizVibe provides unbeatable support when sourcing products and making deals with top passenger car manufacturers in South Korea. The state of the automotive industry in South Korea is expected to stay promising for the foreseeable future so now is your time to act. Network with the South Korean car brands today.
Whether you're conducting competitive research or looking for new and reliable suppliers, quality manufacturers or top wholesalers, BizVibe makes it easy to grow your little black book. No matter what your professional goals, BizVibe will help you reach them by introducing you to key industry players and decision-makers across the globe. Sign up for free today!
---
Find them on BizVibe:
Top Company: GM Korea
Top Company: Kia Motors
Must Read:
Top 10 Steel Companies in India (2018)
Top 20 Mobile Gaming Companies in the World
---