The quinoa market in Peru has witnessed growth at a rapid scale over the recent years, making Peru the world's leader in both quinoa production and quinoa exports. Despite the consecutive ups and downs of quinoa commodity prices in the global market, the Peruvian quinoa industry is still expected to continue flourishing—posing greater opportunities for Peru's top quinoa producers, suppliers, and exporters in the future.
What is quinoa? Quinoa is a is a flowering plant from the amaranth family that originated from the Andean region of Peru and a few other South American regions. It is primarily grown for its edible seeds called the quinoa grain. Quinoa is very popular for many reasons like its health benefits, nutritional value and fits many important parameters for health-conscious consumers like the fact that it is gluten-free. Peru is a very important cultivation region due to its preferential climate conditions near the Andes—as the optimal growing conditions are in cool climates that vary between −4 °C during the night to near 35 °C during the day.
Global Quinoa Market Size & Overview
Driven by the growing demand for healthy food around the world, coupled with heavy advertising and promotion over the recent years, quinoa—once a little-known staple food for only local people in South America—has now become one of the most popular and expensive grains in the global food market. Food consumers around the world are fascinated by its healthy and notorious characteristics, such as gluten-free, as well as high in protein, fiber, and amino acids etc.
Due to the sudden demand surge in the US and Europe, the Food and Agricultural Organization (FAO) proclaimed the year 2013 the "International Year of Quinoa." Since then, quinoa production has skyrocketed in response to this increasing demand, growing by 385% in 2011 and continuing to rise at a rate of over 20% per year. Global quinoa production reached 228,870 tonnes in 2015, up from 74,353 tonnes in 2009.
---
Grow your business network, connect with top quinoa suppliers in Peru
---
According to the report form AGMRC (Agricultural Marketing Resource Centre), the price of quinoa has also increased dramatically, nearly tripling between 2006 and 2013 due to high demand in the United States and Europe. Prices started to drop in 2015 indicating a better balance of supply and demand, but there is nevertheless a strong market for quinoa even today. As of 2017, the quinoa market price is around $1.10 per pound.
Production in Peru's Quinoa Market
Peru has overtaken Bolivia to become the world's largest quinoa producer since 2015. The USDA reported that the total quinoa production in Peru was estimated to be over 108,000 metric tonnes in 2015, increased by 17% from previous year. Quinoa in Peru is traditionally produced in the Southern Highlands, particularly in the regions of Puno, Arequipa, and Cusco, which account for 66%, 8% and 7% of total production respectively. However, producers have begun adapting it to lower altitudes and planting quinoa in the arid desert of the Peruvian coast.
In recent years, new quinoa growers in the Southern coast of Peru have successfully adapted this Andean crop to the coastal environment. Improved cultural practices and better pest control have resulted in extraordinary yield increases. Quinoa yields in the highlands average about 1 metric tonnes per hectare with peaks of 1.2 metric tonnes per hectare, while on the lower lands of Arequipa yields average about 5 metric tonnes per hectare with peaks of 8 metric tonnes per hectare.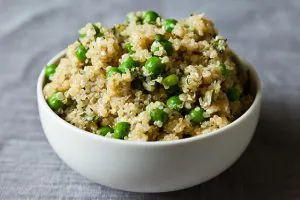 Exports from Peru's Quinoa Industry
In 2016, Peru exported $123 million worth of quinoa to the global market, making the country world's largest quinoa exporter two years in a row. The exports from Peru's quinoa market include quinoa grains, cooked quinoa, quinoa flour, canned quinoa, powdered quinoa, quinoa cereals and quinoa flakes. The USA, Netherlands, France, Germany, the United Kingdom are some of the major importers of Peruvian quinoa.
When it comes to quinoa consumption statistics, the European market for quinoa seeds has grown rapidly in recent years. The EU imported more than four times as much quinoa in 2016 than in 2012. In Europe, quinoa has been developed mainly by the organic sector. It has caught the attention of many food specialists and its popularity is a direct result of increasing consumer awareness of healthier diets.
As reported by the EU Ministry of Foreign Affairs, the total estimated consumption of quinoa in Europe in 2016 was around 25,000 tonnes, following a year-on-year increase and excluding the European production. The main consumer markets for quinoa include France, Germany, the United Kingdom, and the Netherlands. Each of the large consumer countries consumes between 2,500 and 5,000 tonnes of quinoa every year.
Connect with Top Quinoa Suppliers in Peru
The prominence of the quinoa market in Peru has attracted a significant number of buyers and traders from all over the world. To help your food business stays at the top of the industry, BizVibe provides the best solutions to source best products and make the best business deals with the top quinoa suppliers in Peru. Don't miss your chance to connect with the best industry suppliers, manufacturers, and companies on BizVibe.
Whether you're conducting competitive research or looking for new and reliable suppliers, quality manufacturers or top wholesalers, BizVibe makes it easy to grow your little black book. No matter what your professional goals, BizVibe will help you reach them by introducing you to key industry players and decision-makers across the globe.
---
Peru's top quinoa suppliers on BizVibe:
Read more: