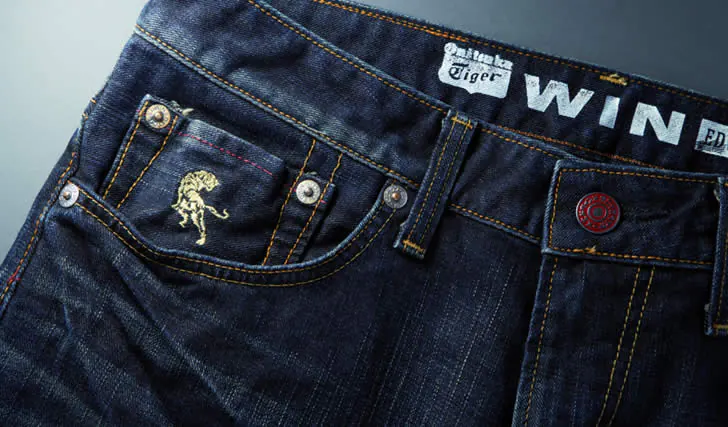 When one thinks of jeans and denim, one probably thinks first of Western countries like the United States. However, real enthusiasts and collectors know that for quality denim, Japan has become a world leader. The country developed its love of denim in the decade or so after WWII, and that love has led to decades of craftsmanship and dedication to the fabric.
Humble beginnings
In the 1950s, Japanese students began to explore the stores at US military outposts, where they were exposed to American products and culture, including jeans and other fashion. Interest in this clothing began to spread, and developed into a love for worn, vintage denim. As the school uniform market began to crash in the decades after the war, Maruo Clothing (later Big John) decided to enter the jean market, eventually becoming a best-selling brand in Japan in the 1970s.
Other businesses began to manufacture jeans as well, and as Big John became more successful it encouraged Japanese fashion companies to begin producing denim fabric in the country, rather than importing everything from countries like the US. In the 1990s, high-end brands known as the Osaka 5 came into being, setting Osaka apart as capital of designer jeans.
Creativity and artisanship
Japanese denim and jeans brands focus on quality. The country's denim production factories still use a hands-on approach before machines cut the fabric, often hand-dyeing. The fabric patterns are also often cut by hand.
Some brands take this even farther. One line of vintage-inspired jeans, Momotaro, uses denim that is hand-woven on the type of wooden loom that was traditionally used to make kimonos. The process takes one person 3 months to complete, with a finished pair of jeans selling for up to $2000.
While not every Japanese jean manufacturer goes to such lengths, the country is known for artisanal, high-quality products with a dedicated attention to detail. They often use machines several decades old, and practice vintage stitching techniques, holding their work to a quality that is often left behind in Western countries.
Vintage in vogue
Japan still has a love of vintage jeans, both authentic and imitation. This is part of the reason for working with vintage machines and techniques: the desire to recreate a feel and look from decades in the past. But there is also a market for genuine jeans that are as much as 70 years old or more.
Vintage worn denim has become a collector's item in the country, and Japanese enthusiasts now own about 70% of US vintage denim. Levis are a particular favorite. These jeans are so popular that pairs from the 1940s can sell for more than $3000 in the country. Particularly rare Levis have been known to go for $40,000.
While high-end brands can be hard on the wallet, Japanese companies also produce more affordable jeans that still adhere to high standards of quality. Particularly in recent years, prices of Japan's popular selvedge jeans have come down considerably, making them more accessible for those with lower budgets. And for the real connoisseurs and enthusiasts, Japanese brands have many well-made, unique products on offer.
Thousands of world's leading textile and apparel companies can be in your contact list if you register to join BizVibe today! Whether you are looking reliable suppliers, top textile manufacturers, wholesalers and potential customers in over 70 major countries, or finding out what your competitors are buying and which suppliers they're using, BizVibe can help you reach out to sales prospects and decision-makers in the textile industry across the globe.
Register for free now to build your own network of global textile companies on BizVibe