Bakery Industry Overview
Baked goods are a staple in countries around the world. From basic breads and rolls to cakes and pastries, cookies and crackers, and other snacks, the global bakery market encompasses fresh, packaged, and frozen goods and includes specialty products such as gluten-free and organic offerings. The world's largest bakery companies originated in different regions but have spread their products and influence across continents.
Despite the challenges created by the COVID-19 pandemic, bread manufacturers and bakery chains can expect a favorable outlook over the next several years with a CAGR of close to 4%. Estimated to be worth roughly USD 350 billion in 2020, the global bakery products industry is expected to grow by over USD 100 billion in the next 5 years, with the US and China leading in terms of market size. Japan and Canada are also key countries for commercial bread companies and bakery brands.
Demand continues to rise for gluten-free and organic bakery products. Top bakery companies need to ensure they offer these items in order to meet consumer needs, or risk losing business to the competition. As such, many of the largest bakery companies have developed or acquired brands that cater to customers looking for gluten-free and health-conscious breads and baked goods.
Who Are the World's Largest Bakery Companies?
In a market worth hundreds of billions of dollars, industry leaders are powerful forces with numerous brands and product offerings along with a global reach. Nearly all of the top 10 bakery companies had revenues of over a billion USD in 2019, in some cases much more. So who are the industry's biggest players are and how much are they worth?
| | | | |
| --- | --- | --- | --- |
| Rank | Company | Revenue (USD millions) | Country |
| 1 | Mondelēz International | 25,868 | US |
| 2 | Associated British Foods Plc | 20,627 | UK |
| 3 | Kellogg Company | 13,578 | US |
| 4 | Grupo Bimbo | 13,159 | Mexico |
| 5 | Yamazaki Baking Co. Ltd. | 9,955 | Japan |
| 6 | Campbell Soup Company | 8,107 | US |
| 7 | JAB Holding Company logo | 5,730 | Luxembourg |
| 8 | Flowers Foods | 4,124 | US |
| 9 | Britannia Industries | 1,466 | India |
| 10 | Warburtons Ltd. | 638 | UK |
With a presence in over 150 countries around the world, Mondelēz is one of the top bakery brands in the world and a leader in snacks and other packaged food items. The company has 80,000 employees across 80 countries, manufacturing biscuits, chocolate, gum, candy, grocery items, and powdered beverage products. Mondelēz's leading bakery product lines include Oreo, belVita and LU biscuits, Chips Ahoy, Ritz, Triscuit, and many others.
Founded in 1935 as Food Investments Limited, Associated British Foods has grown into an international manufacturer and retailer with 138,000 employees across 52 countries around the world. The company operates in five business segments: grocery, sugar, agriculture, ingredients, and retail. Its bakery brands include Allied Bakeries, George Weston Foods, Speedibake, and more.
The Kellogg Company began in 1906 in the US, eventually moving into Canada and more than 180 other countries around the world. The company produces cereal, snacks, frozen foods, and other items, including several brands that offer high fiber content and whole grains. Its bakery product brands include Pop Tarts, Town House, Carr's, Cheez-It, Pringles, and many others.
Founded in 1945 in Mexico as a bread manufacturer, Grupo Bimbo is now a global enterprise with over 134,000 employees and 196 plants in 33 countries. The company makes over 13,000 products across 100 brands, including bakery items such as fresh and frozen bread, cookies, snack cakes, English muffins, bagels, and tortillas, as well as snacks and confectionery products. Its offerings include healthy and organic products to cater to health-conscious consumers and those with dietary restrictions.
Another of the world's largest bakery companies is Yamazaki Baking Co. Established in 1948 in Japan, over the years the company has adopted the latest baking equipment and technology from around the world in order to become a leading bread manufacturer and producer of baked goods. Yamazaki Baking Co. manufactures and sells bread, sweet buns, Japanese- and Western-style confectionery, and other food products.
Want to connect with industry-leading bakery companies? Find key industry players along with market news and insights through BizVibe's marketplace.
Despite what its name might suggest, the Campbell Soup Company produces much more than just soups, operating in the meals, beverages, and snacks segments of the food and beverage industry. Founded in the US in 1869, Campbell's bakery brands include Pepperidge Farm, Milano, Farmhouse, Goldfish, Lance, and many others.
Formed in 2012 as a partner-led investment firm, JAB Holding Company originated in Germany in the 1800s as chemical and industrial manufacturing company Benckiser. Over the years it grew into a supplier for the food and beverage industry, eventually expanding as it acquired household product and cosmetics companies, eventually merging to become the consumer goods business Reckitt Benckiser before forming JAB Holding Company. JAB invests in premium brands and operates across Europe, the US, and South America. Its bakery brands include Panera, Krispy Kreme, and others.
Flowers Foods began operations in 1919 in the US, and is now one of the largest bakery companies in the country with 46 bakeries producing foods for retail and food service. Flowers Foods produces fresh and frozen bakery goods that include breads, buns, rolls, snack cakes, and tortillas. The company owns numerous brands, including those with a focus on healthy, organic, and gluten-free products. Its bakery brands include Wonder, Nature's Own, Dave's Killer Bread, Canyon Bakehouse, Tastykake, Mi Casa, and many others.
India's Britannia Industries is one of the country's top bakery companies, established in 1892 and spreading across India and into more than 60 other countries. Britannia is a commercial bread company as well as a vendor of biscuits, cakes, and dairy products. Many of its products are enriched with micronutrients and contain no trans fats. The company's brands include Good Day, Tiger, NutriChoice, Marie Gold, and many others.
Founded in 1876, Warburtons is the UK's largest bakery brand and second-largest grocery brand. The company operates 12 bakeries making over 70 products, including bread, crumpets, fruit loafs, muffins, teacakes, and wraps. Warburtons also offers gluten-free and wheat-free products produced in their own dedicated bakery.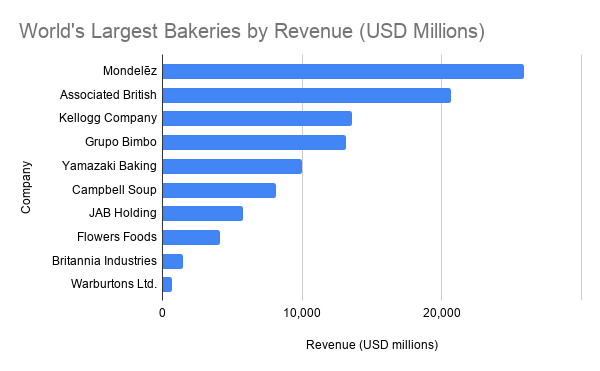 While these are the biggest bakery chains and commercial bread companies, there are numerous other players in the global bakery market. Find other top bakery companies in your region and around the world with the help of BizVibe.