Indian Plastic Industry: Growth Insights
The plastics industry in India has developed and diversified significantly since its inception in 1957. The Indian plastics industry market has now grown to become one of the leading sectors in the country's economy, consisting of over 30,000 firms and employing more than 4 million people. India is also one of the world's top exporters of plastics products. The industry manufactures and exports a variety of raw materials, laminates, electronic accessories, medical ware, and consumer goods. These plastic products are exported to more than 150 countries, mainly in Europe, Africa, and Asia.
The plastics industry in India also provides plastic materials to several other industries like automotive, consumer packaging, and electronics. Over the last few decades, the demand for and usage of plastics in several industries has increased tremendously. Over the last 5 years, the Indian plastic industry has grown by 13% annually. A similar growth rate is expected to continue in 2016-17, and the size of the industry is expected to reach around USD 25 billion by then.
The Growth of Indian Plastics Industry
The growth rate of the Indian plastics industry is among the highest in the world, with plastics consumption growing at 16% per year (compared to 10% p.a. in China and around 2.5% p.a. in the UK). Considering a growing middle class (currently around 50 million) with low per capita consumption of plastics (currently 9.7kg per head), this high growth rate is likely to continue, as the per capita consumption of plastics will inevitably increase. The Plastindia Foundation estimated that plastics consumption in India is likely to reach 16kg per head by 2015.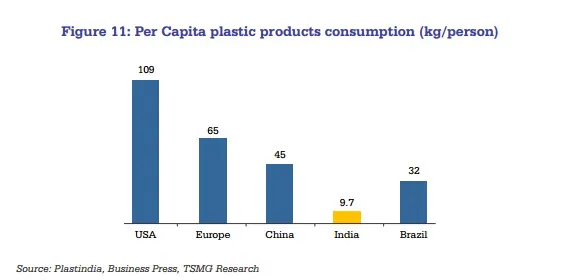 Although India's plastics industry has been hit by the country's general economic crisis over the last two years, including the weakening rupee, underlying economic activity remains strong as the usage of plastic is growing in more and more sectors, opening new markets and replacing traditional materials.
As domestic plastics demand and consumption in India continue to grow at about twice the rate of India's overall economy, polymers are one of the highest segments with an expected growth rate of between 8-12% a year through 2020. India's plastics industry believes the market will see more than double its polymer consumption by 2020, reaching 20 million metric tons.
Indian Plastics Exports
According to the Plastics Export Promotion Council, known as PLEXCONCIL, the exports of the Indian plastic industry have reached over USD 7.6 billion in 2014-2015, and aim to reach USD 10 billion by 2015-2016, from only $16.5 million worth of exports in 1955-56.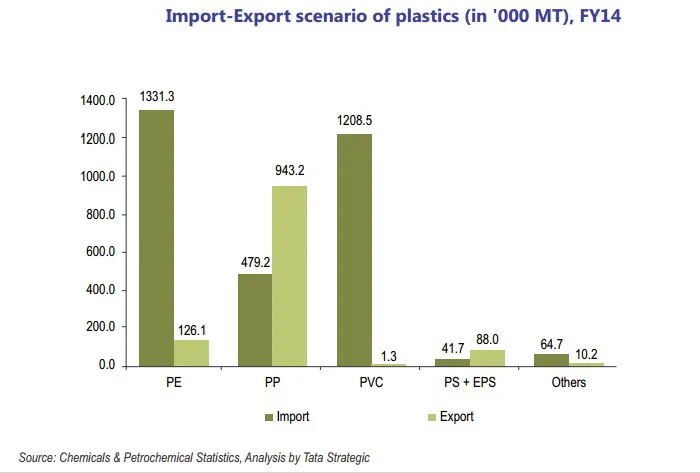 Plastics products made in India are exported to over 150 countries around the world, with the major trading partners being the EU, USA, China, UAE, Saudi Arabia, Turkey, Nigeria, Indonesia, and Egypt.
Prospective of Indian Plastics Industry
Despite India having a population of nearly 1.2 billion and a workforce of 467 million, many Indian plastics companies have reported problems with labor shortages. This has led to an increased amount of investment in manufacturing technology such as automation and conveyor belt systems.
Apart from the shortage of a skilled industry labor, the plastics industry in India is also facing the problem of a nationwide power deficit. The electricity demand deficit is around 13%. This provides excellent opportunities for firms offering energy saving solutions, green manufacturing technology, and ancillary equipment.
Accelerated globalization, rapid change in technology, and growing consumerism have brought about new changes and abundant opportunities for petrochemical companies in the Indian plastics industry to grow locally and globally. Meanwhile, significant investments are also expected in the Indian plastics industry over the next few years, due to its quickly expanding market size. The plastic industry in India is one of the fastest growing sectors which is expected to increase further due to growing demand for affordable packaging.
Due to growing competition, businesses are using networking websites like BizVibe's plastics industry section to find quality business leads and prospects. Whether you are looking for importers, exporters, or manufactures there is a place for you to start on BizVibe.