The global cotton market has experienced some dramatic ups and downs in both production and pricing over the marketing year from 2015 to 2016, mainly caused by a significant drop in cotton production in the early 2015 when major cotton producing nations, led by Pakistan, the United States, and China, saw their cotton output reduced by 9%, the biggest decline in almost a decade. The sudden drop led to releases of cotton stocks, which then caused a relatively small ripple effect on cotton pricing across the globe.
World cotton stocks are expected to experience another decrease in 2016/17
After the big drop in global production, the world cotton stocks reduced by 14% from 22.2 million tons in 2014/15 to 19.1 million tons in 2015/16. A continued decrease is expected by the International Cotton Advisory Committee (ICAC), which suggests that the global ending stocks of cotton are forecast to drop by another 7% to 17.8 million tons by the end of 2016/17. Meanwhile, the latest US Department of Agriculture (USDA) report estimates that the global cotton stocks will drop by 10% in 2016/17, reaching the lowest level since 2011/12.
Th reason behind the world cotton stocks drop is mainly because China plans to continue reducing its cotton stocks after the government sold over 2 million tons of its cotton reserves from May to September 2016. As reported by ICAC, cotton stocks in China are expected to decline by 15%, accounting for over half of the world's total, to 9.6 million tons by the end of 2016/17.
However, the rest of the world may rise on their cotton stocks by 4% to 7.9 million tons in 2016/17. Cotton stocks in India are expected to be 2.4 million tons, representing 13% of the world's total, while US cotton stocks are projected to account for 5% of global stocks, and the rest of the world will stand at 25%.
Global cotton production is expected to rise
When it comes to cotton production, the global output is expected to up by 7% to 22.4 million tons in 2016/17. Although the world cotton producing area has contracted by 2% to 29.7 million hectares so far, productivity will increase by 9% to 753 kg per hectares.
*1 bales = 0.218 metric ton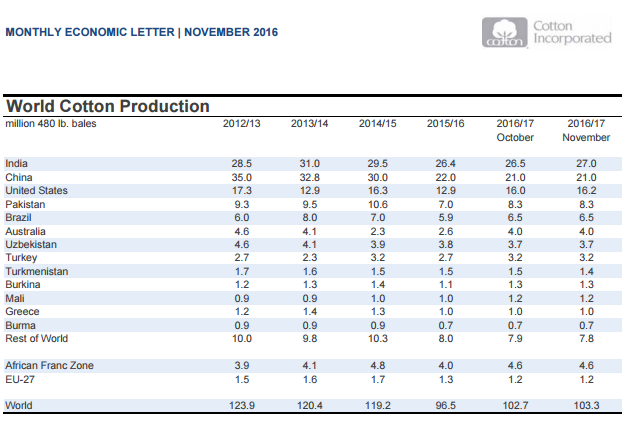 India will remain the world's largest cotton producer, despite the fact that its production is forecast to remain unchanged from 2015/16 at 5.8 million tons. Output in China is projected to decrease by 4% to 4.6 million tons while production in the US is expected to grow by 24% to 3.5 million tons. Pakistan's cotton production is expected to recover by 24% to 1.9 million tons this year after its big drop in the previous year. Due to strong export demand, Brazil's cotton production is also forecast to up by 8% to 1.4 million tons in 2016/17.
Global cotton market prospects
Currently, some of the major issues faced by the global cotton market include continuing increases in farm labour costs and fierce competition for resources and producing lands with other agricultural crops. To tackle these issues, the global cotton production is pursing the higher productivity mainly driven by the R&D of technological progress, such as greater adoption of bio-tech cotton and seeking substantial potential for cotton production to grow. The report from The Food and Agricultural Organization of the United Nations forecasts sustained growth of global cotton market over the medium-term future; however, there may be some uncertainties in demand, supply and prices.
Other factors, such as global economy slowdown, contraction in global textiles and clothing trade, quality and price competition from synthetic fibres and changes in government policies, will also have strong effect on the global cotton market in near future.
Due to the growing competition in the global cotton market, businesses are using networking websites like BizVibe's fabrics and textiles industry section to find quality business partners. Whether you are looking for importers, exporters or manufactures, there is a place for you to start on BizVibe.