The price of Australian wool has had a significant growth over the last few years and this upward trend is very much likely to continue through 2017. So far this year, Australian wool, as represented by the Eastern Market Indicator (EMI), has witnessed its price reaching 1437 ac/kg in February 2017, marking the highest monthly EMI since Australian Wool Exchange (AWEX) began in 1994, reported by AWI Market Intelligence.
The strong growth of Australian wool prices is believed to be mainly driven by rising demand for high-end wool in China. Medium and fine micron wool, which is normally considered as one of the luxury textile materials for making clothes, is becoming more and more popular among the rising middle class in China.
A large order of uniforms from China's government sector has helped drive wool prices upwards, as garment makers in China continue sourcing wool from Australia for making these uniforms. The monthly average price of 17 micron wool types increased to 871 ac/kg in 24 months.
AWI reports that the AWEX Eastern Market Indicator monthly average rose 441ac/kg from 1059ac/kg in February 2015 to 1500ac/kg in March of 2017. Year on year comparison, the EMI is currently 19.2% or 242ac/kg higher in Australian dollar terms. When comparing in US dollar terms, the EMI has risen 230usc/kg or 25% over the past year and currently remains at 1,148 US cents.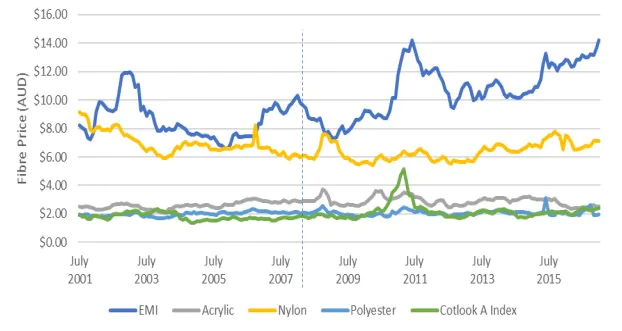 AWI also points out that the price of wool is currently much higher than other competitive fibres such as acrylic, nylon, polyester and even cotton. The chart above from AWI shows that wool is now more than twice the price of nylon, 6 times the price of cotton, 6 times the price of acrylic, and 7 times the price of polyester.
As the price gap between wool and other fibres continues to increase, it also reflects the fact that the demand of wool in the global market is growing, and consumers around the world are willing to pay more for wool as a premium natural fibre compared to others.
Thousands of world's leading textile companies can be in your contact list if you register to join BizVibe today! Whether you are looking reliable suppliers, top textile manufacturers, wholesalers and potential customers in over 70 major countries, or finding out what your competitors are buying and which suppliers they're using, BizVibe can help you reach out to sales prospects and decision-makers in the textile industry across the globe.
Register for free now to build your own network of global textile companies on BizVibe