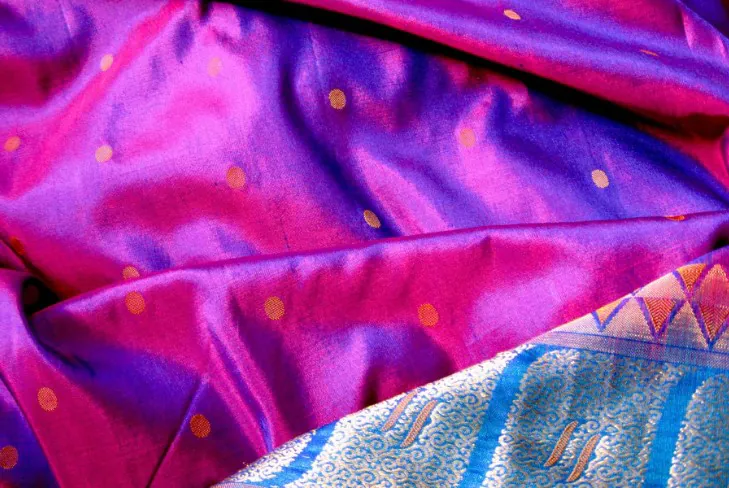 India is the second-largest producer of silk in the world, accounting for about 18% of the world's raw silk production. Over 52,000 villages in the country are involved in sericulture, and the industry employs more than 7.9 million people.
Sericulture in India
In a country with such a large focus on agriculture, an industry like sericulture that sustains so many rural families has an immense impact on the economy, and is therefore a focus for socio-economic development by the government. Silk is also deeply entwined with India's culture, as the country has been making it since the 1400s. It creates a wide variety of garments and produces all five commercial silks: mulberry, tropical tasar, oak tasar, eri, and muga. Muga is unique to India.
The country exports a variety of silk products, including yarns, fabrics, garments, carpets, and silk waste. According to the India Brand Equity Foundation, silk garments made up 62% of export for the period of April-August 2016, by far the largest segment of the market. In that time period, exports of silk products were valued at USD 113.12 million, while 2015-16 exports totaled USD 364.89 million. The US was the largest importer of Indian silk and silk products for 2015-16 (standing at USD 21.59 million), followed by China (USD 13.27 million) and the UAE (USD 8.28 million).
A difficult year for India's silk industry
The financial year 2015-16 was not a strong one for the Indian silk industry. Exports fell from USD 468.96 million during 2014-15 to USD 364.89 million. The Central Silk Board of India attributes this decline to the global recession, and also reports that crossbreed mulberry silk production (which makes up over half of all silk production in the country) declined during this time period. This was due to severe droughts and depletion of ground water in key silk-producing states, as well as a recent crash in mulberry cocoon prices.
There are a number of other factors that are creating challenges for India's silk industry at the moment. Imports of raw silk from China have risen in recent years, and the Indian textile market also faces competition from cheaper textiles from neighboring countries. In terms of the silk production process, the industry uses a lot of outdated technology and low-quality seeds. This can result in low-quality finished products. The country is also encountering a shortage of agricultural laborers, and together with high production costs and low productivity, this makes it difficult to keep production numbers up.
Centuries of experience
The industry is not without its strengths, however. Despite struggles to maintain production levels, India has a high production capacity for silk, and an efficient raw material manufacturing capacity. Its import levels are very low, and it has an extremely large domestic market — almost 80% of silk produced in the country is consumed there, while the remaining 20% is exported. This means it does not need to rely on other countries to a great extent. India also has a wealth of skills and experience from centuries of silk production. While there may still be challenges in this industry's future, there are still many factors in its favor, and many things that can be done to improve its outlook. The silk industry in India will remain an important one for many years to come.
Due to the growing competition in both global and domestic markets, businesses are using networking websites like BizVibe's textile industry section to find quality business partners. So whether you are looking for importers, exporters, or manufactures there is a place for you to start on BizVibe.