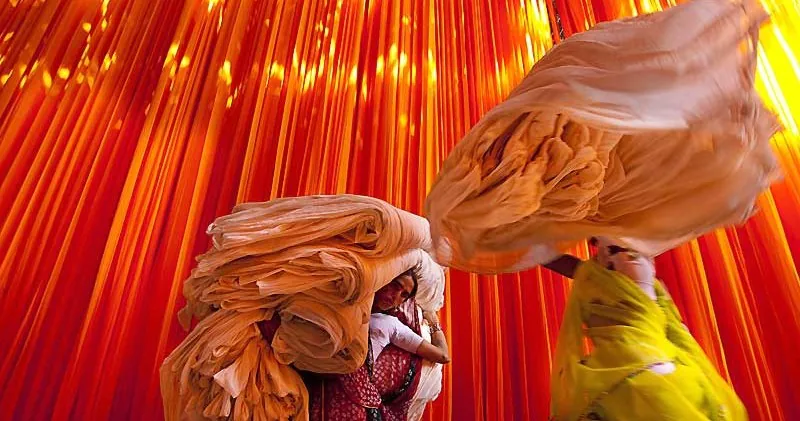 India is the world's second-largest producer of textiles and garments. Abundant availability of raw materials such as cotton, wool, silk, and jute as well as a skilled workforce have made the country a leading sourcing hub for the global textile market. Here is an insightful round-up about textile industry in India. Due to growing competition, businesses are using networking websites like BizVibe's textile industry section to find quality business partners. So whether you are looking for importers, exporters, or manufactures, there is a place for you to start on BizVibe.
Indian Textile Industry Overview
The textiles industry accounts for about 24% of the world's spindle capacity and 8% of global rotor capacity. The potential size of the Indian textiles and apparel industry is expected to reach USD 223 billion by 2021. The sector contributes about 14% to industrial production, 4% to the gross domestic product (GDP), and 27% to the country's foreign exchange inflows. It provides direct employment to over 45 million people. The textiles sector is the second-largest provider of employment after agriculture. Thus, the growth and all-round development of this industry has a direct bearing on the improvement of India's economy.
The global trade of India's Textile and Garments
The Indian textile and garment industry has an important presence in the country's economy through its contribution to industrial output, employment generation, and export earnings. It contributes almost 5% to the USD 1.8 trillion Indian economy, whereas its share in Indian exports stands at a significant 13%. India is the second-largest exporter of textile and garment goods with a global trade share of approximately 5%.
In 2013, India became the second-largest exporter of textiles and garments in the world, surpassing Italy and Germany. India exported textile and garment goods worth USD 40 billion, with a share of about 5% of global textile and garment trade. In terms of value, Indian textile and garment exports are dominated by the garment category, which has a majority share of 40% and is followed by yarn, fabrics, fibre, made-ups, and other textiles including carpets and nonwovens.
Government Policies in India's Textile Industry
The Indian government has come up with a number of export promotion policies for the textiles sector. It has also allowed 100% FDI in the Indian textiles sector under the automatic route. Some major policies include the following:
The Technology Upgradation Fund Scheme has infused investment of more than INR 2500 billion in the industry. Support has been provided for modernization and upgradation by providing credit at reduced rates and capital subsidies.
The Scheme for Integrated Textile Parks provides world-class infrastructure to new textile units. To date, 57 Textile Parks have been sanctioned with an investment of INR 60 billion. By 2017, 25 more Textile Parks are to be sanctioned.
The Integrated Processing Development Scheme for sanctioning processing parks has been initiated. INR 5 billion has been earmarked for this scheme.
The Integrated Skill Development Scheme has provided training to 1.5 million people to cover all sub-sectors of textiles such as textile and apparel, handicrafts, handlooms, jute and sericulture.
Future Prospects for Textile Industry in India
The Indian textiles industry is set for strong growth, buoyed by both strong domestic consumption as well as export demand. The industry is expected to reach USD 220 billion by 2020.
With consumerism and disposable income on the rise, the retail sector has experienced rapid growth in the past decade, with several international players like Marks & Spencer, Guess, and Next having entered the Indian market. The organized apparel segment is expected to grow at a compound annual growth rate (CAGR) of more than 13% over a 10-year period.