Frozen Food Industry Overview
Frozen food products have been growing in popularity and sophistication in recent years, and the global COVID-19 pandemic has further ramped up demand. Frozen food companies have seen an increase in purchases since the start of the pandemic, as consumers dine out less and stock their freezers with extra supplies. According to Mordor Intelligence, the global frozen food market was worth over $290 billion in 2019 and is expected to hit $404 billion by 2027, with increasing opportunities for both top frozen food companies and new entrants to the industry.
Global Frozen Food Market Trends and Statistics
The frozen potatoes segment is expected to grow the fastest, with a projected CAGR of 4.8%
Frozen ready meals is the most popular product segment, accounting for almost a third of purchases from frozen food companies
The food service industry is the largest consumer of frozen food products, accounting for more than 50% of the market
Europe is the biggest market for frozen food products, while APAC is the fastest growing, driven primarily by China, India, and Japan
Rising disposable income in many countries around the world, improved shelf life, and convenience are key drivers of the global frozen food market
Who Are the Top Frozen Food Companies in the World in 2020?
There are many food and consumer goods giants involved in the frozen foods industry, offering products from ice cream to pizza to vegetables and more. However, while they may be among the world's largest companies, they aren't always the biggest players in the frozen food sector. BizVibe's list of top frozen food manufacturers is a mix of diversified corporations and specialized vendors, all of whom are leading names in the industry.
| | |
| --- | --- |
| Company | Revenue (USD millions) |
| Cargill | 114,700 |
| Nestle S.A.  | 101,159 |
| Kraft Heinz Company  | 25,000 |
| General Mills, Inc. | 17,626 |
| ConAgra Foods, Inc. | 11,000 |
| Ajinomoto | 10,429 |
| McCain Foods | 7,584 |
| Nomad Foods Ltd | 2,695 |
| Bellisio Foods | 538 |
| Wawona Frozen Foods | 497 |
Want to connect with top frozen food companies? Find key market players along with industry news and insights through BizVibe's marketplace.
Founded: 1865
Headquarters: Wayzata, US
Employees: 155,000
Revenue: $114.6 billion
Cargill is a global food corporation and one of the largest businesses in the US. It operates in 70 countries around the world in industries such as agriculture, foodservice, food and beverage, and many others. The company's frozen food products include ready meals, fruit, and other items. It also works with crops and animals.
Cargill's products and service divisions include:
Agriculture
Animal nutrition
Beauty
Bioindustrial
Food and beverage
Foodservice
Industrial
Pharmaceutical
Meat and poultry
Transportation
Risk management
Founded: 1866
Headquarters: Vevey, Switzerland
Employees: 291,000
Revenue: $101.16 billion
With over 2000 brands and more than 150 years of experience, Nestlé is one of the biggest food and beverage companies in the world. The company has a presence in more than 180 countries globally, and many of its brands are household names. The company's milk products and ice cream division alone earns over $14.5 billion, while its prepared dishes and cooking aids segment brings in more than $13 billion.
Nestlé's frozen food brands include:
Hot Pockets
Stouffers
Tombstone
DiGiorno
Lean Cuisine
Mövenpick
Häagen-Dazs
Founded: 2015
Headquarters: Chicago, US
Revenue: $25 billion
Heinz and Kraft merged in 2015 to form the Kraft Heinz Company, one of the largest food and beverage manufacturers in North America and the world. The company controls eight $1 billion+ brands, along with numerous others such as Capri Sun, Classico, Jell-O, Kool-Aid, Maxwell House, Oscar Mayer, and Velveeta.
The Kraft Heinz Company produces frozen food products such as:
French fries
Burgers
Snacks
Appetizers
Ready meals
Founded: 1866
Headquarters: Minneapolis, US
Revenue: $17.62 billion
Another multinational food and beverage corporation, General Mills operates in over 100 countries with more than 100 brands, including eight $1 billion+ brands. Some of its notable product lines are Cheerios, Nature Valley, Betty Crocker, Yoplait, Old El Paso, and Blue Buffalo. The company produces a variety of frozen foods across several of its brands.
General Mills' frozen food products include:
Ice cream
Frozen dough
Vegetables
Desserts
Snacks
Founded: 1919
Headquarters: Chicago, US
Employees: 18,000
Revenue: $11 billion
ConAgra Brands is a packaged foods company serving supermarkets, restaurants, and foodservice establishments. It operates under three divisions: frozen, snacks, and staples. The company operates 50 locations and sells its products under numerous food brands.
ConAgra's brands include:
Birds Eye
Duncan Hines
Healthy Choice
Marie Callender's
Reddi-wip
Slim Jim
Angie's
BOOMCHICKAPOP
Duke's
Earth Balance
Gardein
Frontera
Founded: 1909
Headquarters: Tokyo, Japan
Employees: 32,500
Revenue: $10.43 billion
Ajinomoto began as a seasoning manufacturer in 1909 and has grown into an international food manufacturer, with products tailored to both Japanese and international consumers. The company operates 121 factories in 35 countries and regions, and earns more than $2 billion of its revenue from the frozen food sector. Ajinomoto entered the frozen food market in 1972 to launch quality luxury products that filled unmet consumer demand in Japan. It also began exporting its frozen food products to other parts of the world, and has been acquiring companies from other countries in order to expand its global presence.
Founded: 1957
Headquarters: Toronto, Canada
Employees: 22,000
Revenue: $7.58 billion
McCain Foods is a Canadian frozen food manufacturer with operations in numerous countries across 6 continents. The company sells its products in over 160 countries, and accounts for a substantial amount of the world's frozen potato products. McCain owns 51 production facilities globally. While the company may be best known for the McCain brand and its varieties of frozen French fries, it also produces appetizers, pizzas, desserts, and more. McCain owns a number of other brands in the frozen food market and throughout the value chain.
McCain's brands include:
CêlaVíta
Day & Ross
Infinity Foods
Lutosa
Van Geloven
Founded: 2015
Headquarters: Feltham, England
Employees: 4,800
Revenue: $2.67 billion
Formed in 2015 with the acquisition of iglo Group, Nomad Foods is one of Europe's leading frozen food companies with a range of products sold across the continent and around the world. The company manufactures, sells, and distributes frozen foods under brands such as Birds Eye, Findus, iglo, and more. Frozen fish are Nomad Foods' biggest product segment, accounting for 40% of revenues, followed by vegetables at 20%.
Nomad Foods' product lines include:
Frozen fish
Vegetables
Ready meals
Poultry
Pizza
Potatoes
Founded: 1990
Headquarters: Minneapolis, US
Revenue: $538.69 million (estimate via D&B)
Bellisio Foods produces frozen meals under a range of different brands for consumers across North America. The company's brands include Michelina's and EAT! Frozen Entrées, and it also licences brands such as Boston Market, EatingWell, and Atkins Frozen. Its products are sold in supermarkets and grocery stores in the US and Canada, and include single-serve entrees, multi-serve meals, snacks, and appetizers. Bellisio also serves private label, foodservice, and co-manufacturing customers through the Overhill Farms brand.
Bellisio's brands include:
Michelina's
EatingWell
Boston Market
Atkins Frozen
Authentic Asia
EAT! Frozen Entrées
SO RIGHT
Yum Dynasty
Founded: 1963
Headquarters: Clovis, US
Revenue: $497.65 million (estimate via D&B)
Wawona Frozen Foods is a US company that specializes in frozen fruit products. The company supplies both conventional and organic fruits to food manufacturers, distributors, restaurants, and supermarkets. It offers over 100 different items and ships more than 100 million pounds of food across North America annually.
Wawona's product segments include:
Peaches
Strawberries
Pears
Plums
Mixed Fruits
Custom Blend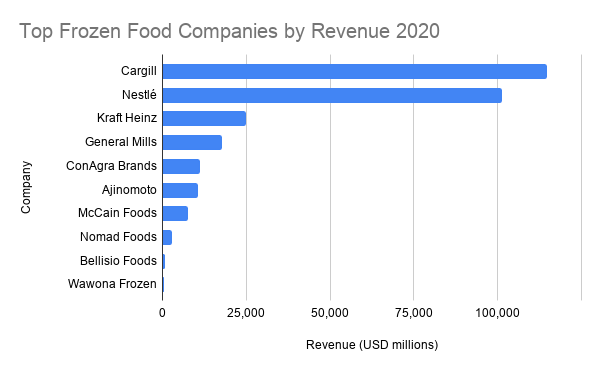 Which Frozen Food Companies Lead the Market Near You?
These are only a few of the top frozen food manufacturers in the world. Discover more leading companies through BizVibe's global marketplace.