Civil Engineering Industry Overview
Infrastructure is a crucial sector for any country, facilitating transportation, utilities, business operations, and much more. Civil engineering companies, therefore, are essential to development and improvement initiatives in cities and nations around the world. The size of the industry reflects this – according to Grand View Research, the global civil engineering market was worth $8.73 trillion in 2019, and is expected to grow at a CAGR of 5.4% between 2020 and 2027. APAC is driving the global market's growth, as countries in the region continue to develop infrastructure to meet the needs of their rising populations.
Civil Engineering Market Facts
Construction was the largest segment in 2019, accounting for 27.7% of the market
Government was the biggest customer segment in 2019, making up 41.6% of business for civil engineering companies
APAC held 32.5% of the global civil engineering market in 2019 and will continue to be the leader for the next several years
Europe was the second-largest market, with construction being a key contributor to the GDP of countries in the region
The planning and design segment is expected to have the highest CAGR during the forecast period as it's key to the rest of the civil engineering process
Emission standards are shaping construction activities in Europe and North America, driving the need for the services of civil engineering companies
Green building materials are also rapidly becoming more common, creating new opportunities for civil engineering companies
Who Are the Biggest Civil Engineering Companies in the World in 2020?
In a trillion-dollar industry, there are many industry giants as well as numerous smaller competitors. The world's top civil engineering firms are all billion-dollar enterprises themselves, with operations spread across continents. These leading civil engineering companies have their roots and headquarters in different countries around the world, but all have expanded to become industry giants.
| | | | |
| --- | --- | --- | --- |
| Company | Headquarters | Founded | Revenue (USD millions) |
| Power Construction Corporation of China Ltd | Beijing, China | 2011 | 60,203 |
| Acs Actividades De Contruccion Y Servicios | Madrid, Spain | 1997 | 45,687 |
| Hochtief Ag | Essen, Germany | 1873 | 30,252 |
| Bechtel Corporation | San Fransisco, US | 1898 | 21,800 |
| AECOM | Los Angeles, US | 1990 | 20,173 |
| Vinci Construction | Paris, France | 2000 | 16,649 |
| Jacobs Engineering Group, Inc. | Dallas, US | 1947 | 12,738 |
| Wood Group | Aberdeen, UK | 1982 | 10,000 |
| SNC-Lavalin | Montreal, Canada | 1991 | 7,183 |
| Galfar Engineering & Contracting SAOG | Muscat, Oman | 1972 | 646 |
Want to connect with top civil engineering companies? Find key market players along with industry news and insights through BizVibe's marketplace.
The Power Construction Corporation of China is a state-owned civil engineering company formed from 14 separate enterprises in the engineering, equipment manufacturing, and electric power survey and design sectors. The group provides civil engineering and construction services across a range of industries, including investment, planning, design, and project contracting and operation. It is also involved in national planning and review of hydro, wind, and solar power, along with other types of clean energy. The group operates within China but also operates several subsidiaries worldwide in the water, thermal power, and new energy sectors. POWERCHINA has over 800 employees across more than 300 locations in 102 countries around the world.
The ACS Group is a Spanish construction and infrastructure company and a leading civil engineering firm. With operations across Europe, the Americas, Africa, and APAC, the ACS Group employs over 190,000 people globally, with a focus on key sectors of the economy such as infrastructure and energy. The group operates in 3 core areas: infrastructure (including civil engineering, construction, and mining projects), industrial services (including energy, industrial, and mobility infrastructures), and general services related to people, building maintenance, and cities.
HOCHTIEF is a global civil engineering company operating through its three divisions based in Europe, the Americas, and Asia-Pacific. Based in Essen, Germany, the firm has been in operation since 1873, offering design, construction, and reconstruction services around the world. Its projects include office buildings, healthcare properties, and sports and cultural facilities.
The Bechtel Corporation is an American civil engineering company with a global reach, taking on projects in 160 countries around the world. The firm serves industries such as infrastructure, security, environmental, oil and gas, and mining and metals. Its service offerings include construction, engineering, development, procurement, sustainability, licensing and consulting, and more.
AECOM is a global infrastructure consulting firm based in Los Angeles, California. The company provides professional services covering all stages of a project's lifecycle, employing 56,000 designers, engineers, construction managers, and more. AECOM was founded in 1990 through the merger of five firms with roots in the previous century. The company is now composed of over 50 different businesses and is one of the largest firms in the US. It runs projects in the transportation, building, water, government, energy, and environmental sectors, providing services such as design, construction, engineering, planning and consulting, and environmental services.
French civil engineering company VINCI Construction is comprised of 69,000 employees in 100 countries. The group has subsidiaries across France and around the world, generating almost half of its revenues internationally. VINCI Construction's solutions and services cover buildings, functional facilities, transport infrastructure, water infrastructure, renewable and nuclear energy, oil and gas, the environment, and mining, with more than 30,000 projects in progress.
With 52,000 employees across 50 countries, Jacobs provides a range of professional civil engineering services such as consulting, technical, scientific, and project delivery to government organizations and the private sector. The company was founded in 1947 and is headquartered in Dallas, Texas. Its projects include environmental, transportation, water, cybersecurity, and many other undertakings.
Wood is a global engineering and consultancy organization, employing 45,000 people to provide consulting, projects, and operations solutions in over 60 countries. The company operates in a range of industries, including the oil and gas, power, infrastructure, clean energy, mining, nuclear, and general industrial sectors. Its engineering projects range from simple endeavors to large and complex undertakings, providing innovative solutions for greenfield projects, asset life extensions, and more.
Founded in Canada in the early 1900s, SNC now operates around the world offering a range of civil engineering services. Its offerings include consultancy, project and construction management, design and engineering, procurement, and more. With headquarters in Montreal, Canada, SNC employs 47,000 people and operates in markets such as energy, cities and development, environment and geoscience, industrial and manufacturing, minerals and metallurgy, security, aerospace and defense, transportation, and water.
Established in 1972 in Oman, Galfar is one of the largest engineering and construction companies in the Middle East. It operates in the oil and gas, roads and bridges, and civil and utilities sectors within Oman as well as other GCC countries and India. The company employs over 23,000 workers, providing engineering, procurement, construction, operations and maintenance, and project management services.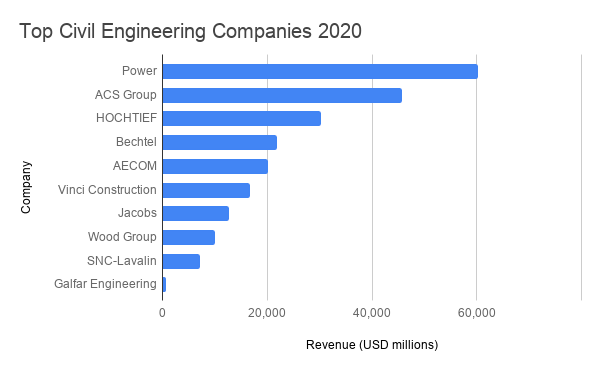 Which Civil Engineering Companies Lead the Market Near You?
These are only a few of the top civil engineering firms in the world. Discover more leading companies through BizVibe's global marketplace.