The Current State of the Automobile Industry
For the last century, the car culture has become a global phenomenon. The automobile industry has shaped the global economy and changed things for the better for billions of people. The global automobile industry is in better shape today than it was five years ago. In the US, profits and sales have rebounded from the economic crisis. Growth also remains strong in China.
In the next few years, global profits in the auto industry are expected to rise by almost 50 percent. Profits are to come mainly from growth in emerging markets. For all of its staying power, though, the industry has also seen constant change. Cars have evolved enormously. Today's cars – equipped with drive-by-wire electric systems or drive assistants — have propelled the automobile industry forward. They would also have been taken aback by the increasingly demanding environmental requirements and the rise of new players, particularly in China. So, what's next in the automobile industry?
This in-depth factsheet is for you to gain perspective on where the global automobile industry is headed.
How the market is evolving?
What are the future challenges and opportunities?
How can OEMs benefit from these new challenges and opportunities?
What are the implications for different market segments?
What are the future trends of the automobile industry?
BizVibe is already helping dozens of automobile dealers of new and used cars connect. See how BizVibe can help you too.
The Current State of the Automobile Industry
What are automobile dealers? Automobile dealers are the link between the manufacturer of the automobile and the U.S. consumer. Automobile dealers provide consumers with a wide array of vehicles to meet their needs at different price points.
The automobile dealer industry is comprised of two segments. New car dealers, often called franchised dealers, primarily selling new cars, sport utility vehicles (SUVs), and passenger and cargo vans. These franchised dealers sell and lease vehicles manufactured by a particular company—typically consisting of several brands. Used car dealers comprise the 2nd segment of the automobile dealer's industry, and are usually referred to as independent dealers. These dealers sell a variety of vehicles that have been previously owned or formerly rented and leased.
According to the National Automobile Dealers Association, new vehicle sales account for more than half of total sales revenue at a franchised new car and new truck dealers. These sales also generate additional revenue in other departments of new car dealers, which are more profitable to the dealer. By putting new vehicles on the road, dealers can count on new repair and service customers and future trade-ins of used vehicles.
Independent used car dealers in the auto industry usually have smaller staffs than their franchised counterparts. Most are stand-alone dealers, but increasingly nationwide companies are opening large superstores across the country. In the auto industry, these large used car and truck dealers typically contract out warranty and other service-related work to other dealers or to satellite service facilities.
Sales in the Automobile Industry?
Goods and Services
The automobile industry sells most of the automobiles, light trucks, and vans that operate on the road today. Vehicle sales in the automotive industry are catered to consumer demand and the popularity of particular models. Automobile dealers also sell additional automobile-related services to their customers. These services include extended warranties, undercoating, insurance, and financing plans. Aftermarket sales departments sell these services and other merchandise after vehicle salespersons have closed a deal. Sales of these packages are vital as they greatly increase the revenue generated for each vehicle sold. Repair work is another profitable service offered by some automobile dealers.
Recent Developments in the Automobile Industry
In the wake of shrinking margins, the global sales of used cars have become a profitable business. To make them acceptable to more customers, some dealers promote "certified pre-owned" vehicles to customers who want a warranty on their used vehicle.
Recently, there has been a decline in car leases. Leases are where the customer makes monthly payments for their car instead of paying it all it once. During a lease, the car is returned to the dealers after the time is over.
The internet has changed the way automobile dealers market new and used cars in the automobile industry. Using the internet, consumers can easily access information about the car; read and watch care reviews; view pictures o vehicles; compare different models; compares car features and prices. As an automobile dealer, it's very important to have a presence on the internet where consumers can discover you.
4 Trends That Will Transform the Automobile Sector
Revenues in the automobile industry will significantly increase and diversify toward on-demand mobility services and data-driven services. This could create up to $1.5 trillion in additional revenue potential in 2030, compared with about $5.2 trillion from traditional car sales and aftermarket products/services, up by 50 percent from about $3.5 trillion in 2015.
Four main challenges will shape the future of the global automobile industry. The industry response to these challenges could raise profitability by EUR 2 billion in a base case scenario. These challenges will matter much more for established markets than for emerging ones.
Complexity and cost pressure
An increase in regulations catered to environmental concerns and safety standards is expected to raise costs and increase complexity. These are factors that need to be managed apart from domestic markets.
The growing number of derivatives serving different vehicle segments and markets based on a single platform also raises complexity.
OEMs will advance and develop different technologies — such as alternative powertrain technologies for lower-emission vehicles. This will require significant investment in the future in electric vehicles and autonomous vehicles.
Diverging markets
The market shares from emerging markets in terms of global sales will rise from 50 percent in 2012 to 60 percent in 2020. The shares of global profits are also set to rise by 10 percent.
There is potential for many emerging segments — smaller vehicle classes are growing stronger than others, particularly in fast-growing emerging markets. Auto dealers need to prepare for the Chinese aftersales market, which will grow an estimated 20 percent per year.
Digital Demand for Buying Cars
When it comes to buying a car, research shows that digital channels are already the primary information source for customers. For many, the next step is buying online. The growing role of digital also applies to the driving experience. Consumers want to combine mobility with communication. This could be an opportunity for OEMs, but only if they can figure out how to make money from this desire.
Shifting industry landscape
As automobile industry manufacturers seek to develop alternative powertrain technologies, suppliers are the ones likely to provide more of the value-added content for automobiles.
Dealers in the automotive industry need to ensure that their suppliers' production footprints – especially in emerging markets – match future market demands and their own production plans. Automobile manufacturers in Europe have one unique challenge: managing the restructuring that is clearly required.
The Internet Has Become a Significant Influence on Buyers' Purchasing Decisions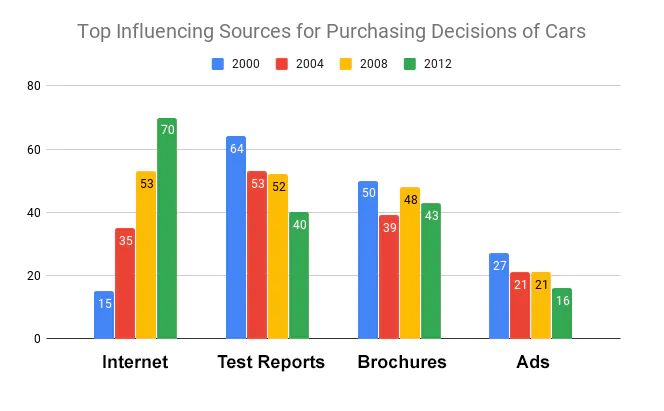 Source: DAT reports for German market
If you're an automobile dealer, stay ahead of the curve and list your company on BizVibe to maxizmize your sales potential.
How Suppliers Are Adding More Value to the Industry
Automobile manufacturers will have to manage rising production volumes – up to 70 percent in Asia by
2020. That means building a local supplier base, designing an enhanced supply chain,
and bolstering supplier capacities.
This is particularly important because the imperative to improve green mobility means that suppliers will become more important in terms of how much value they add, especially for the constantly improving ICE but also for the various electrified powertrain alternatives.
Manufaturers in the automobile industry could consider positioning themselves long-term in the areas of e-motor design and/or manufacturing, battery packaging, and integration. In addition, electronics and software will play a dominant role in vehicle innovation. Approximately 90 percent of automotive innovations in 2012 featured electronics and software, especially in active safety and infotainment options. Since those capabilities will be crucial, OEMs should consider solutions like developing "vertical partnerships" with their preferred suppliers. These would allow OEMs to cut R&D costs while also developing and implementing new features faster.
Automobile Production by Country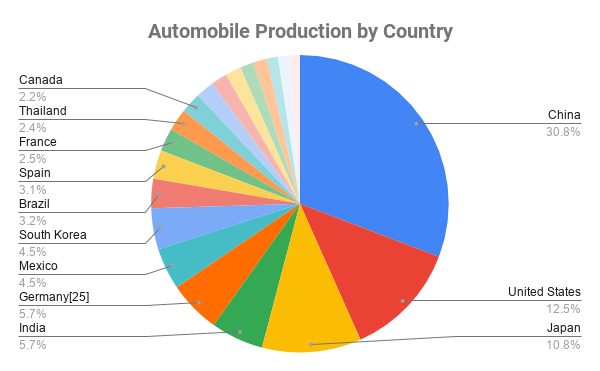 Source: Organisation Internationale des Constructeurs d'Automobiles (OICA)
Ranking the Largest Manufacturers by Automobile Production
This is a list of largest manufacturers by production.
Source: OICA
The French-Japanese partnership between the automobile manufacturers Renault, Nissan and Mitsubishi Motors sells more than 1 in 9 motor vehices worldwide.
Toyota is always at or near the top of this list in terms of largest manufactures of automobiles worldwide.
Car Exports by Country
Here are are the 15 countries that exported the highest dollar value worth of cars.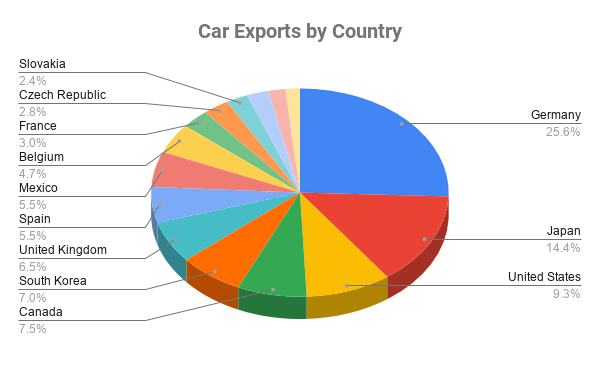 Source: World Top Exports
The fastest-growing car exporters since 2011 were Hungary (up 128.8%), Italy (up 51.6%), Thailand (up 49.9%) and Mexico (up 22.3%).
The top 15 exporters accounted for 88.7% of global car exports by country during 2015
Car Imports by Country
Below are the 15 countries that imported the highest dollar value worth of cars during 2018.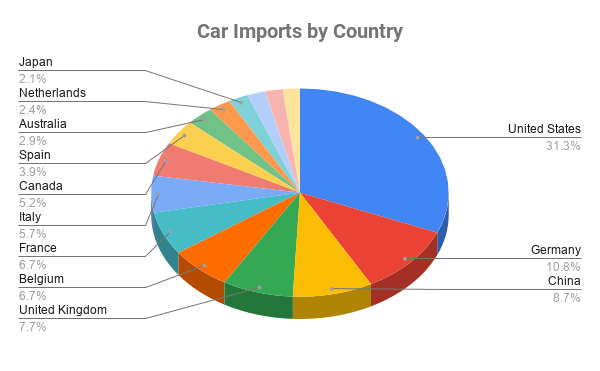 Source: World Top Exports
The top 15 countries purchased almost three-quarters (73.9%) of all cars imported during 2018
The fastest-growing markets for cars since 2014 were: Poland (up 82%), Spain (up 48.5%), Italy (up 41.6%) then South Korea (up 38.5%).
The Future of the Automobile Industry
The automobile industry is one of the most important sectors around and plays a significant role in our society. Going forward we can expect many new innovations that will push technology forward. A landscape shift towards more environmentally-friendly cars is expected to keep trending.