South Korean auto parts suppliers are gaining momentum in 2018 as the world's top vehicle parts distributors. A strict commitment to manufacturing highly-functional and affordable automobile and auto parts, while leading in automobile ingenuity helped South Korea become a top supplier in an expansive international auto market. The nation is currently ranked 5th globally in auto parts manufacturing after China, Japan, the US, and Germany, due to innovative engineering, precise assembly lines, high-quality Korean auto parts and exceptional supply-chain organization. According to InvestKorea.org, South Korea's global production share of auto parts has increased to 3.7% in 2005 from 2.6% in 2000 and has remained over 5% since 2010. 
---
Must Read: South Korea's Automotive Industry: Remains One of the World's Largest
---
South Korea Auto Parts Industry Statistics
Since the year 2000, the auto parts manufacturing industry in South Korea is experiencing major renovations that are shifting the country from a domestic-oriented industry to one that is driven by exports. From 2003 to 2010, the South Korean auto industry grew from an expanded overseas production capacity of Hyundai/Kia. Since 2010, independent Korean auto parts suppliers are experiencing growth from foreign market entry; which is mainly spurred by growth from its downstream market, the automotive industry.
This downstream industry is the starting point of the exponential growth the South Korean auto parts industry is experiencing: it grew 5.9% annually from $41.2 million in 2005 to $62.9 million in 2015. The auto parts industry represents 6.7% of all South Korea's manufacturing production and represents 6% of the industry's added value. Auto parts manufacturing in Korea also accounts for 8.7% of the country's employment, making auto parts manufacturing a major component to South Korea's economic stability. South Korea also ranks 12th in the world for the manufacturing of OEM components and is 18th in global production volume of aftermarket parts.
The growth of South Korea's auto parts industry is reliant on the increased unit prices from specification improvements. Other factors affecting the industry's success include increased overseas production of South Korean vehicle manufacturers (Hyundai and Kia), increased exports from global sourcing trends of foreign automakers, increased outsourcing and modularization of vehicle manufacturers and the intensified role of domestic auto part manufacturers in South Korea.
As of 2015, there are currently 883 auto parts manufacturing companies in South Korea — according to KAMA (Korea Automobile Manufacturers Association) — that employs over 295,000 people.
South Korean Auto Parts Export Information

South Korea is currently ranked as the 6th largest vehicle parts exporter in the world – representing 6.3% of world trade at $21.7 billion in 2016. The top five countries South Korea exports vehicle parts to include the U.S (27%) China (22%), Mexico (6.3%), the Czech Republic (4.2%) and Japan (3.5%).
Major South Korean auto part export product categories include other auto parts, transmissions, other auto body parts, brakes and brake parts. Other auto parts can include anything from knock-down kits to miscellaneous parts. This category represents 46.4% of all Korean auto part exports (2015) and transmissions account for 14.2%.
South Korean auto parts suppliers are a global favorite The enhanced competitiveness of Korea's auto industry boosts its exports of core auto parts like transmissions, brakes and axles, making it no surprise that this industry accounts for a large portion of South Korea's total exports; 4.9% to be exact.
---
See How BizVibe Helps Passenger Cars Manufacturers and Suppliers in South Korea Connect
---
Future Trends & Growth of the South Korean Auto Parts Industry
The growth of South Korea's auto parts industry relies mainly on major government initiatives and intelligent R&D that improves auto part technology and ingenuity. Global demand for high-quality vehicles will also be a contributing factor to Korea's continued success in the competitive auto parts market.
The South Korean government is initiating a plan that will help Korean auto parts suppliers and manufacturers develop new materials and parts in response to Industry 4.0. The plan dubbed, "Fourth Master Plan for the Development of Material/Parts," will focus on the trend most characterized by the 4th Industrial Revolution: industrial automation and data exchange. This plan recognizes the importance of South Korean auto parts and materials industry as a source of added value and its goal is to give the country an edge in the manufacturing market.
The South Korean government is also promoting an alliance between the enhancement of innovation capacities and specialization development attained through supports from industry-academia-research projects. Some examples include intelligent auto parts in Daegu, green electric vehicle parts in Ulsan, quality certification in Busan, specialized support for green vehicle design and convenience system fields in South Chungcheong Province, clean commercial vehicle parts in North Jeolla Province, clean diesel car parts in Gwangju and high-end car-tuning parts in connection with the F1 circuit in South Jeolla Province.
The exterior growth trend experienced by South Korean automakers is forecasted to continue due to existing growth contributors like an increase in unit sale price per vehicle, improvements in specifications and sophistication (OEM revenue), increase in the number of domestic vehicles on the road, expansive overseas production of South Korean auto companies and global parts sourcing of overseas automakers.
Another trend affecting South Korean auto part suppliers includes the development of green vehicles. There are 8 designated core green vehicle parts that are currently in urgent need of development due to technology gaps with other countries. There are also plans to achieve a 100% domestic development of electric motors, powertrain systems for hybrid vehicles, fuel cell vehicle stacks, core parts for common rail systems and after-treatment equipment for clean diesel vehicles.
Top 5 South Korean Auto Parts Suppliers
Four of the five top South Korean auto parts suppliers are part of the Hyundai conglomerate, and all five suppliers rank globally in the top 100 auto-parts-makers based on sales (2015).  Globally, Hyundai Mobis ranked sixth with sales topping $26.3 billion, Hyundai Wia ranked 29th globally at $7.5 billion, Mando ranked 45th with sales of $5.6 billion, Hyundai Powertech ranked 50th with sales of $4.5 billion and Hyundai Dymos ranked 65th with sales of $3.2 billion.
In the chart below, sourced from Korea Enterprise Data, these were the top 10 South Korean auto parts suppliers, ranked by total sales in 2015.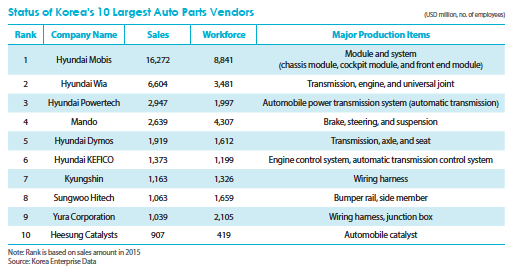 ---
You May Also Like: Top 5 South Korean Car Brands for 2018
---
Current Major South Korean Free Trade Agreements
South Korea has free trade agreements with major world economies in high demand for cars like the U.S., the European Union, Australia and China.
KORUS FTA or, The United States–Korea Free Trade Agreement, was announced February 2006 and concluded April 2007. In September 2017, President Trump talked of withdrawing it completely, but instead, the agreement is in the works of a renegotiation.
The European Free Trade Agreement (FTA) with South Korea was the first of a new generation of bilateral trade agreements by the EU. The agreement negotiations started in May 2007, was officially signed in October 2010 and has been in provisional application since July 2011. South Korea is the 3rd largest importer of cars into the EU, representing 14.1% of EU imports in 2016, behind Japan, the US and Turkey.
The Korea Australia Free Trade Agreement (KAFTA) came into realization in February 2014 and is a highly complementary trade agreement that reduces trade and investment barriers between Australia and South Korea.
The China–South Korea Free Trade Agreement commenced May 2012, on November 2014 the agreement was made official and in December 2015, the agreement was signed by both parties and went into force.
South Korea is The Future of Auto Parts
The global automobile parts industry is suffering from sluggish growth because of the drastic decrease in automobile sales during the 2008 global financial crisis but has grown at least 4.8% annually from $880 billion in 2012 to $1.1 trillion by the beginning of 2018.
Although there is sluggish growth in the global automobile parts market, the production trend of Korean finished-automobile manufacturers shows a drastic increase (3.178 million cars in 2003 to 4.562 million cars in 2012), which trickles down to the upstream industry of car parts. Total industry sales in South Korea grew 2.1% annually on average, with exports soaring 2.6% over the past five years. South Korea is adapting quite well to a changing auto industry and the South Korean government is contributing with much support.
How BizVibe Can Help
BizVibe connects buyers and suppliers from all over the world with the goal of helping B2B companies keep up with market demand. To help your automotive business stay at the peak of the industry, BizVibe provides unbeatable support when sourcing products and making deals with top South Korean auto parts suppliers. Experts expect the state of the automotive industry in South Korea to remain promising for the foreseeable future, so now is the perfect time to act.
Whether you're conducting competitive research or looking for new and reliable suppliers, quality manufacturers or top wholesalers, BizVibe makes it easy to grow your network of business connections. BizVibe will help you reach them by introducing you to key industry players and decision-makers across the globe.
Get started with a free profile today.
---
Top Companies
Related Articles
Top 5 South Korean Car Brands for 2018
Japanese Automotive Industry Spikes to Its Best Level in 2017
Top 20 Automobile Manufacturing Countries
---