The need for smart avionics and an increase in defense spending creates vast opportunities for the top drone manufacturers in India. Drones, also referred to as unmanned aerial vehicles (UAVs), will see an impressive CAGR of 18% between 2017 and 2023 as released in a report from 6Wresearch. India's government is helping to encourage higher drone industry growth by implementing a policy framework by 2020, followed by an even more detailed policy by 2025.
Current Industry Environment for Drone Manufacturers in India
The drone market in India is just beginning and it has major potential. Only since October 30, 2017, did India's Directorate General of Civil Aviation (DGCA) remove a ban on the civilian use of drones and the use of drones in commercial and recreational spaces. The DGCA has also made it easier for drone manufacturers in India to import UAV parts and to export their product.
The Drone Federation of India consists of service providers, industry experts, and drone companies in India that all work together to aid the government in drafting regulations for UAVs. Since the drone industry in India is in the infancy stage, creating a regulatory format that includes both the government and federation will help to create a lucrative Indian UAV market with a global presence. ensuring that the list of list of UAV companies in India continues to grow at a rapid rate going forward.
---
Must Read: Top 10 Industrial Automation Companies in India
---
Global Drone Market
The global drone market is currently valued at $7.16 billion according to Stratistics MRC. Their report also states the global market is projected to be valued at $26.74 billion by 2023, with a CAGR of 20.7% from 2016 to 2023. Drones provide many services such as actionable intelligence, government tasks, military action, photography, discovery and even deliveries from your favorite stores like Amazon, and with constant technological advancements, drones will soon be implemented in almost every industry.
According to Transparency Market Research, the market will see an accelerated demand for commercial drones. Commercial drones are segmented into precision agriculture, aerial photography, surveillance, survey mapping, and energy, among many other sectors.
As drone startups in India continue to increase, we'd like to cover the current 10 largest drone manufacturers in India, as of 2018. We'll revisit this list over time to add additional companies as new companies continue to disrupt the Indian UAV market.
Top 10 Drone Manufacturers in India to Watch in 2018
Located in India's technology hub, Asteria Aerospace is one of the more prominent drone manufacturers in Bangalore. There are about 50 of their drones currently deployed and in service across the country.  This drone manufacturer in India currently has two models and is working on a third that focuses on industrial applications, which will be announced in early 2018. Their current models include:
CYGNUS A10:

 A portable and easy-to-use UAV that is designed for military and civilian surveillance applications. It delivers high-resolution day/night video in real time. It cruises at a speed of 50 km/hr and maxes out at 85 km/hr and can last up to 90 min on a single battery charge.

A400:

 A mini UAV  with an impressive range and endurance with advanced haul capabilities for surveillance and security tasks. Some advanced features include an automatic motion detection in video frames, a geolock mode for keeping the camera fixed at a location and onboard and off-board video recording capabilities.
According to the company, "our capabilities and intellectual property across the entire drone technology stack of hardware, software, and analytics enable us to build deeply customized aerial remote sensing tools."
These startup done manufacturers in India are already making big moves. After only being founded in 2013, co-owners Gaurav Mehta and Rahat Kulshreshta, have achieved some big clients. In 2016, they landed a Ford Mustang commercial and have also worked with the Bacardi NH7 Weekender party and IPL 2015 live streaming. They currently have a fleet of 30 drones. Although Quidich is not selling drones to the public yet, they use their fleet to create "extraordinary tech-driven experiences." Some services include:
Aerial Cinematography.

Providing a Social Lens: The company uses a drone and a wearable technology (on each participant) that can be spotted from the drone to identify the wearer in order to capture audiences and create new social media trends.

Drone Swarms: Using a collection of drones, fireworks, and lights to create a breathtaking experience for any event. The company uses 40+ drones and say that "drone-powered events amount to 6x more viewership on social media channels."

Industrial Solutions: Many

drone-powered solutions

offered by the company include terrain inspection, law enforcement help (intrusion detection, surveillance), corridor mapping and vertical asset inspection (power lines, wind turbines, telecom towers, etc).
This drone company is India is currently working on intelligent and advanced facial recognition software. Some of their major clients include RedBull, Rajasthan Govt, Indian Railways, National Geographic and many others.
ideaForge is a vertically integrated drone company prepared with research and development, design, manufacturing, software, service and training operations, all in-house. What comes of this is top-of-the-line UAVs for many tasks like surveillance, reconnaissance, imagery and industrial applications.
NETRAv2:

 Is a primitive and

fully autonomous micro UAV

. The main feature of this drone is its zoom-in provisions. It is capable of identifying human activities up to 500m away and is known to be a leader of the pack in

surveillance drone manufacturing in India

. The machine is made for military, civil and industrial applications.  

SKYBOX:

 This fully autonomous fixed-wing drone is designed to operate in even the toughest field conditions with ease. The fixed wing helps the drone to fly for longer periods of time and at higher speeds all while remaining in constant motion. Some features include retractable day/night payloads for video in real-time video footage, altitude sensors, inertial measurement unit, fail safe modes and self-checks.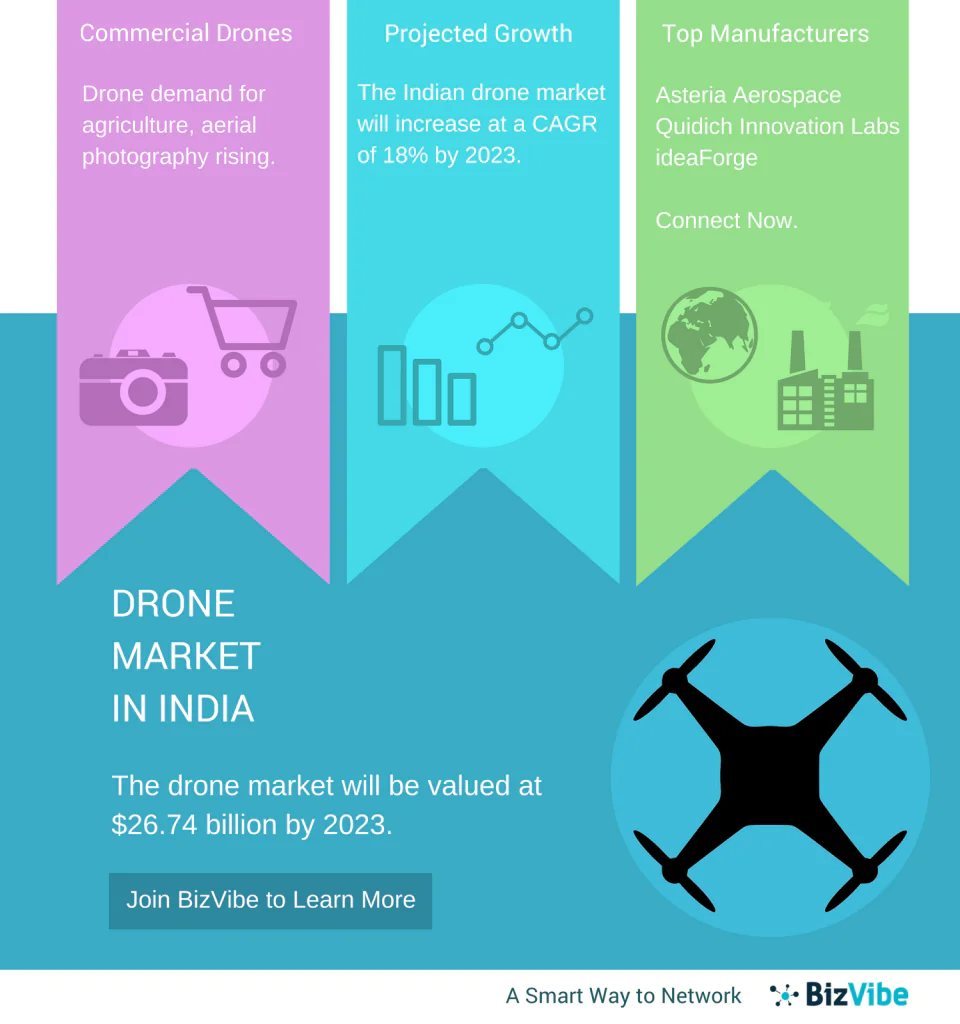 This UAV startup was founded in Kanpur, India in 2013 after the co-founders represented their college at the Systems Engineering Awards competition organized by NASA that same year. The company is hoping to offer faster, more cost-effective and highly enriched UAVs for solutions in civil engineering, agriculture, surveying/mapping surveillance and industrial inspection.
Sparrow:

 The Sparrow is specifically designed for mapping/surveying and agricultural solutions. It features fully autonomous data capturing and all that is involved in a 2-step data processing routine that allows data importing to a various number of applications like Autocad, Pix4D and many more. This drone has a 4km range and cruise at 15 m/s.

InSight:

 This

all-purpose drone

allows its user to automatically geotag data without ground control points, has horizontal/vertical accuracy up to 5 cm and just like the Sparrow, it also features fully autonomous data capturing that involves only a 2-step data process. This drone also has a range of 4 km.
Edall Systems in Bangalore offers a lot more than just drones. They are a fully capable engineering developer and part of the elite drone manufacturers in India. The goal of this company is to become one of the top product development companies in India that focuses on UAV machines, as well as to support and develop UAV products in India. There is one flying drone available for purchase from Edall.
SPIDEX-600 MKI

– This industrial-grade drone has the capability of flying at 36 km/h with a range of 3-5 km. The lightweight and modular UAV can operate at high altitudes and even features a night-vision camera. There is a very intelligent ground control station that offers a live video monitoring station and live video recording at GCS with waypoint navigation. This industrial drone is great for surveillance, aerial survey, and structural inspection.
Johnette Technologies is one of the top robotics and drone manufacturers in India. The company was founded in 2010 by John Livingstone and has been a pioneer in developing high-quality unmanned system technologies in India ever since. Their aerospace systems are often sold for purposes such as paramilitary, commercial, aerospace and defense sectors.  This team of drone manufacturers in India offers their expertise to develop intelligent and cutting-edge unmanned aerial vehicles (UAVs) and unmanned ground vehicles (UGVs) that carry out impossible tasks.
---
Read more: Future of the Healthcare Industry in India: Growing Rapidly in 2018
---
A team of seven graduates from IIT Kanpur created AIS in order to help support a new niche technology generation of unmanned aerial groups in India. This company is also supported by Tata Group, one of India's biggest and respected business conglomerates. AIS's entire product line includes short-range Small Unmanned Air Vehicles (SUAV) to long-range tactical systems, rapidly deployable aerostat systems and technologies in inertial navigation.
Urban View:

 Has fully autonomous operations with preset search patterns and a range of 10-15 km. The maximum speed is 40 km/h and is capable of launch and recovery in all terrains. This drone is lightweight, compact and includes electro-optical and Infrared cameras that can detect people and energy loss from 500 meters.

Altius Mk-II:

 This drone offers it all: intelligence, surveillance, target acquisition and reconnaissance. Its cruise speed is 110 km/h with an impressive range 125-150 km. It comes with a twin ground control station, a vehicle operator console and a payload operator console.
1 Martian Way Corporation (1MW) is one of the successful drone manufacturers in India that not only offers custom-made drones for sale, but also provides services like aerial photography, drone rentals, advertising with drones/aerial banners, robotics education for colleges and universities, robotic apps for industrial solutions and experiential branding and gaming products. 1MW serves many industries and applications for a large number of clients worldwide.
1MW Industrux Lite:

 Industrux is meant for industrial applications and offers high precision as well as a fast and stable flight. It has a fully programmable autonomous flight path navigation and a flying range of 2km that can be increased. Flight time is 25-30 min and has a one-key takeoff, landing, and auto-return. There is also an option to attach a gimbal and camera.

Custom Drone Manufacturing:

 1MW offers a completely customized drone built to your specifications. Contact the company to learn more.
Indrones acts as a service-based drone company in India as well as a manufacturer of drones for public use. The main goal of this leading drone company is dedicated to revolutionizing the way data is collected by utilizing the power of autonomous aerial platforms. To this company — founded in 2013 as a byproduct of the SAE Aero Design 2013 Competition held in Dallas, Texas — drones are a tool to assist in gathering information and creating solutions for a variety of industries. The company has worked on small projects and big projects, from power-line inspections and highway asset monitoring to large-scale crop classification projects. Indrones offers one fully-capable UAV for purchase as well as all the technology necessary to run an advanced drone operation.
X-UAV Talon:

 This high-performance consumer drone has a wide user base. It was specifically built for first-person view (FPV). It is optimized to add additional gears, wing extensions, and batteries. The Talon offers a smooth flight no matter the breeze and promises it can handle a tough landing due to the main wheel up front, two wheels under the wing and a wood tailskid.
Skylark Drones, founded in 2014, offers end-to-end drone solutions for their clients that work on a Drown-as-a-Service (DaaS) model. Their solutions include mining projects, utilities, and vertical infrastructures. This DaaS and drone manufacturer in India acquires data through the drones, processes it and then delivers it in a simplified and personalized matter. The three main solutions include mapping, monitoring, and inspection. With the current government policies in place, the drones are not for sale in order to prevent the responsibility of drone-related incidents and capital in training UAV pilots. You can view all of Skylarks solutions here.
Future for Drone Manufacturers in India
Drones have tremendous practical applications that assist in creating solutions for complex and intricate problems that affect numerous industries in India, including but not limited to recreation, agriculture, damage assessment of property and life in areas affected with natural calamities, surveys (infrastructure monitoring including power line facilities, ports, and pipelines; commercial photography; aerial mapping).
Goldman Sachs estimates global spending on drones to be $100 billion between 2016-2021 due to the fact drones can cut down surveying and mapping time by as much as 98%. India is catching on to this niche market and the government has finally stepped in to create a drone policy, one where the draft was completed November 2017. Once the regulations are put in place, expect drone manufacturers in India to flourish even more.
---
Related: Top 10 Steel Companies in India (2018)
Related: Top 10 Leading Garment Manufacturers in India (2018)
Related: Top 10 Auto Parts Manufacturers in India
---