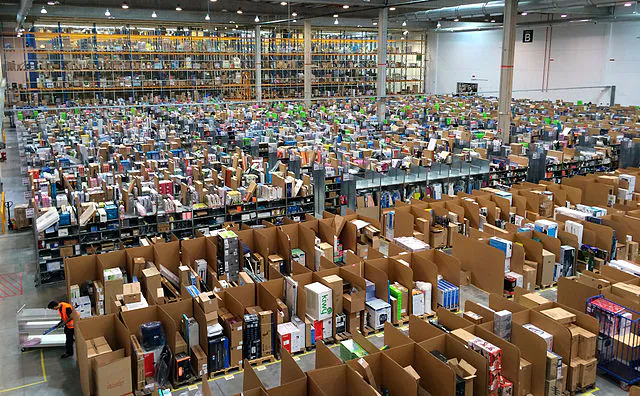 Amazon, the world's largest online retailer, has long been changing the way that consumers can access products. Thanks to Amazon, you can order last-minute Christmas gifts without leaving your house; you can impulse-buy a waffle maker from your phone at 4 AM; you can even become the proud owner of a five-pound cherry-flavoured gummy bear. Amazon is currently causing a stir as it gets one step closer to leaving department stores and other clothing brands in the US in the dust.
Amazon is set to become the largest clothing and apparel seller in the US this year as it continues to expand its clothing selection and introduce new brands. Last year, Amazon launched eight of its own clothing brands, and is now reportedly preparing to launch an athleisure brand. This ninth clothing brand will establish Amazon as a competitor to popular sportswear and athleisure brands like Lulu Lemon and Under Armour. With the addition of this brand, Amazon is expected to generate apparel sales of over USD 60 billion and hold a share of 16% of the apparel market in the US over the next five years. While Amazon's sales are expected to increase by 30% over this period of time, Macy's—its biggest competitor—is expected to see sales decrease by 4% to USD 22 billion.
Amazon is entering the athleisure market at the height of the style's popularity. The market has high growth potential and a large customer base. Athleisure (most often defined as casual clothing that can be worn for casual use and for exercising) has become wildly popular over the last few years with a current estimated market size of USD 44 billion in the US alone. While many argue that there is not enough room in the market for new brands to be able to thrive, Amazon has a special advantage: they are (technically) not new. According to Bloomberg, more than half of consumers go directly to Amazon when they are shopping online. Its Amazon Prime membership offers two-day free shipping, allowing consumers to get products delivered directly to their homes in a shorter amount of time than online shopping usually involves. Amazon offers familiarity and convenience, and already has an established, loyal customer base. Amazon does not need to work to make a name for itself and will be able to avoid the fate of bankruptcy that so many athleisure clothing brands met last year.
Additionally, the company is expanding the range of clothing brands that it sells. It has begun to offer popular designer labels, such as Calvin Klein, Vivienne Westwood, and Michael Kors, establishing partnerships and agreements with designers. It has also launched a private label clothing brand called Buttoned Down that specializes in high-quality, high-end men's business wear and is exclusive to Amazon Prime members.
Of course, there are some disadvantages for the consumer when it comes to buying clothing from Amazon. There are no physical stores, so you can't try anything on or do returns in person. Amazon does offer free returns for the majority of products, but, for many customers, re-packaging a product and taking to the post office to return it is more of a hassle than stopping at the nearest mall to return or exchange an item. Consumers like physical stores and, as Amazon does not yet have a physical presence, this could slightly restrict their future growth potential in the clothing and apparel market. However, considering Amazon's projected sales over the coming years, this is not likely to be a significant issue.
Though the clothing and apparel market in the US is fairly saturated, Amazon has had an easy time becoming number one very quickly. Its upwards trajectory is expected to continue as it adds more brands, expands its clothing and apparel options, and continues to be a first-stop for online shoppers.
Thousands of world's leading textile companies  can be in your contact list if you register to join BizVibe today! Whether you are looking reliable suppliers, top textile manufacturers, wholesalers and potential customers in over 90 major countries, or finding out what your competitors are buying and which suppliers they're using, BizVibe can help you reach out to sales prospects and decision-makers in the textile industry across the globe.
Register for free now to build your own network of global textile companies on BizVibe