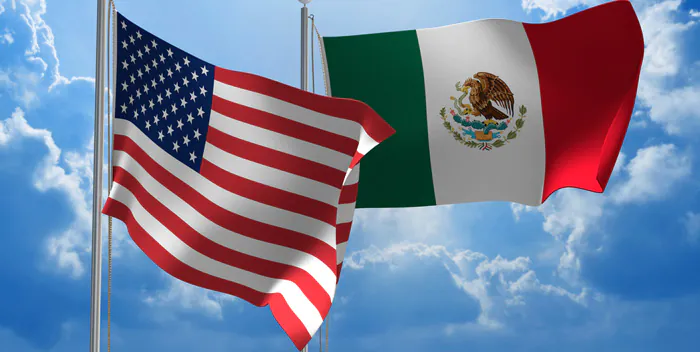 The textile and apparel industry in Mexico is a diversified and integrated sector that has been growing stronger in the past few years. As one of the most important sources of the country's GDP and employment, the textile and apparel industry in Mexico also plays a significant role in exports, especially exports with its neighbour and largest export destination, the US. So far, Mexico's textile and apparel industry is showing no signs of slowing down. However, the industry might face huge uncertainty in near future due to its trading relationship with the US.
Today, Mexico's textile and apparel industry accounts for 6% of the country's total GDP and employs over 415,000 workers, representing about 20% of all manufacturing employment in Mexico. Mexico's textile and apparel export value has surpassed $7 billion a year since 2013, with around 2.4% annual growth rate. Clothes, cotton, and synthetic and artificial yarns are some of the most popular export categories for Mexico's textile industry. Its fabrics with textured polyester dyes are also in demand globally, and the county is manufacturing and exporting technical textiles such as upholstery fabrics and industrial fabrics for the construction and automotive industries. Textile machinery and equipment is another strong sector, as a focus on technology and innovation is one of the strategies for Mexican textile and apparel manufacturers to survive competition from other developing nations.
Mexico's textile and apparel industry is favoured by the US market due to its competitive labour costs and geographic proximity to the US. US textile companies supply textiles and fibres to Mexico's in-bond processing factories (known as maquilas or maquiladoras), which receive preferential fiscal and trade treatment. The maquiladoras then re-export these inputs back to the US or to the world after processing in the form of finished garments. Trade activity between Mexico and the US had a big increase after the signing of NAFTA, resulting in a $61 billion trade deficit with Mexico in 2016.
Mexico's textile and apparel industry has also benefited from several trade deal agreements with some of the biggest markets in the world, including:
NAFTA: The North American Free Trade Agreement is by far the most important trading deal between Mexico and the US. Mexico has been one of the largest US suppliers for textile and apparel products, ahead of China, Hong Kong, and Taiwan.
MEXICO-EU FTA: This FTA enables closer economic co-operation between Mexico and the EU. This will provide EU companies preferential access to the major markets in North and South America through Mexico's extended FTA network.
MAQUILA PROGRAM: Mexico initiated its maquila program to encourage the development of export manufacturing industries by waiving import duties on capital goods and material inputs used in the manufacture of products for export.
TRANS PACIFIC STRATEGIC ECONOMIC PARTNESRSHIP AGREEMENT: TPP is a free trade agreement with the aim of integrating the economies of the Asia Pacific region. Currently, it includes 11 member countries: Vietnam, Canada, Mexico, Peru, Chile, Brunei, Singapore, Malaysia, Australia, New Zealand and Japan. The US withdrew from the agreement after Trump became president.
However, Donald Trump's policy to impose a 20% or other duty hike on exports from Mexico and the potential change of the US-Mexico trade relationship are threatening Mexico's textile and apparel industry. Although Mexico has already taken steps to strengthen its economy, lessen its reliance on textile trade with the US, and strengthen existing relationships with other trade partners, such as India, China and Canada, the near future of Mexico's textile and apparel industry is still a little murky and unpredictable.
Thousands of Mexico's leading textile companies can be in your contact list if you join BizVibe today! Whether you are looking for reliable suppliers, top textile manufacturers, wholesalers and potential customers in over 70 major countries, or benchmarking what your competitors are buying and which suppliers they're using, BizVibe can help you connect with sales prospects in the textile industry across the globe.
Register for free now to build your own network of global textile companies on BizVibe