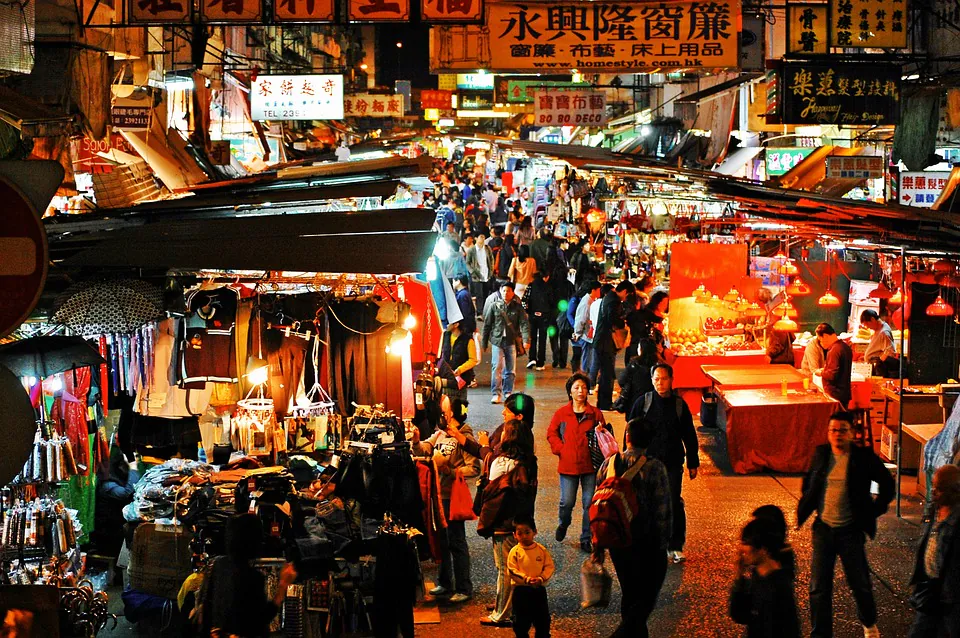 The textile industry in Hong Kong is a comprehensive sector that mainly supplies to the regional apparel manufacturers, as well as Chinese mainland and other offshore production bases. The sector is highly capitalised, many Hong Kong companies are also engaged in textiles trading. Hong Kong's textiles industry is well acknowledged in the world for its quality dyed and printed fabrics. It is also strong in cotton spinning, denim weaving, knit-to-shape panel knitting and fine-gauge cotton knit manufacturing.
Over the recent years,  more and more textiles manufacturers have relocated their production of lower-end and mass products from Hong Kong to Southeast Asian countries like Bangladesh, Cambodia and Vietnam, due to the rising labour costs and stricter environmental regulations, which left mainly sophisticated and high value-added textile items, including quality ring-spun, open-end yarn, fine gauge knitted fabrics as well as complicated dyed and printed fabrics, that are being manufactured in Hong Kong.
Hong Kong's textile industry has around 550 manufacturers operating across segments of spinning, weaving, knitting and finishing of fabric products, with employment of over 3,400 workers or 3.4% of the local manufacturing labour force, according to Hong Kong Trade Development Council.
HKTDC Research reports that as an export-oriented industry, Hong Kong's textile exports declined further by 13% in the first four months of 2016, following a decrease in 2015. Re-exports, accounting for more than 99% of Hong Kong's total textile exports, also fell over the same period in early 2016, while domestic exports decreased by 15%. Among those re-exported, 75% were originated from the Chinese mainland.
Currently, Asia is the largest export destination for Hong Kong's textile products, representing 93% of Hong Kong's total textile exports, of which Mainland China remains as Hong Kong's top export market, accounting for 53% of Hong Kong's textile exports in the first four months of 2016. Other major export markets of Hong Kong textiles include Vietnam, Bangladesh, Cambodia, Indonesia, Sri Lanka, the US, India, Thailand and the Philippines.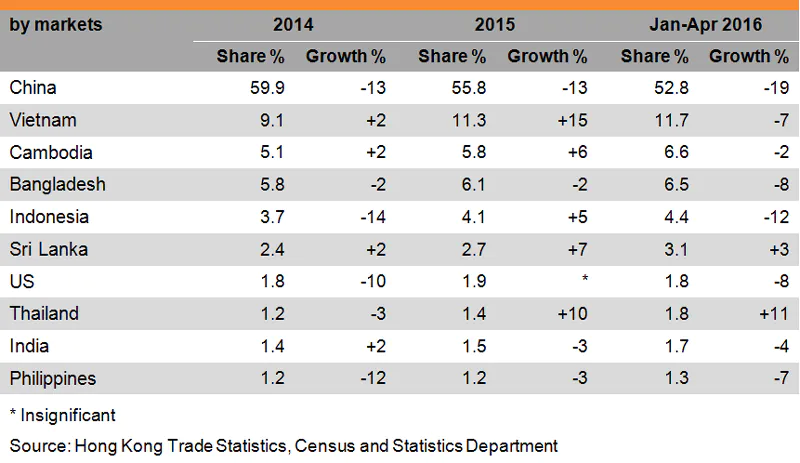 Due to the cheap labour and WTO membership, Vietnam has become the new textile hub for many foreign investors, including those from Hong Kong, to set up garment factories there. This gives rise to sustained demand for textile imports, making Vietnam the second largest market for Hong Kong's textile exports, behind the Mainland China.
In order to boost the textile exports from Hong Kong, Mainland China and Hong Kong agreed to further liberalise the mainland market for Hong Kong companies under the third phase of the Mainland and Hong Kong Closer Economic Partnership Arrangement (CEPA III) in 2005, meaning that Mainland China agreed to give all products of Hong Kong origin, including textiles, tariff-free treatment.
Moreover, all textiles imported into or exported from Hong Kong do not require any textiles licences any more under the Textiles Trader Registration Scheme (TTRS). Traders registered under the TTRS are no longer required to lodge textiles notifications to cover their textiles shipments. manufacturers are not required to lodge Production Notification for any cut-and-sewn garments manufactured in Hong Kong.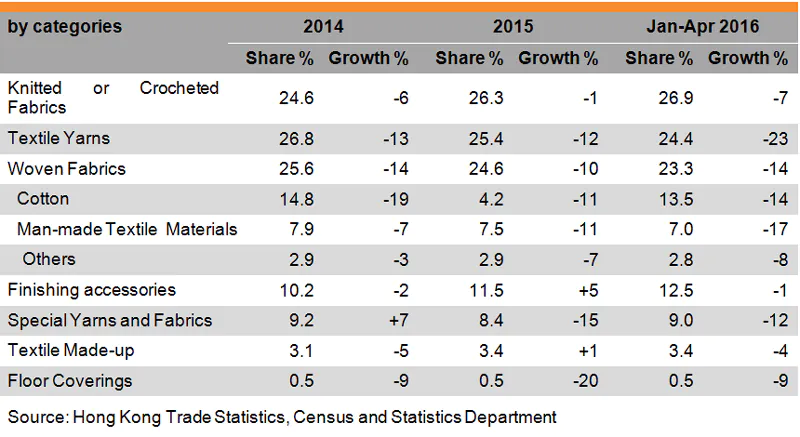 When it comes to textile exports by product, the data from HKTDC Research shows that Hong Kong's exports of knitted or crocheted fabrics, textile yarns, woven fabrics, finishing accessories, special yarns and fabrics, textile made-up and floor coverings registered respective declines of 1%-23% in the first four months of 2016.
Thousands of world's leading textile companies can be in your contact list if you register to join BizVibe today! Whether you are looking reliable suppliers, top textile manufacturers, wholesalers and potential customers in over 70 major countries, or finding out what your competitors are buying and which suppliers they're using, BizVibe can help you reach out to sales prospects and decision-makers in the textile industry across the globe.
Register for free now to build your own network of global textile companies on BizVibe