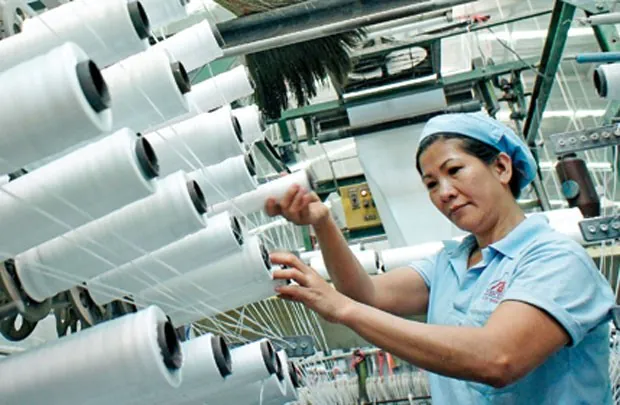 Vietnam's textile and apparel industry has long been one of the most important contributors to the country's high growing export-oriented economy, representing over 15% of the country's total GDP and 18% of its exports. Today, Vietnam is ranked among the world's top five textile and apparel exporting countries. Its robust growth rate of textile and apparel exports is expected to continue through 2017, due to the development of technology, the growing number of skilled workers, and newly issued preferential policies from the government.
According to data from USDA, the total export value of the textile and apparel in Vietnam reached USD $27.2 billion in 2015 (an increase of 9.43% from the previous year), of which exports to the US increased by 11.5%, reaching $10.9 billion. In 2016 to 2017, textile and apparel export growth is projected slightly up from 5% to 7% compared to the industry's routine two-digit growth.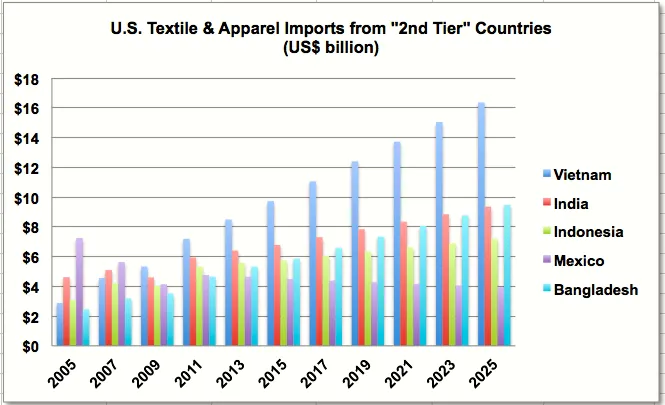 Over the decades, the US has remained as the largest exporting destination of Vietnam's textile and apparel industry, accounting for over 40% of Vietnam's total textile and apparel export value every year. Other major exporting markets for Vietnam's textile and apparel products include the EU (12.5%), Japan (10.2%) and South Korea (7.8%).
Despite the growing export value year by year, Vietnam's textile sector still suffers from lack of raw materials. The high-quality raw materials required depend heavily on importing (around 60-70%). These raw materials for textile and apparel are mainly imported from China, Taiwan and Korea. Vietnam's textile industry has currently imported 90% raw cotton, 100% synthetic fibre and 80% cotton fabric.
Currently there are about 6,000 textile and apparel manufacturing running in Vietnam with over 2 million employees working in the industry. According to research by the Ministry of Labour, every $1 billion of export value generated from Vietnam's textile and apparel industry can create an additional 250,000 jobs. Moreover, the textile labour cost in Vietnam is still relatively low compared to many other countries in the region. In 2016, the minimum wage of garment manufacturing industry in Vietnam is about USD 108 (2.4 million Vietnamese dong) per month. The advantage of the lower labour cost has resulted in lower production cost, thus being price competitive in the global market.
In near future, Vietnam's textile and apparel exports will be expected to have bigger growth as one of the major beneficiaries after join the Trans-Pacific Partnership (TPP). TPP will bring more investment opportunities, including foreign direct investment (FDI) for developing materials and supporting industries. When joining the TPP, textile tax rate reduces to 0% which also indicates a huge profit for Vietnam's textile sector.
Due to the growing competition in both global and domestic markets, businesses are using networking websites like BizVibe's textile industry section to find quality business partners. Whether you are looking for importers, exporters or manufacturers, there is a place for you to start on BizVibe.