Dry-Cleaning and Laundry Services Market Overview
The global dry-cleaning and laundry services market has been feeling the effects of COVID-19, with shutdowns and operating restrictions impacting businesses around the world. Changes to consumer demand are also impacting the industry, as customers adjust their behaviors and habits. Grand View Research expects the laundry services market to grow at a faster rate than the dry-cleaning segment, as people working from home have less need for business attire and other fancy clothing and therefore fewer garments that need dry-cleaning. Laundry services companies, however, can expect to benefit from residential consumers looking for affordable services and wishing to avoid facilities such as laundromats which now carry the risk of catching COVID-19 from other patrons.
As a whole, the global dry-cleaning and laundry services market was valued at $60.88 billion in 2019, and is expected to reach 63.2 billion in 2020 despite the challenges introduced by the coronavirus. In the long run, Grand View predicts the market will hit $79.91 billion by 2027, growing at a CAGR of 3.4%. On-demand laundry services are a growing segment of the market, with several apps and platforms becoming increasingly popular with consumers. Meanwhile, rental services for laundered items such as uniforms, linens, and towels continue to play a big part in the industry, with many of the top dry-cleaning and laundry services companies operating in this segment.
Top Dry-Cleaning and Laundry Services Companies in 2020
| | | | |
| --- | --- | --- | --- |
| Company | Revenue (USD millions) | Founded | Headquarters |
| Aramark | $16,227 | 1939 | Philadelphia, US |
| Elis SA | $3,842 | 1883 | Paris, France |
| Cintas Corp. | $7,085 | 1968 | Cincinnati, US |
| UniFirst Corp. | $1,809 | 1936 | Wilmington, US |
| CWS International | $1,383 | 1899 | Duisburg, Germany |
| Alliance Laundry Systems LLC | $644* | 1908 | Ripon, US |
| EVI Industries Inc. | $235 | 1959 | Miami, US |
*Estimate via D&B
Want to connect with dry cleaning and laundry services companies? Find key industry players along with market news and insights through BizVibe's marketplace.
Founded: 1939
Headquarters: Philadelphia, Pennsylvania, US
Employees: 280,000
Revenue: $16.2 million
Aramark provides food, facilities, and uniform services to companies in 19 countries around the world. With over 300,000 clients, the company serves Fortune 500 companies, healthcare institutions, and more. Its uniform and supplies services include uniforms for rent, lease, or purchase, as well as restroom and cleaning supplies.
Founded: 1883
Headquarters: Paris, France
Employees: 45,000
Revenue: €3.3 billion
Based in France and operating across Europe and Latin America, Elis provides textile, hygiene, and facility service solutions to businesses in 28 countries. The company's solutions cover flat linen, workwear, pest control, floor protection, industrial wiping, medical waste, and more for industries such as catering, hospitality, healthcare, and retail. Linen services have been a part of the company's operations since its foundation, and Elis continues to provide a range of laundered linens along with workwear and other products.
Founded: 1968
Headquarters: Cincinnati, Ohio, US
Revenue: $7.1 billion
Cintas offers a range of services to customers that range from small independent companies to large multinational operations. Its offerings include uniform and apparel solutions, facility services, training and compliance, first aid and safety products, and fire protection, provided by roughly 500 facilities across North America. Cintas serves industries such as automotive, education, food service, gaming, government, healthcare, and hospitality. The company operates in the laundry services market through its uniform rental system.
Founded: 1936
Headquarters: Wilmington, Massachusetts, US
Employees: 14,000+
Revenue: $1.8 billion
UniFirst provides workwear and textile services to companies across the US, Canada, and Europe, outfitting close to 2 million workers daily. The company also offers facility service programs, as well as first aid and safety products. UniFirst's workwear services include work uniform rental, leasing, and purchasing, allowing customers to choose between owning and renting, as well as whether or not they avail themselves of UniFirst's laundry services. The company's clothing offerings include uniforms, protective clothing, and custom corporate apparel, along with accessories like gloves, hats, and protective gear.
Founded: 1899
Headquarters: Duisburg, North Rhine-Westphalia, Germany
Revenue: €1.2 billion
CWS operates in a range of industries, providing products and services for restrooms, safety supplies and services, workwear washing and maintenance, and more. Based in Germany, CWS offers commercial services and products to companies around the world under brands such as boco, mattab, Loovio, Teuto Fire Safety, Eurodress, BSC, and more. CWS is owned by Franz Haniel & Cie. GmbH.
Founded: 1908
Headquarters: Ripon, Wisconsin, US
Employees: 3000+
Revenue: $644.66 million (estimate via D&B)
Alliance Laundry Systems is a US-based multinational corporation offering commercial laundry solutions via five brands: Speed Queen, UniMac, Huebsch, Primus, and IPSO. These brands serve a range of markets, from home laundry and laundromats to high-volume enterprises such as hotels, hospitals, industrial laundries, facilities management companies, and more.
Founded: 1959
Headquarters: Miami, Florida, US
Revenue: $235 million
With a portfolio of 15 laundry-centric brands, EVI Industries distributes commercial laundry and dry-cleaning equipment, industrial boilers, and related supplies and services. Its focus is on buying leading laundry and cleaning companies in order to build them up and increase its offerings. EVI's brands include AAdvantage Laundry Systems, Industrial Laundry Services, Professional Laundry Systems, Skyline Equipment, Worldwide Laundry, and many others.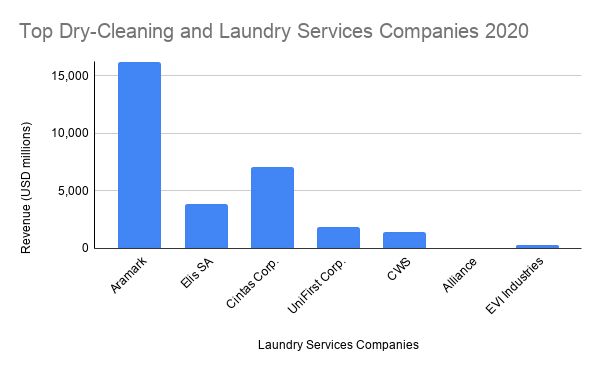 On-Demand Consumer Laundry Services
On-demand laundry services are becoming increasingly popular with consumers, and numerous apps and sites have sprung up in recent years to cater to the growing demand. These services allow users to schedule laundry pickups and select from a variety of services, saving them from having to make trips to the laundromat or from needing to find the time to do laundry themselves. The coronavirus has increased opportunities for companies in this sector, as many consumers prefer to avoid non-essential trips and shared facilities. On-demand laundry services appeal to consumers by providing convenience and reducing risks. Here are a few of the leading on-demand laundry services companies.
Laundrapp is based in London and operates across the UK. The company partners with laundry and dry-cleaning facilities in various locations in order to serve its customers, who are able to book collection and delivery times through the Laundrapp site or app. Laundrap merged with Zipjet, a Berlin on-demand laundry business, in 2019.
Rinse began operations in 2013 in San Francisco, and has since expanded into Washington D.C., Chicago, and Boston. The company offers dry-cleaning and washing services and provides laundry pickup and delivery services. Rinse offers through both subscriptions and one-time orders.
Founded in 2013, WashClub offers on-demand laundry and dry-cleaning services via locations in several cities across the US, including New York, Miami, Chicago, Los Angeles, Atlanta, and more. The company offers wash and fold services, dry-cleaning, and commercial laundry services and provides pickup and delivery.
Which Laundry Services Companies Lead the Market Near You?
These are only a few of the world's dry-cleaning and laundry services providers. Discover more leading companies through BizVibe's global marketplace.