Paint and Coatings Industry Overview
The global paint and coatings manufacturing industry has seen its share of challenges this year due to the COVID-19 pandemic, with a significant fall in sales due to decreased production volumes across industries such as automotive and metal processing. The construction sectors is also a key customer for industrial coating companies, so its slowdown due to the coronavirus has impacted this market as well. Some companies are feeling the effects of this more than others, depending on how diversified their businesses are. Top paint and coatings companies that focus heavily on automotive finishes will be hit harder overall.
APAC is currently the largest regional market for international paint brands and industrial coatings manufacturers, with Statista estimating its value at USD 77 billion in 2019. Growth and urbanization in China and India are driving demand for paint and coatings companies, as new buildings of all types require both protective and decorative coatings.
Who Are the Top 10 Paint and Coatings Companies in 2020?
While the world's top 10 paint and coatings companies all have operations around the world, half of the industry leaders are based in the US, including Sherwin-Williams, which is the largest paint company based on revenue. The remaining top international paint brands are more geographically diverse, with headquarters spread across Europe and Asia. Want to know who the largest paint and coatings companies in the world are? Here's our list of the top 10 paint brands.
| | | | |
| --- | --- | --- | --- |
| Rank | Company | Revenue (USD Millions) | Headquarters |
| 1 | Sherwin-Williams | 17,900 | Cleveland, US |
| 2 | PPG Industries | 14,146 | Pittsburgh, US |
| 3 | AkzoNobel | 11,003 | Amsterdam, Netherlands |
| 4 | Nippon Paint | 6,542 | Singapore |
| 5 | RPM International | 5,506 | Medina, US |
| 6 | Axalta | 4,482 | Philadelphia, US |
| 7 | BASF | 4,442 | Ludwigshafen, Germany |
| 8 | Kansai Paint | 3,846 | Osaka, Japan |
| 9 | Asian Paints | 2,272 | Mumbai, India |
| 10 | Jotun | 2,190 | Sandefjord, Norway |
Revenue: USD 17.9 billion
Employees: 60,000
Headquarters: Cleveland, US
Founded: 1866
Leading the market with nearly $18 billion in revenue in 2019, Sherwin-Williams is the largest paint company in the world. Based in the US, the company is an international paint manufacturer that supplies numerous industries and consumers in over 120 countries. Its brands include Sherwin-Williams, Valspar, HGTV HOME, Minwax, and many others, and its products are sold in close to 5,000 company-operated stores and facilities as well as through many other retailers and distributors. This leading paint and coatings company offers interior and exterior products such as primers, wood stains, floor coatings, concrete and masonry products, and aerosols.
Revenue: USD 14.1 billion
Employees: 47,000
Headquarters: Pittsburgh, US
Founded: 1883
Established as Pittsburgh Plate Glass in 1883, PPG is now a global paints and coatings manufacturer and producer of optical products and specialty materials. The company serves the industrial, transportation, consumer products, and construction industries. PPGs businesses include architectural coatings, automotive coatings, industrial coatings, marine coatings, packaging coatings, and more.
Revenue: USD 11 billion
Employees: 34,500
Headquarters: Amsterdam, Netherlands
Founded: 1792
This international corporation produces paints and coatings under a range of brands, including Dulux, International, Sikkens and Interpon, with a presence in over 150 countries around the world. AkzoNobel offers performance coatings and decorative paints for a wide range of applications and industries. Its paints and coatings are used for the interior and exterior of private homes, office buildings, and many other structures, and the company's products include paints, lacquers, and varnishes, as well as specialty coatings for metal, wood, and other building materials. AkzoNobel also offers mixing machines and training initiatives for the building and renovation industry.
Revenue: USD 6.5 billion
Employees: 23,000
Headquarters: Singapore
Founded: 1881
Nippon Paint is a paint and coatings manufacturer based in Asia, with over 70 companies spread across the region. Also known as NIPSEA Group, the organization boasts over 80 manufacturing facilities producing coatings solutions and high-performance products for the architectural, industrial, automotive, marine, and consumer industries. The company built the first paint plant in Japan, and has since expanded into 16 countries and regions throughout Asia and the Middle East.
Want to connect with quality paint supplers? Find key industry players along with market news and insights through BizVibe's marketplace.
Revenue: USD 5.5 billion
Employees: 14,600
Headquarters: Medina, US
Founded: 1947
RPM is a leading paint and industrial coatings company with over 120 manufacturing facilities in 26 countries. Its subsidiaries produce high-performance coatings, sealants, and specialty chemicals in four segments: consumer, construction products, performance coatings, and specialty products. RPMs paints and coatings are sold in 170 countries and territories, and its offerings include construction sealants and adhesives, corrosion control and fireproofing coatings, specialty OEM coatings, and more, as well as paints, coatings, and sealants for home maintenance and improvement.
Revenue: USD 4.5 billion
Employees: 13,000
Headquarters: Philadelphia, US
Founded: 2013
With roots that go back as far as 1866, Axalta is currently responsible for over 50 brands, with manufacturing centers and laboratories located around the world. Axalta Coating Systems is a company focused around liquid and powder coatings, with its main business areas being transportation coatings for light vehicle OEMS and commercial vehicles, and performance coatings for industrial applications, refinish, and aftermarket. The company develops roughly 250 new products every year, selling them in 130 countries globally. Axalta serves the automotive, architectural, decorative, general industrial, and transportation, sectors.
Revenue (coatings segment only): USD 4.4 billion
Employees: 122,000
Headquarters: Ludwigshafen, Germany
Founded: 1865
BASF is a German multinational chemical company with operations and subsidiaries around the world. The company has three global research divisions: Process Research & Chemical Engineering in Germany, Advanced Materials & Systems Research in China, and Bioscience Research in the US. Its six key business segments are chemicals, materials, industrial solutions, surface technologies, nutrition & care, and agricultural solutions. The surface technologies segment produces raw materials for coatings, surface treatments, decorative paints for the automotive and chemical sectors. It also creates its own premium coatings for the automotive industry, as well as decorative paints.
Revenue: USD 3.8 billion
Employees: 16,500
Headquarters: Osaka, Japan
Founded: 1918
Established over 100 years ago in Japan, Kansai Paint has become one of the world's top paint and coatings companies. It manufactures and sells paints, coatings, and equipment, as well as products in the fields of biotechnology and electronics. The company sells products under the decorative, protective, automotive refinish, automotive, and industrial categories with a focus on protection, beautification, special functionality, and environmental sensitivity.
Revenue: USD 2.3 billion
Employees: 6,500
Headquarters: Mumbai, India
Founded: 1942
A leading paint manufacturer in India, Asian Paints develops products for decorative and industrial applications through its 26 paint manufacturing facilities in across 15 countries. The company operates around the world through its six subsidiaries. Its offerings include decorative paints, wall proofing, wall coverings, and adhesives, as well as products for the Indian automotive coatings market.
Revenue: USD 2.2 billion
Employees: 10,000
Headquarters: Sandefjord, Norway
Founded: 1926
With 37 production facilities and 64 different companies, Jotun operates in seven regions and sells its products in 100 countries around the world. Aside from its Norwegian headquarters, the company has hubs in Malaysia, Dubai and China. Jotun manufactures and sells decorative paints, marine coatings, protective coatings, and powder coatings for consumer, professional, and industrial customers.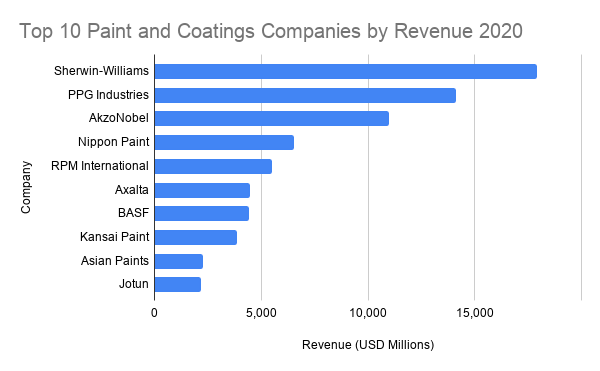 Discover and connect with these companies and many others through BizVibe's marketplace. Find top paint and coating companies from around the world and follow the latest news and insights on the industry.