Satellite Communication Services Industry Outlook
There are many different satellite communication companies offering a range of services across sectors such as energy, oil and gas, and defense, as well as to governments and media broadcast companies. While most of the top satellite communication companies own and operate their own satellites, some buy capacity from other satellite operators and resell it, offering customers a range of options from multiple satellite communication companies all in one place.
According to Allied Market Research, the satellite services market is expected to reach $144.5 billion by 2026 with demand from multiple sectors, particularly consumer services. Satellite television and broadband services in are popular in developing regions, which will help drive the market over the next several years. However, North America remains a key player, with the US accounting for nearly 40% of the global satellite services market.
Who Are the Top Satellite Communication Companies of 2020 by Revenue?
The World Teleport Association (WTA) tracks the biggest satellite network companies every year, including both independent companies and multinational corporations with their own satellite fleets. Based on this, we've put together a roundup of the top satellite communication services providers in 2020.
| | | |
| --- | --- | --- |
| Company | Revenue (USD millions) | Country |
| Singtel Satellite | 12,041 | Singapore |
| SES | 2,328 | Luxembourg |
| Intelsat | 2,061 | Luxembourg |
| Eutelsat | 1,499 | France |
| Arqiva | 1,290 | UK |
| Telesat | 684 | Canada |
| Hispasat* | 239 | Spain |
| Globecast | 188 | France |
| Thaicom | 150 | Thailand |
| EchoStar Satellite Services | 1.886 | USA |
Founded: 1985
Location: Luxembourg
Revenue (FY 2019): USD 2,328 million
Europe's first private satellite operator, SES now operates in every major regional market, with over 40 satellites covering North America, Asia, Latin America, and the Oceanic region. The company boasts a fleet of MEO and GEO satellites as well as ground infrastructure, providing cloud services and other connectivity solutions for video and data management. SES has full or partial ownership of QuetzSat (Mexico), Ciel (Canada), GovSat (a public-private joint venture with the Luxembourg government), and YahLive (MEA).
Founded: 1965
Location: Luxembourg
Revenue (FY 2019): USD 2,062 million
Intelsat is another global satellite communications company, providing video and broadband services around the world with its Globalized Network of satellite and terrestrial infrastructure and its managed services. The company has a fleet of approximately 50 satellites and offers broadband connectivity, multi-format video broadcasting, secure satellite communications, and mobility services. Through this integrated satellite and terrestrial network, Intelsat reaches 99% of the world's populated regions.
Founded: 1977
Location: France
Revenue (FY 2019): USD 1,499 million
Eutelsat's fleet of 39 satellites covers Europe, Africa, Asia, and the Americas, serving broadcasters, video service providers, telecom operators, ISPs and government agencies globally. The company has a reach of up to 150 countries around the world, with fully owned and partner teleports providing services to customers on land, at sea, and in the air.
Founded: 1969
Location: Canada
Revenue (FY 2019): USD 684 million
Initially established by the Canadian Parliament to provide satellite communication services to the country, Telesat has grown into a global satellite company with offices and facilities around the world. Telesat's customer segments include broadcast, enterprise and telecos, government, consulting, R&D lab, training, teleports, and Telesat LEO. The company is currently developing a new LEO network planned to launch in 2022, which it promises will provide high capacity, security, resiliency, low latency and fiber-like speeds.
Founded: 1879
Location: Singapore
Revenue (FY 2019): USD 12,041 million
Founded in 1879 when the telephone was first introduced to Singapore, the company was incorporated as Singtel in 1992. It is currently Asia's leading communications group and operates throughout APAC, Europe, and the US. Singtel offers a range of services that include mobility, connectivity, cloud and data centre, cybersecurity, internet of things, voice and collaboration, managed services, Singtel Liquid Infrastructure, satellite, and Singtel TV. In terms of satellites, Singtel provides fixed, maritime, and land mobile satellite services as well as cybersecurity.
Founded: 2006
Location: US
Revenue: USD 1.886 million
A subsidiary of EchoStar Corp., EchoStar Satellite Services operates a fleet of 9 owned and leased satellites to provide communications services to media and broadcast organizations, enterprises, and US government institutions. The company covers the US and the Gulf of Mexico, and offers data and video transport solutions for disaster recovery, offshore applications, film distribution, and rural broadband applications.
Founded: 2003
Location: France
Revenue: USD 188 million
With 14 offices in 12 countries, Globecast serves customers across five continents in the areas of broadcast and technology. Its services include satellite and terrestrial networks, playout and cloud media, TV and OTT video, production and transmission facilities, and more. Globecast is an independent company that does not own any satellites itself, but the company offers its services through 17 satellites across the Americas, EMEA, and APAC.
Founded: 1991
Location: Thailand
Revenue: USD 150 million
With a fleet of 4 high-performance satellites covering Asia, Oceania, and Africa, Thaicom offers broadband, video, and satellite consulting services to broadcasters, telecom operators, enterprises, and government organizations. With IPSTAR, the company was the first satellite operator to develop and launch a High Throughput Satellite (HTS), and its fleet provides access to two-thirds of the world's population.
Founded: 1989
Location: Spain
Revenue (FY 2018): USD 239 million
A leading distributor of Spanish and Portuguese content, Hispasat operates on the Iberian Peninsula and in Latin America. The satellite communication company distributes over 1,250 television and radio channels through its satellite fleet. It provides audiovisual and data products and services, along with satellite consultancy and turnkey programs.
Founded: 2005
Location: UK
Revenue: USD 1,290 million
A leading communications infrastructure company in the UK, Arqiva serves major UK and international broadcasters such as the BBC, ITV, and Sky. The company operates a network of over 40 satellites, delivering voice, video, and data content to 5 continents and offering customised end-to-end satellite communications solutions.
How the World's Leading Satellite Network Companies Stack Up
In terms of revenue, these are the top satellite communications companies of 2020, providing worldwide coverage across industries. While most of them own and operate some or all of the satellites in their fleets, some top satellite operators lead the market by relying on existing infrastructure rather than launching their own, taking advantage of the ability to diversify though multiple global satellite companies.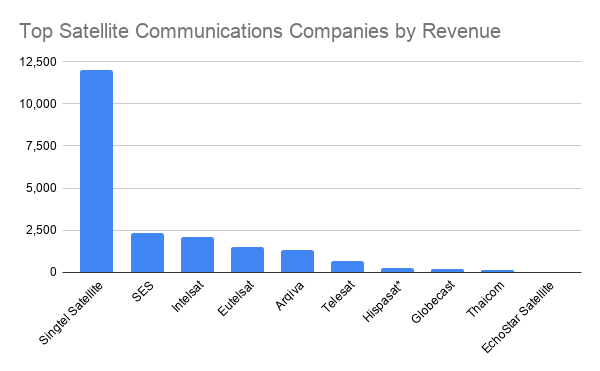 Discover and connect with satellite communication services providers with the help of BizVibe's expert services.