The Italian wine industry is on top of the world in 2017 and disrupting the global wine market, led by strong Italian wine production and exports. Italy is the world's largest wine producer in terms of volume and also the world's second-largest wine exporter. As consumers around the world are becoming more knowledgeable and passionate about wine, and global demand continues to rise, the Italian wine industry is expected to thrive for the foreseeable future.
With the rise of Italian wine production as the standard, new business opportunities are being created in this rapidly growing market. BizVibe's platform helps buyers and sellers identify new product sourcing opportunities with the best production experts from the top wine vineyards in Italy. The business networking platform is targeted towards companies that want to simplify the buying and selling process, get product quotes quicker and reach leading wine producers in Italy.
---
Save Money on Sourcing: Connect with the Top Wine Producers in Italy
---
Italian Wine Production Statistics
According to a recent report from OIV (The International Organization of Vine and Wine), Italy's wine production reached 50.9 million hectolitres in 2016, up by 2% over 2015's figure, making Italy the world's largest wine producer in volume, representing around 20% of the total global production. France, the world's largest wine exporter ranked second in wine production in 2016.
Wine, originating from Italy's top production regions, is extremely lucrative to global traders due to the popularity and the vast selection of types of Italian red wine and white wine. Some of the best known Italian wines are Amarone, Prosecco, Chianti, and Barolo wine.
Italian Wine Export Statistics
When it comes to wine exports, Italy is now the world's second largest wine exporter, behind France and ahead of Spain. In 2016, Italy exported over $6.2 billion worth of wine and 20.4 million hectolitres of wine to the global market, representing nearly 20% of the world's total wine exports in that year.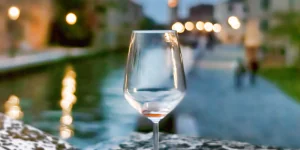 Last year, the top five markets for Italian wine exports by volume were: Germany (541 million litres, down 2.6%); United States (319 million litres, up 3.6%); United Kingdom (305 million litres, down 1.4%); France (92 million litres, up 7%); and Canada (72 million litres, up 2.7%). These five markets account for two-thirds of total Italian wine exports in the global wine industry.
Italian Wine Production Statistics by Region
Today, the Italian wine sector generates a turnover of about 10 billion euro and it provides employment opportunities to 1,3 million people. The 2016 vintage involved 650,000 vineyard hectares and more than 200,000 winegrowers. The report from industry association Coldiretti shows that the major Italian wine production by region include Veneto, which is now the largest wine-producing Italian region, Emilia-Romagna, Lombardy and Piedmont. Other regions such as Trentino-Alto Adige, Sicily and Puglia are also famous for producing some of the best but are somewhat hindered in the output of wines.
As for the top wine producers in Italy, CAVIRO Scarl, Gruppo Italiano Vini SpA and Cantine Riunite & CIV SC Agr have remained as the leading players in the global wine market, making some of the best and most well-known wine types and brands such as Prosecco, Amarone, Sangiovese, Sparkling wine, and Chianti wine.
Italy's leading position in the global wine industry has also attracted a significant number of buyers and traders from all over the world. To help your wine business stay at the peak of the industry, BizVibe provides the best solutions to source products and make business deals with the top wine companies in Italy. As Italian wine production continues to storm the market, don't miss your chance to connect with the best suppliers, manufacturers, and companies on BizVibe.
---
Related Industry: Italian Wine Industry
Related Industry: French Wine Industry
Top Supplier Company Profile: Agrintesa Soc. Coop
Top Supplier Company Profile: Cantine San Marzano

---