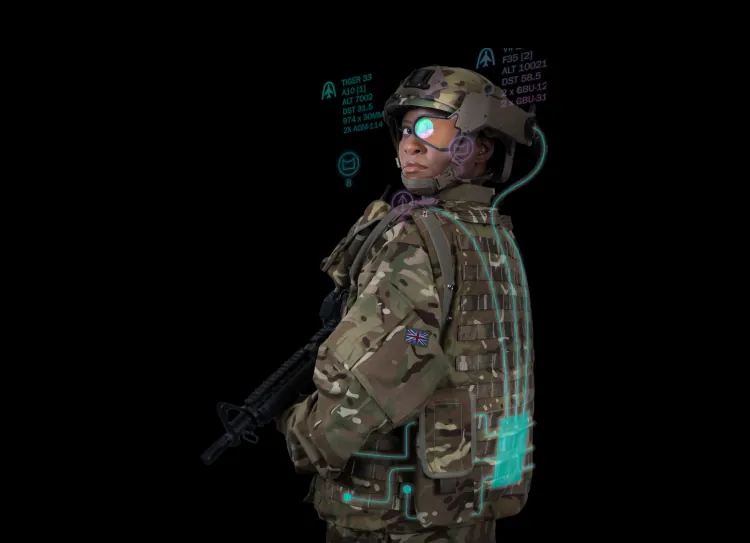 The increasing adoption of smart textiles for military applications and operations is saving lives and changing the ways that militaries worldwide operate. Military smart textiles consist of uniforms, harnesses, and other equipment that have electronics embedded or weaved within them. Military clothing plays an essential role in protecting soldiers from warfare and the elements. Using smart textiles for military purposes gives troops additional protection, and can also enhance communication and coordination.
Continuous innovation is key
Smart textile manufacturers around the world must adapt their products to address changing and evolving military needs. As weaponry and weapons systems become more advanced, military smart textiles must be re-imagined or upgraded in order to keep up with the changing landscape and properly protect and equip military troops. Recent innovations made to keep up with technological advancements in other military-related industries include exoskeleton suits equipped with motion sensors and health-monitoring sensors, self-repairing fabric, and heated wetsuits and bodysuits.
Promising future for military smart textiles globally
The market for smart textiles for military applications is expected to grow at a CAGR of nearly 10% until 2020, when it will be valued at more than USD 150 million. Smart textiles are becoming more popular in the military due to their advanced functionalities and capabilities, and the additional security that they provide to soldiers who wear and use them. Smart textiles have a range of different features—some have advanced insulation properties, ballistics protection, and are made from waterproof fabric; others are capable of health monitoring and have GPS capabilities, sensors, and motion trackers. All of these features are beneficial to military operations, and make it easier to monitor an individual soldier's wellbeing and location. Advancements in other military-related industries, including weapons and military vehicles, are driving the need for and popularity of military smart textiles globally.
In the US, the Department of Defense announced in mid-2016 that they intend to invest USD 75 million in a consortium of companies, researchers, and universities called "Advanced Functional Fabrics of America" that will focus on the textile industry, textile and fabric innovation, and the development of smart textiles, military clothing, and other advancements. This investment has been matched by contributions totalling more than USD 240 million from public- and private-sector partners. This will significantly encourage the growth and adoption of military smart textiles in the US in the near future. Similar initiatives are underway in other parts of North America and Europe, including the Integrated Solider System Project in Canada. The growth of the military smart textiles market will help to save lives in and out of combat, and will enhance the way that troops operate and how they're able to protect themselves.
Thousands of world's leading textile and apparel companies can be in your contact list if you register to join BizVibe today! Whether you are looking reliable suppliers, top textile manufacturers, wholesalers and potential customers in over 70 major countries, or finding out what your competitors are buying and which suppliers they're using, BizVibe can help you reach out to sales prospects and decision-makers in the textile industry across the globe.
Register for free now to build your own network of global textile companies on BizVibe