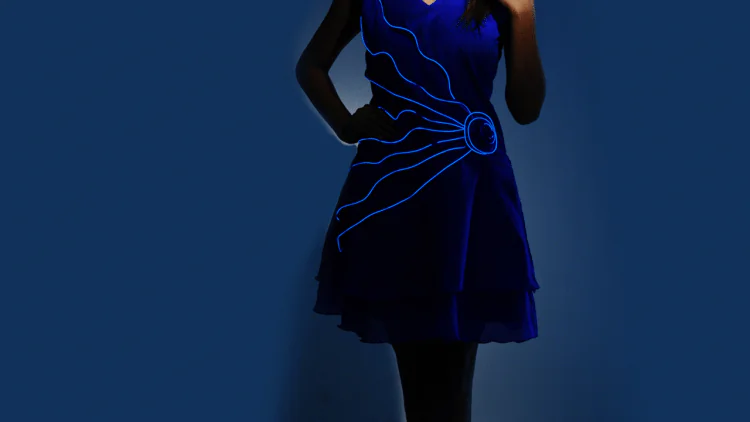 Image/Jaltee
Designers and innovators have been experimenting with LEDs in clothing for several years, but it is only very recently that this type of garment has started making its way into the mainstream market. Several companies are currently working to bring this technology to a wider audience, with both practical and fashionable applications.
One of these companies is Broadcast Wear, a startup founded in 2016 that is currently developing programmable shirts. Broadcast Wear has several products in the works, from a shirt that can show off how many Facebook "likes" you have, to a jersey for cyclists that can make them more visible and display things like turn signals.
LEDs for everyday wear
The company has launched a clothing line called Jaltee, which consists of light-emitting clothes lined with ELD wires that can make designs glow. These clothes are even made to be comfortable and waterproof, which will go a long way towards encouraging their adoption as everyday clothing rather than an interesting gimmick.
Still in development is the jersey intended for cyclists, to make riding in the dark safer. This shirt will respond to gestures, allowing the wearer to signal their next move to nearby drivers and other cyclists. The company is also working on a fitness-tracking t-shirt that will be able to track standard metrics such as steps, calories, and sleep. And, farther in the future, Broadcast Wear plans to release a "wearable mobile phone." Details on this are still very sparse, but the company describes it as "clothing which doubles as your phone." It aims to launch this product a year from now.
CES 2017: Showcasing the future of smart fabrics
Another company working on products with cyclists in mind is Lumenus, an apparel and accessories company focused on smart clothing. At CES 2017 in January, the company was promoting a jacket it is currently developing that can connect to the wearer's smartphone and receive information about their route. It would display turn signals and break lights automatically, without the wearer having to activate anything, improving their visibility and making it easier to maneuver in traffic. Lumenus plans to start releasing this and other products in late spring this year.
An exciting new material
LEDs aren't the only technology making waves in the fashion industry. Graphene, first isolated in 2004, is being adopted for a variety of different uses, and it has some clothing designers excited. It is a thin, strong, flexible form of carbon that conducts electricity exceedingly well. CuteCircuit, with the help of the University of Manchester's National Graphene Institute and the intu Trafford Centre shopping mall, has become the first company to use this material in a dress. The little black dress is made of nylon and uses graphene to power LEDs and act as a sensor, changing color based on the wearer's breathing rate. While CuteCircuit is the first to take advantage of this material, it certainly won't be the last.
Prospects are good for LED-embedded clothing and smart fabrics. It's a new and growing market, and with the technology becoming more practical and the apparel becoming more comfortable, it is only a matter of time before this type of clothing becomes mainstream. Both fashion and safety can make great strides with it in the future.
Thousands of world's leading textile and apparel companies can be in your contact list if you register to join BizVibe today! Whether you are looking reliable suppliers, top textile manufacturers, wholesalers and potential customers in over 70 major countries, or finding out what your competitors are buying and which suppliers they're using, BizVibe can help you reach out to sales prospects and decision-makers in the textile industry across the globe.
Register for free now to build your own network of global textile companies on BizVibe