Automotive Aftermarket Overview
The automotive aftermarket is an extensive one, with many multinational companies vying for their share of an industry that was worth close to $380 billion in 2019, according to Grand View Research. While automotive aftermarket companies have felt the impact of the global coronavirus pandemic, the industry was already beginning to recover over the summer, as many consumers have been opting for aftermarket parts and used vehicles rather than investing in new, expensive vehicles amid global economic uncertainty.
Automotive aftermarket companies are increasingly adopting the digitization of component delivery sales and services, and using online portals to distribute components globally. With COVID-19 requiring social distancing and working remotely, uptake of digital options such as these will increase, encouraging aftermarket parts suppliers to update software and practices and making operations more efficient. In recent years, automotive aftermarket brands have been increasing their online sales efforts, providing them with greater market reach, and this trend will help boost automotive aftermarket growth in the coming years.
Automotive Aftermarket Industry Facts
Asia Pacific was the largest region in the automotive aftermarket industry in 2019, and is expected to grow significantly over the next several years
Developing countries such as China and Brazil are helping drive demand as disposable incomes rise
3D printing and other technologies are helping automotive aftermarket companies increase efficiency, improve production processes, and reduce emissions
Retailers make up the largest share of the market in terms of distribution, but automotive wholesalers are the fastest-growing segment
Top Automotive Aftermarket Companies
The global automotive aftermarket industry has seen several mergers and acquisitions in recent years, with companies consolidating business or spinning off new divisions to allow them to increase their focus and presence in the market. The largest aftermarket parts suppliers are billion-dollar companies with decades of experience and multiple automotive parts brands through which to reach both industry clients and individual consumers.
| | | |
| --- | --- | --- |
| Rank | Company | Revenue (USD millions) |
| 1 | The Bosch Group | 91,800 |
| 2 | Continental AG | 52,565 |
| 3 | Denso Corporation | 47,600 |
| 4 | ZF Friedrichshafen AG | 43,114 |
| 5 | 3M | 32,136 |
| 6 | MARELLI | 15,832 |
| 7 | Goodyear Tire & Rubber Company | 14,700 |
| 8 | DRiV Incorporated (Tenneco) | 6,400 |
| 9 | Delphi Technologies (BorgWarner) | 4,400 |
| 10 | Cooper Tire & Rubber Company | 2,750 |
Want to connect with automotive aftermarket companies in your region? Find key market players along with industry news and insights through BizVibe's marketplace.
Founded: 1886
Headquarters: Gerlingen, Germany
Revenue: $91.8 billion
With 400,000 employees and 440 subsidiaries across 60 countries, Bosch is a leading technology and services provider. It operates in four business sectors: mobility solutions, industrial technology, consumer goods, and energy and building technology. Mobility solutions is the company's largest sector, accounting for 60% of annual sales ($55.28 billion in 2019) and making Bosch a leader in the automotive supply market. Bosch supplies spare parts and equipment to aftermarket and repair shops, including diagnostic software and hardware. The company also provides service training and partner programs globally.
Founded: 1871
Headquarters: Hanover, Germany
Revenue: $52.57 billion
With over 240,000 employees and customers in 59 different countries and markets, Continental develops technologies and solutions for vehicles, machines, traffic, and transportation. Its offerings include rubber and powertrain technologies, as well as autonomous mobility and safety products such as advanced driver assistance systems (ADAS), hydraulic brake systems (HBS), passive safety and sensorics (PSS), and vehicle dynamics (VED). Continental also develops vehicle networking and information solutions for commercial vehicles and services (CVS), connected car networking (CCN), and human machine interface (HMI).
Founded: 1949
Headquarters: Kariya, Japan
Revenue: $47.6 billion
Denso is a global automotive supplier offering thermal, powertrain, mobility, electrification, and electronic systems to companies around the world. It is one of the leading car parts suppliers in terms of sales, with operations in four key fields: electrification, automated driving, connected driving, and factory automation/AgTech. Denso employs 170,000 people and operates in 35 countries and regions. The company has been an aftermarket parts supplier since 1972, providing products for a wide range of vehicle makes and models.
Founded: 1915
Headquarters: Friedrichshafen, Germany
Revenue: $43.11 billion
ZF is a global technology company that supplies systems for passenger cars, commercial vehicles, and industrial technology. Its four business divisions are vehicle motion control, integrated safety, automated driving, and electric mobility. The company acquired WABCO in May 2020, allowing it to add driveline, chassis, and safety technology solutions for trucks, buses, and movers to its automotive offerings.
Through its ZF Aftermarket division, the company provides products from brands such as ZF, LEMFÖRDER, SACHS, TRW, and BOGE, as well as customized products and services. It employs 8,000 people across 120 locations in 40 countries around the world, making it one of the largest automotive aftermarket companies in the world.
Founded: 1902
Headquarters: Saint Paul, US
Revenue: $32.14 billion
3M is a multinational corporation serving both consumers and industrial businesses. Founded as a mining venture in Minnesota over 100 years ago, the company now develops and sells a wide range of products and materials to industries such as automotive, construction, electronics, energy, healthcare, manufacturing, and more. 3M has corporate operations in 70 countries and sells its products in 200.
3M's transportation and electronics business group makes up almost a quarter of its yearly sales, earning $9.6 billion in 2019. Its automotive division serves the auto care, collision repair, facility safety, OEM, and post factory installations markets, providing automotive products such as abrasives, adhesives and tapes, advanced materials, automotive products, filtration, and traffic and vehicle safety products.
Founded: 2019
Headquarters: Tokyo, Japan
Revenue: $15.83 billion
Formed in 2019 from Calsonic Kansei and Magneti Marelli, the new company boasts 60,000 employees and 170 facilities around the world, with a presence in 24 countries. MARELLI is an independent auto parts supplier, and its parts and services division supplies original components and spare parts to consumers around the world.
Founded: 1898
Headquarters: Akron, US
Revenue: $14.7 billion
Well-known for its Goodyear-brand tires, this company also produces brands such as Dunlop, Kelly, Fulda, Sava, and Debica, as well as non-tire rubber products and polymers. Goodyear has operations around the world, with 1,100 tire and auto service center outlets and 47 manufacturing facilities. It also operates commercial truck service and tire retreading centers.
Founded: 2019
Headquarters: Chicago, US
Revenue: $6.4 billion (2018 pro-forma)
DRiV Incorporated is a new automotive aftermarket company formed from Tenneco's separation into two distinct businesses. After acquiring Federal-Mogul in 2018 and Öhlins in 2019, Tenneco separated to form two independent companies, with the new Tenneco becoming a pure-play powertrain business and DRiV taking on the aftermarket and ride performance categories.
DRiV is a global multi-line, multi-brand aftermarket supplier serving aftermarket, light vehicle, and commercial vehicle customers, as well as the marine, rail, aerospace, power generation and industrial markets. The company sells brands such as MOOG, Champion, Wagner, and Ferodo.
Founded: 1994 (as the Automotive Components Group)
Headquarters: Warwick, UK
Revenue: $4.4 billion (Delphi, 2019)
Acquired by BorgWarner in October 2020, Delphi Technologies is now the corporation's aftermarket division, retaining its brand as an automotive parts supplier and maintaining relationships with Delphi's existing customers while BorgWarner provides OEM capabilities.
Delphi Technologies aftermarket operates more than 2750 service centers in over 150 countries. Its products include gasoline fuel systems, diesel fuel systems, maintenance solutions, engine management, and vehicle electronics, and the company also offers services such as diagnostics, testing, and training. The automotive aftermarket company serves both the passenger and commercial vehicle segments, as well as the agricultural, marine, and industrial vehicle markets.
Founded: 1914
Headquarters: Findlay, US
Revenue: $2.75 billion
Cooper is a leading tire manufacturer in North America and globally, with facilities on three continents and sales and distribution networks around the world. It employs close to 10,000 people and produces tires under the Cooper, Mastercraft, Dean, Starfire, Roadmaster, Avon Tyres, Mickey Thompson and Dick Cepek brands. Cooper's primary focus is replacement tires for passenger cars and light vehicles, but the company also produces light truck, medium truck, motorcycle, and racing tires.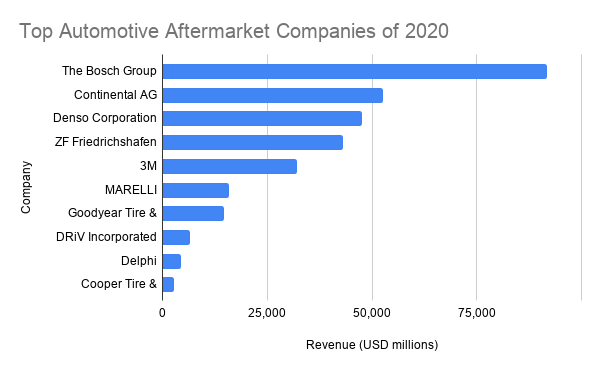 Which Automotive Aftermarket Companies Lead the Market Near You?
These are only a few of the largest aftermarket parts suppliers in the world. Discover more leading automotive aftermarket brands through BizVibe's global marketplace.