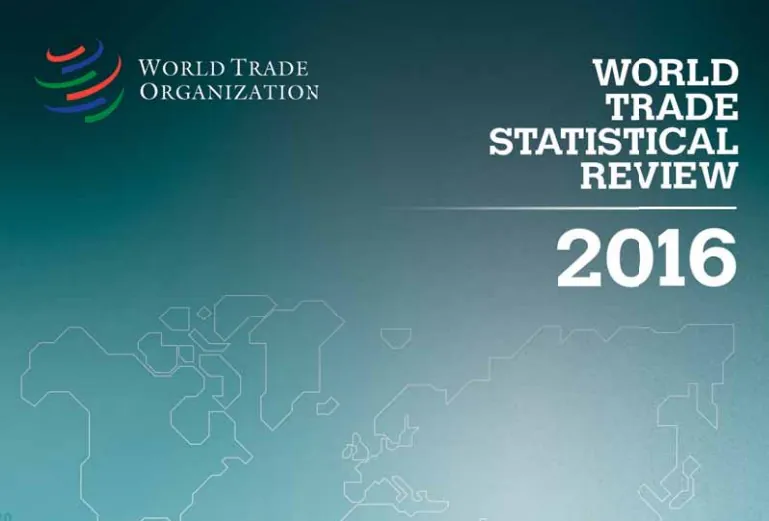 The value of global textile and apparel exports totalled USD $736 billion in 2015, according to the latest World Trade Statistical Review 2016 by the World Trade Organization (WTO). Specifically, the export value of world textiles recorded $291 billion, while the export value of world apparel products topped $445 billion, and both decreased by 7.2% and 8% respectively from a year before. This is also the first time the value of world textiles and apparel exports has decreased since the 2009 financial crisis.
Overall, the total value of world merchandise exports also declined by 13% in 2015 to $16.0 trillion, despite the fact that the volume of world trade grew slowly at a rate of 2.7%, which was roughly in line with world GDP growth of 2.4%. WTO suggests the downward of global exports value is mainly caused by falling prices of oil and other primary commodities, economic slowdown in China and Brazil, strong fluctuations in exchange rates, and financial volatility driven by divergent monetary policies in developed countries.
Top textile and apparel exporters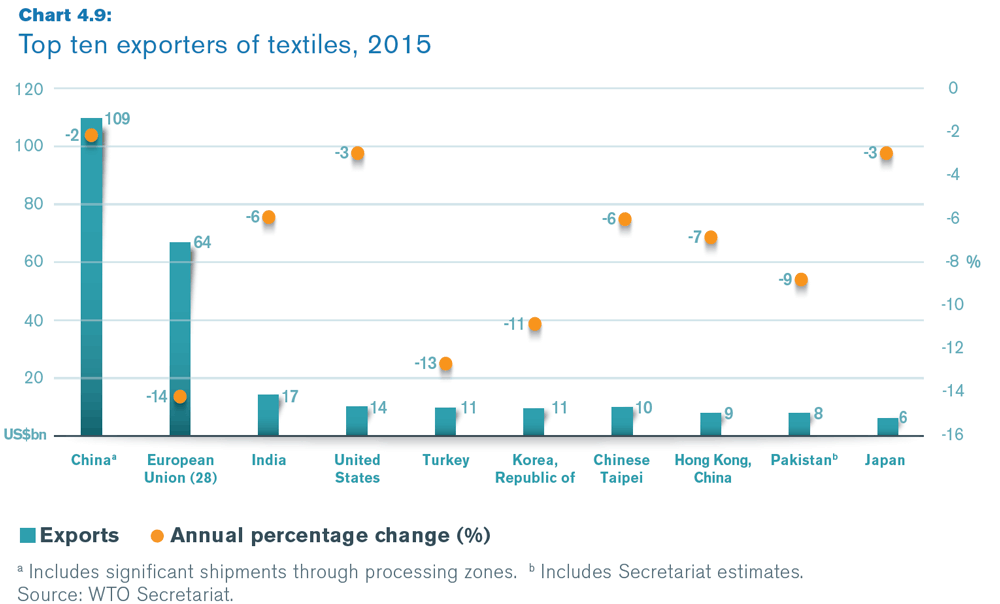 China, the European Union and India remained the top three exporters of textiles in 2015. Altogether, they accounted for nearly two-thirds of world textile exports. The United States stood as the fourth top textile exporter in 2015. The top ten exporters all experienced a decline in the value of their textile exports in 2015, with the highest declines seen in the European Union (-14%) and Turkey (-13%). The smallest decline was recorded in China (-2%).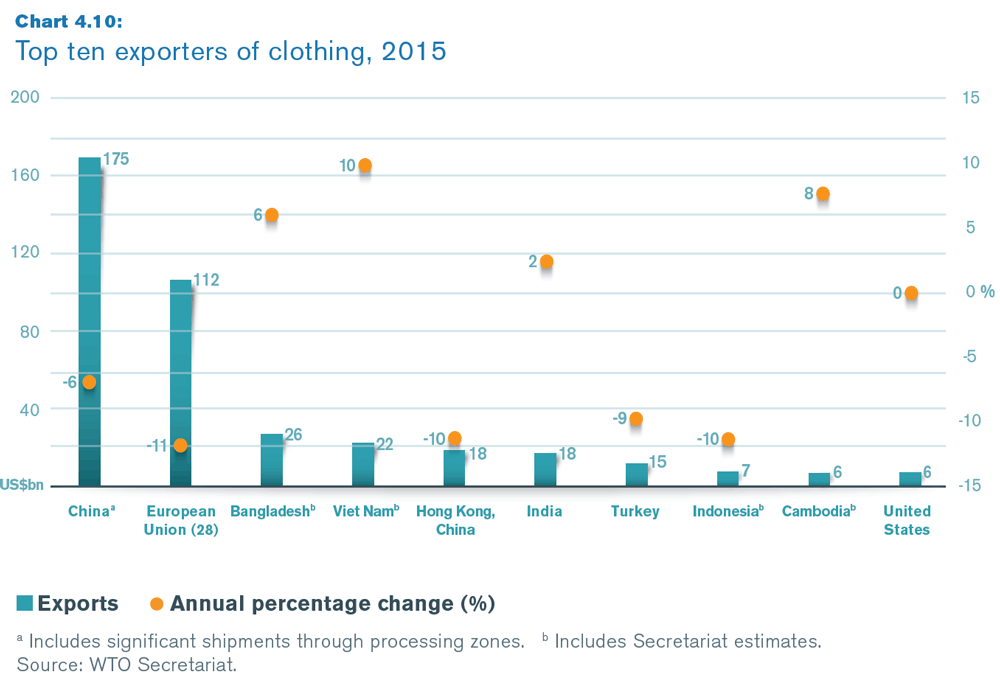 The top three exporters of clothing and apparel products are China, the European Union and Bangladesh. Altogether, they accounted for 70.3% of world exports, while the top ten apparel exporting countries accounted for 87% of world apparel exports. Among them, increases in export values were recorded by Vietnam (+10%), Cambodia (+8%), Bangladesh (+6%) and India (+2%). The other major exporters saw stagnation in their export values (United States) or recorded a decline (all other top ten economies).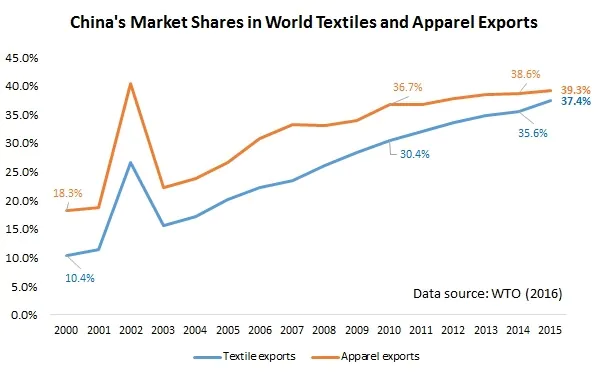 Despite the rising production cost in China, its market shares in world textile and apparel exports continued to rise in 2015, reaching 39.3% for global apparel exports and 37.4% for global textile exports.
Top textile and apparel importers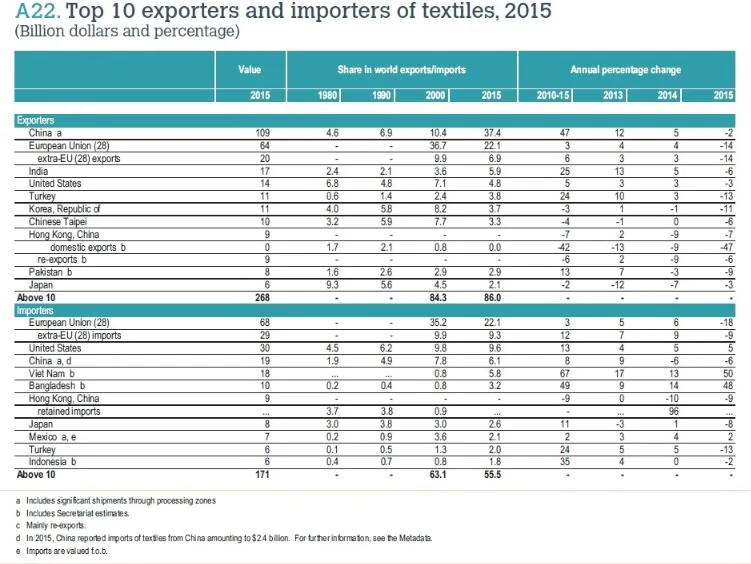 The European Union, China and the United States were the top three importers of textiles in 2015. Altogether the top three accounted for 37% of world textile imports. Due to the increasing proportion of textiles made by developed countries (such as the United States) exporting to developing countries for apparel manufacturing purposes, the pattern reflects the changing dynamics of world apparel manufacturing and exports in recent years.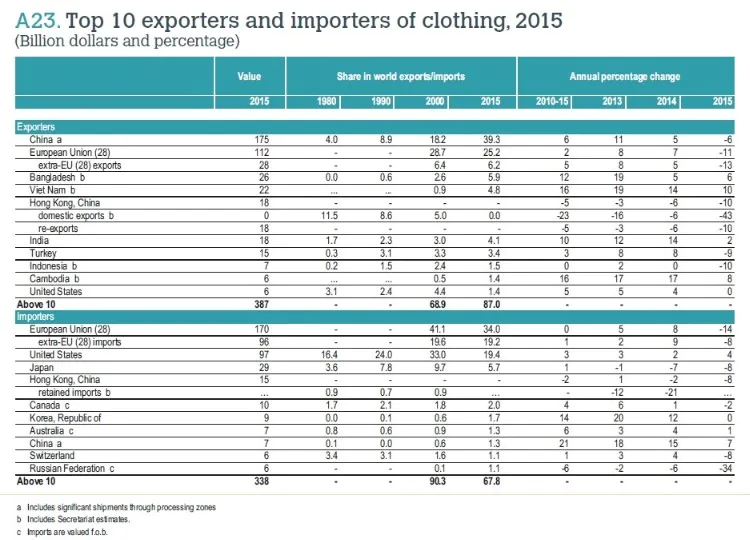 The European Union, the United States and Japan remained the top three importers of apparel in 2015, mainly due to high consumers' purchasing power (often measured by GDP per capita) and size of the population. Altogether, they accounted for 59% of world clothing imports. This indicates that import demand from other economies, especially some emerging markets, have been growing faster over the past decade.
Thousands of the world's leading textile companies can be in your contact list if you register to join BizVibe today! Whether you are looking for reliable suppliers, top textile manufacturers, wholesalers and potential customers in over 90 major countries, or finding out what your competitors are buying and which suppliers they're using, BizVibe can help you reach out to sales prospects and decision-makers in the textile industry across the globe.
Register for free now to build your own network of global textile companies on BizVibe.